MP SPEAKS | Last Thursday (Jan 17), I was invited to speak at a conference organised by Deloitte Malaysia's Chinese Services Group (CSG) and the Bank of China (Malaysia) on the government's policy towards Chinese investments in Malaysia. The following are some of the key points I highlighted in my presentation.
Firstly, the approved manufacturing Foreign Direct Investment (FDI) from Chinese companies will likely top the FDI table for a third year in a row.
In 2016 and 2017, approved manufacturing FDIs from Chinese companies totalled RM4.7 billion and RM3.9 billion respectively, making China the top sourcing country for FDI in the manufacturing sector.
In the months from January to September 2018, approved manufacturing FDI from China reached RM15.62 billion, comprising 32 percent of total approved manufacturing FDI.
More than 50 percent of the approved manufacturing FDI from Chinese companies came after the 14th general election, showing that companies from China continue to demonstrate confidence in the Malaysian economy under the new government.
Secondly, Chinese manufacturing activities are distributed across different sectors and locations across Malaysia.
While some of the infrastructure and property development projects associated with certain Chinese companies have received a disproportionate amount of publicity, in and outside Malaysia, many of the realised investments in the manufacturing sector have created jobs and helped boost Malaysian exports.
These manufacturing projects are spread out across different industries taking advantage of the supply chain, natural resources and surrounding ecosystem in strategic locations across Malaysia.
Some, such as OM Materials, are one of the handful of energy intensive companies making use of the relatively cheap source of power in Sarawak (courtesy of Bakun) and the dedicated port at the Samalaju Industrial Park to bring in the raw materials required.
Alliance Steel in the Malaysian China Kuantan Industrial Park (MCKIP) chose that location because of easy access to the deep water port in Kuantan and also easily available land in the industrial park.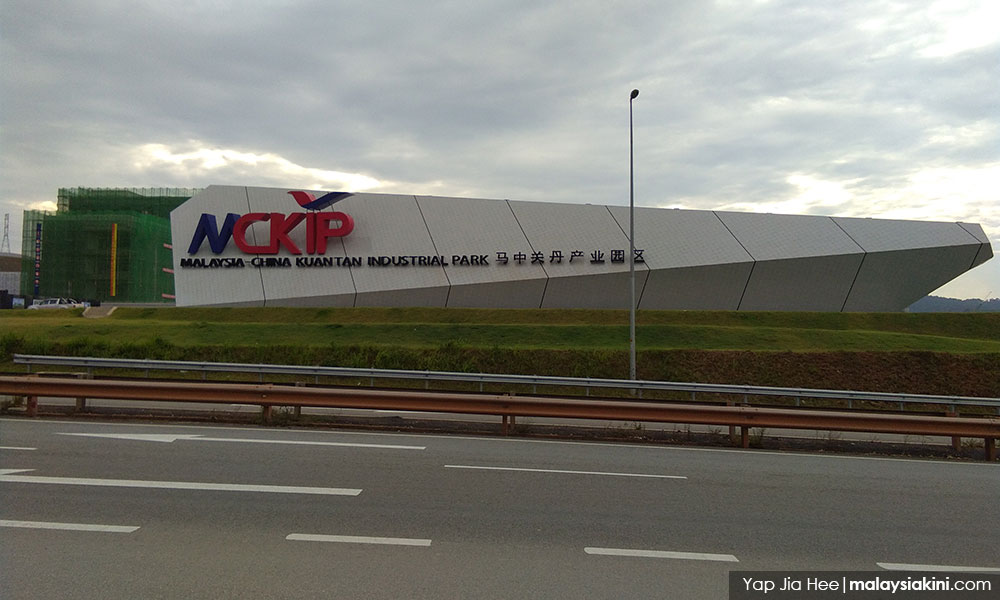 Two major float glass manufacturers, Kibing and Xinyi, chose locations in Senawang, Negeri Sembilan and Jasin, Melaka. D&Y Group, a major textile manufacturer from the Shandong province, set up their state of the art, highly mechanised yarn making factory in Sedenak, Johor, not far from Kulai and with easy access to the ports and airport facilities in Johor Bahru.
Jinko set up their solar panel factory in Penang to take advantage of the existing Electrical and Electronics (E&E) sector's ecosystem, while Longi set up a greenfield site in Kuching to manufacture silicon materials.
CRRC, a major rail company, has set up a rolling stock factory in Batu Gajah, Perak, as part of the Industrial Coordination Program (ICP) involving the purchase of rolling stock by KTM as well as Prasarana.
Finally, Huawei has invested in various locations throughout Malaysia as part of its regional hub strategy (more on this later). This selection of investments are highlighted below.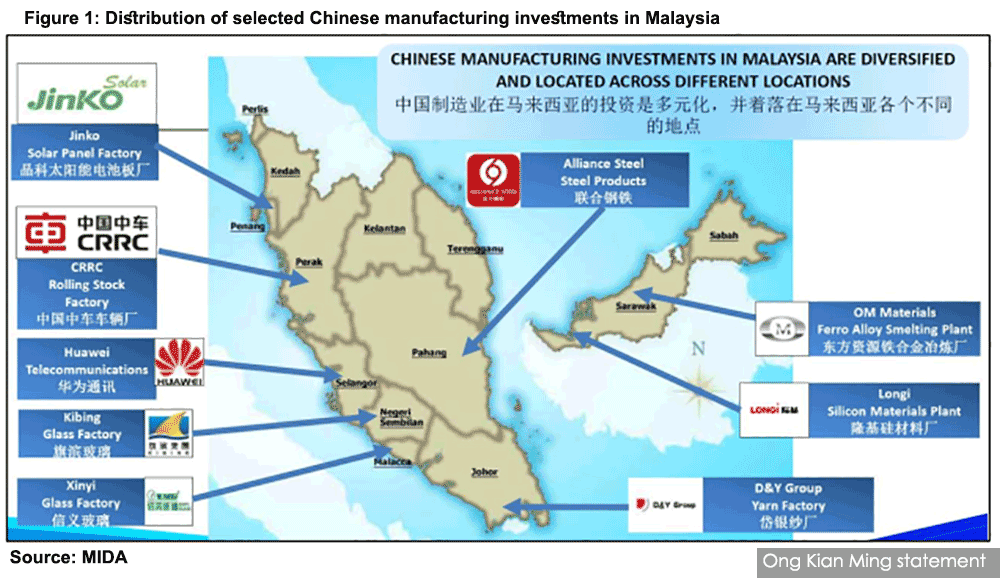 This is not an exhaustive list. Geely's investment in Proton has not been included because it involves the purchase of and investment in an existing company rather than a new investment. But this does not mean that Geely's investment in Proton is unimportant.
In fact, if executed well, this investment can breathe new life into Proton and provide a boost to the larger automotive sector in Malaysia through increased vendor capability and increasing Malaysia's automotive exports to the region and beyond.
My third point is that China has been Malaysia's largest trading partner since 2009, and will likely hold on to this position in the foreseeable future.
China's rapid participation in global trade has been nothing short of astounding. Malaysia's total trade with China amounted to RM23.8 billion in 2000. This represented 3.5 percent of Malaysia's total trading volume. In 2009, China's share of trade with Malaysia had increased to 13 percent, overtaking Singapore's trade with Malaysia.
Since then, China has been Malaysia's largest trading partner and our trade with China reached 16.4 percent of total trade in 2017. (See figure below).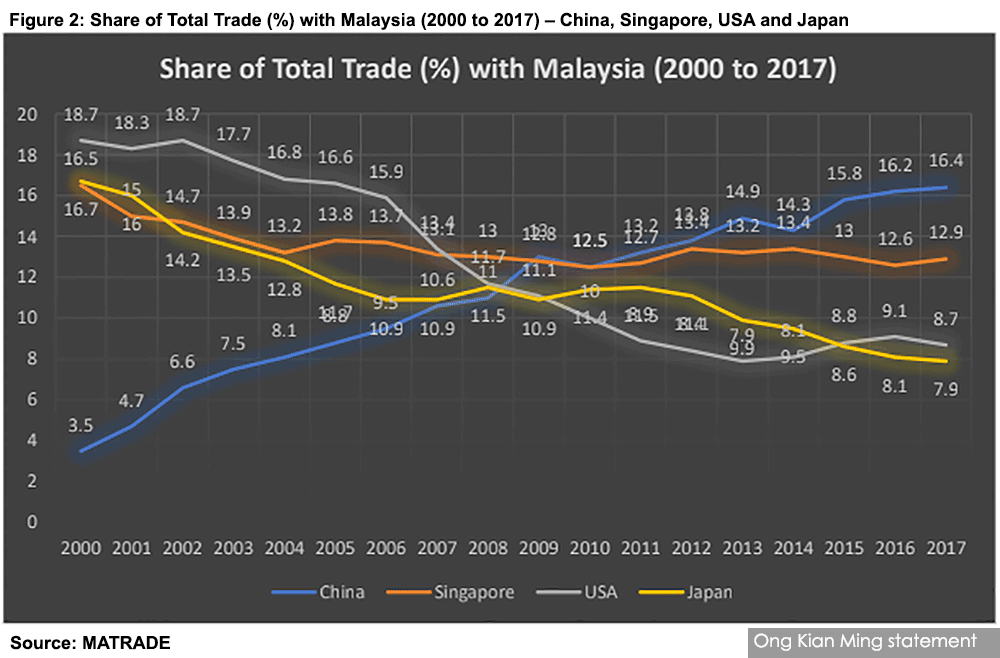 During this time, our share of total trade with the United States, which was our largest trading partner in 2000, fell from 18.7 percent in 2000 to 8.7 percent in 2017. Japan's share of total trade also decreased from 16.7 percent in 2000 to 7.9 percent in 2017.
From the months from January to November 2018 compared to the same period in 2017, Malaysia's total trade increased by 6.2 percent with total exports increasing by 6.9 percent and total imports increasing by 5.3 percent.
During this same time period, our total trade with China increased by 8.5 percen, with a 11.3 percent increase in total exports and a 6.3 percent increase in total imports. Even with the spectre of the US-China trade war looming, our trade with China continues to grow at a rate that is higher than our trade relationship with the rest of the world.
My fourth point is that Malaysia is poised to attract more investments and benefit from import substitution as a result of the US-China trade war.
A number of recent studies have shown that Malaysia could be one of the main beneficiaries of the US-China trade war through import substitution trade diversion as well as FDI diversion.
Nomura estimated that Malaysia would be the top ranked country in the Nomura Import Substitution Index (NISI), in particular, from the exports of "electronic integrated circuits, liquefied natural gas and communication apparatus" (chart below).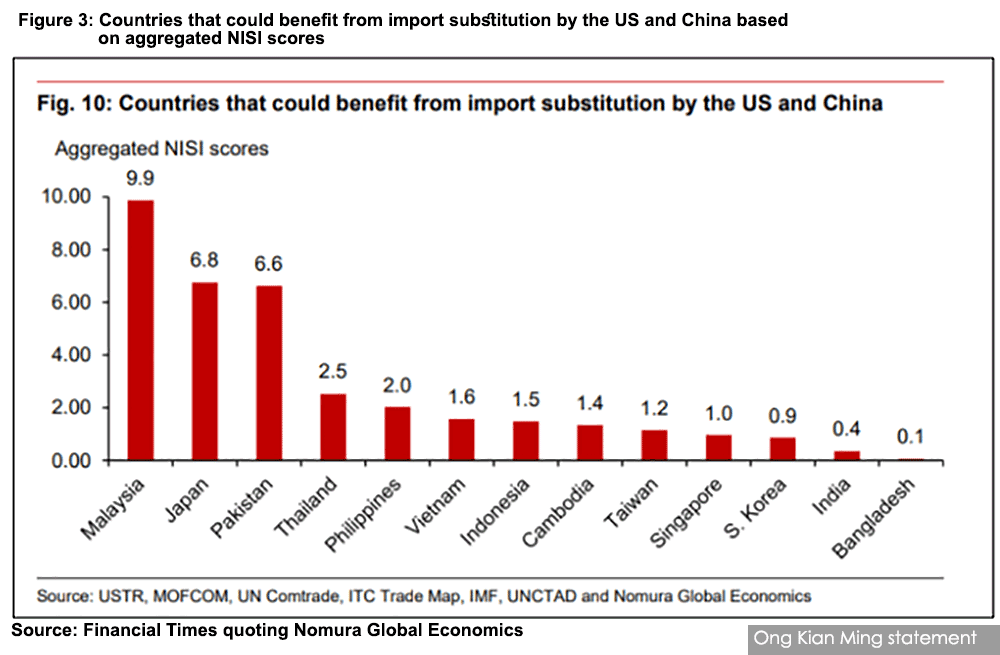 The Economist Intelligence Unit (EIU) also projects Malaysia to be a beneficiary in diverted production and investment in the Automotive as well as Information and Communications Technology (ICT) products.
While a prolonged US-China trade war would not be welcomed by a small and open economy like Malaysia, there are mitigating factors that will somewhat cushion the impact for us.
Fifth point is that Malaysia remains a natural and strategic location for long term investments by Chinese companies.
As Chinese companies seek to expand their global footprint, many of them will follow the model employed by Japanese, European and American companies by investing in South East Asia.
Among the countries in South East Asia, Malaysia has many natural and strategic advantages including a stable political environment, a well-developed logistics infrastructure such as roads, ports and airports, a relatively skilled workforce, a cost-competitive environment for doing business, a good quality of life and access to a large pool of Chinese speaking workers and managers, just to name a few.
My sixth point is that the nature and type of Chinese investments in Malaysia will continue to evolve.
The nature and profile of Chinese investments in Malaysia is and will continue to evolve, just like the other multinational companies which have set up in Malaysia.
The speed at which many of these companies invest and start their operations in Malaysia (and in other countries) may necessitate an initial influx of Chinese workers, especially at the construction and technology transfer phases.
Over time, because these workers have to be deployed back to China or to other parts of the world, these Chinese companies will inevitably localise their staff, including at the upper management levels.
The more innovative and forward looking companies will look to Malaysia as more than just a manufacturing and export base. They will capitalise on the diverse human resources and the domestic market in Malaysia to establish their regional innovation, procurement and training hubs.
A good example of such a company is Huawei which started its operations in Malaysia as far back as 2001.
In 2006, it set up a shared service center for Finance and Accounting for Asia in Malaysia. In 2012, it opened its first global ICT training centre outside China in Cyberjaya in June 2012 to train Malaysian ICT workers & its customers from Asia Pacific, the Middle East, Africa & South America.
In 2015, it set up an Asia Pacific Digital Cloud Exchange in the Iskandar Malaysia development hub in Johor. In 2016, it opened its regional ICT innovation hub in Kuala Lumpur.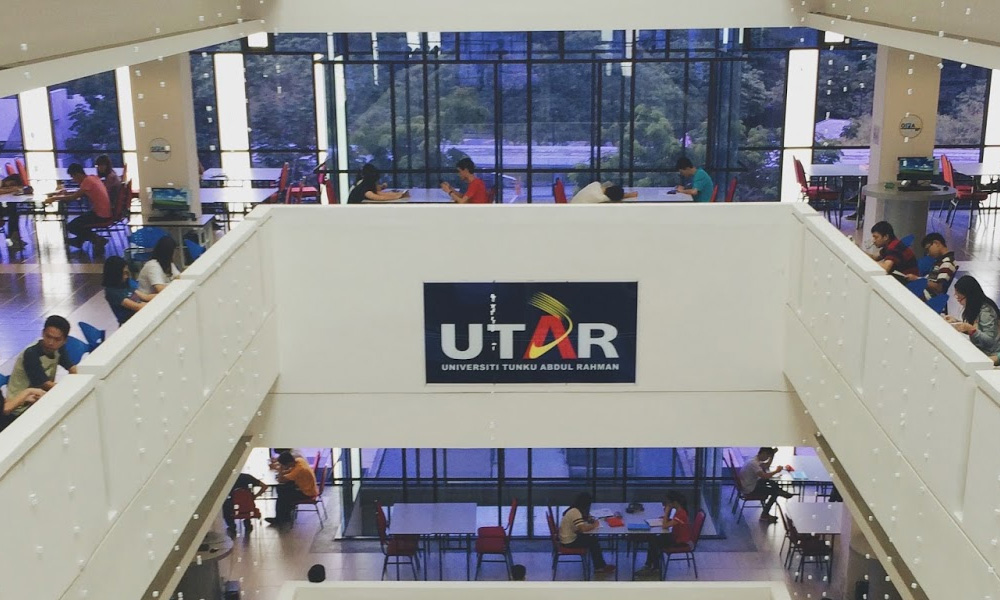 In 2018, it signed an MOU with edotco, a regional telco infrastructure provider, to look into 5G readiness. And it has partnered with many Malaysia universities including the Universiti Malaya, Universiti Tunku Abdul Rahman, Universiti Malaysia Sabah and Xiamen University's Malaysian campus to carry out research and development (R&D) projects with an eye on talent identification.
I am confident that more Chinese companies will follow Huawei's model of utilising strategic locations throughout Malaysia and capitalising on the diverse human capital resources as part and parcel of their long term investment strategy in Malaysia.
An estimated 300 out of the top 500 Chinese companies, as listed by Fortune Magazine, have not yet invested in Malaysia. These are the companies which we want to entice to Malaysia by showing off our natural and strategic advantages as an investment location. The message that Malaysia welcomes high quality investments from China (and other parts of the world) must be sent loudly and clearly!
---
ONG KIAN MING is Bangi MP as well as deputy International Trade and Industry minister.
The views expressed here are those of the author/contributor and do not necessarily represent the views of Malaysiakini.