CAMERON POLLS | A group of MCA activists were engaged in a noisy confrontation today after attempting to approach DAP veteran Lim Kit Siang while the latter was campaigning.
The drama unfolded at about 8am at a coffee shop in Kampung Raja, where Lim was supposed to meet voters.
Coincidentally, several MCA members had set up a booth outside to solicit signatures for a petition against the abolition of the death penalty.
Upon seeing Lim enter the coffee shop, the MCA activists – led by Indera Mahkota division head Quek Tai Seong and Pahang Youth vice-chief Wong Tze Shiang – made their approach, demanding that the DAP veteran state his stand on the death penalty.
A group of Harapan supporters, led by Pahang DAP leader Leong Ngah Ngah, tried to prevent the MCA duo from getting near Lim.
Undeterred, Quek shouted slogans against the abolition of capital punishment, and demanded that Lim state his stand. The Harapan supporters retorted with chants of "Gong Xi Fa Cai."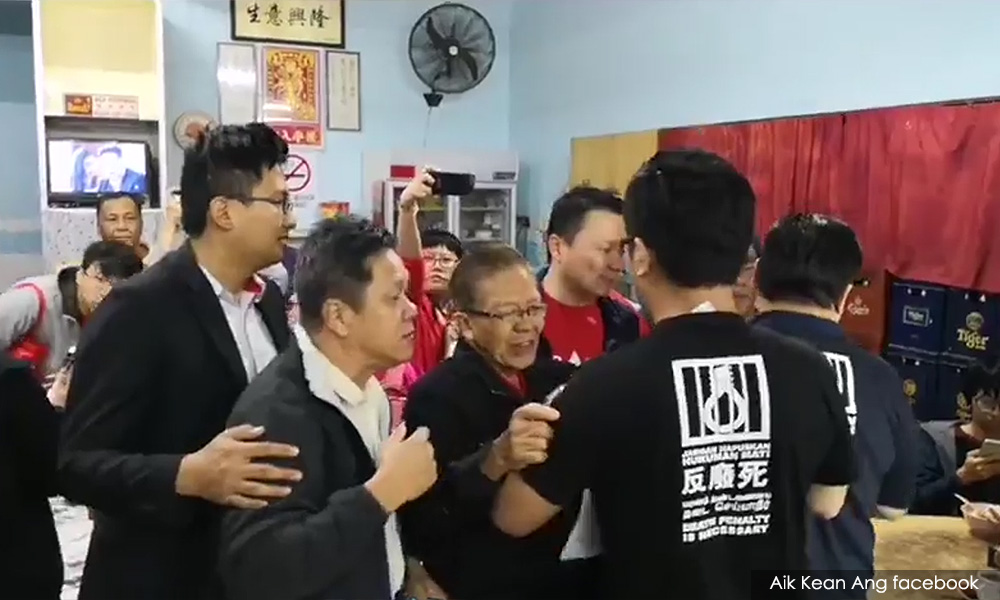 The standoff lasted about 10 minutes before the MCA duo gave up and left the premises.
'Petition is apolitical'
Quek told Malaysiakini later that the petition had nothing to do with MCA, as it was an initiative driven by him and his fellow party members. He also pointed out that he was not in party uniform.
"Our movement has nothing to do with MCA, although there is a strong perception that I am from MCA.
"If the new government proposes any good policy, I will support it. But for the abolition of capital punishment, I will strongly oppose it," he said.
Quek insisted that he wanted to seek Lim's support for the campaign, but that he faced physical intimidation from Harapan supporters when attempting to do so.
When asked to comment on the incident, Tanah Rata assemblyperson Chiong Yoke Kong, who witnessed the incident, replied curtly: "Everyone knows that they are from MCA, the truth will prevail in the end."
The federal government is currently working towards abolishing certain laws which contain death penalty clauses.