YOURSAY | 'Let Harapan leaders and their families flaunt their wealth, to their own ruin and destruction.'
Tell wives, kids not to post Monte Carlo trip photos - Kadir to Harapan leaders
Jehangir: Can you tell them not to go to Monte Carlo and on a first-class ticket, instead of not posting their photos?
If they want to go to Monte Carlo and want to boast about it, let them post those pictures and let them be stewed for taking those expensive holidays instead of the photos.
We, the taxpayers and voters, need to know where their source of wealth is. Wake up, veteran media figure A Kadir Jasin, this is not the age of being discreet with your wealth and your vices. Bad and immoral advice.
Spinnot: Agreed. They should not expose themselves and should remain "outside holy inside crooked", which is also in line with the "by hook or by crook" strategy.
Spirit: Kadir, why be afraid of the rakyat finding out? As a public figure, your life is an open book. Most politicians and actors have histrionic personalities. Showing off is their trait, you can't stop them.
Anonymous 770241447347646: If it is paid out of their own pocket, then it is all right to show off. Still, they say humility goes a long way.
The last thing you need is the opposition to use it to make a wrong impression in the minds of others.
At times, these wives and children willingly give "darts" to the opposition to shoot back at them.
Fairplayer: Let them flaunt their wealth and lavish lifestyle, to their own ruin and destruction. Obviously, they pick up where former prime minister Najib Abdul Razak and his wife Rosmah Mansor and family had stopped.
Kangkung: Nothing has changed. The Umno culture is still there, regardless of who is the government.
Now, these ministers have their hands on the cash so they can afford to splurge. The MACC has to work extra hard to comb through the expenditures of all ministers, aides and officers to see if they have abused their positions.
Even if they have spent RM1 of the rakyat's money for personal reasons, charge them in court.
Mamadias: I think all ministers should set an example of holidaying locally. Yes, you want privacy. That does not mean you have to go to London or Monte Carlo.
The problem with Malaysian leaders is that they are fond of foreign tours, including the current leaders.
Don't Just Talk: You are dead right, Kadir, and what brought Umno and BN down during GE14 can also happen to Harapan in the next election.
Harapan leaders are not only expected to be clean but also to lead by example following the simple, honest and humble lifestyle of Defence Minister and Amanah president Mohamed Sabu, who walks the talk.
HH: Are you talking about Economic Affairs Minister Azmin Ali's Morocco trip?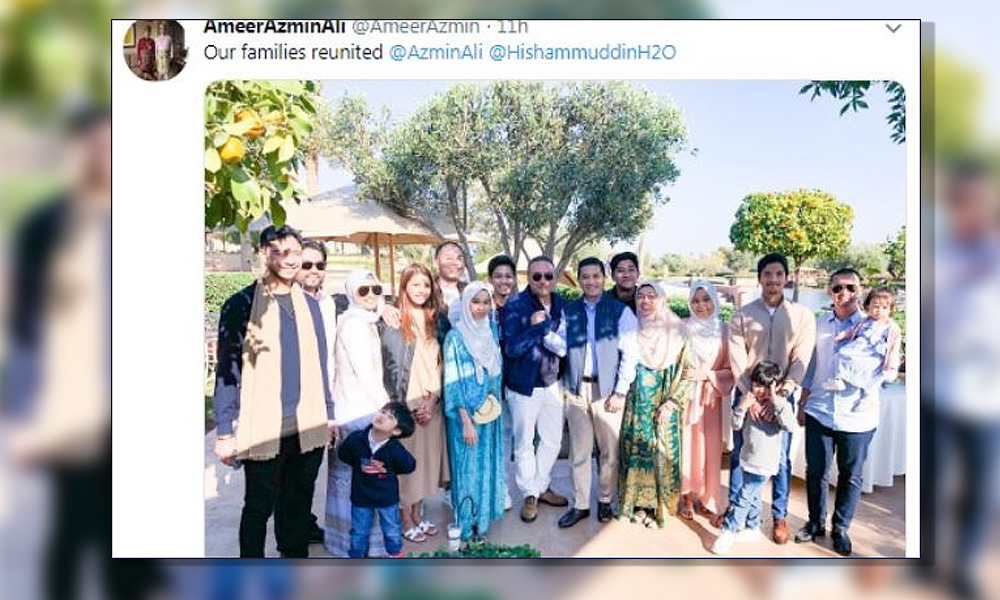 I Kong: Even if the politicians earn their money by proper means, there is no need for the politicians and their spouses or children to show off their wealth and vanity to attract undue attention.
There are enough unnecessary messes and troubles already in our Malaysian political scenes, where some leaders are seen as just attacking one another instead of working for the good of our country. They are behaving more like schoolchildren, rather than matured politicians.
P Dev Anand Pillai: If they are doing all this, then don't waste time advising them. Act immediately.
We would rather get appointed individuals from the vast population of our nation to do the job than to task it to some politicians who are only interested in enjoying themselves together with the families and kin.
Anonymous_49d8b96c: The content of this article is best ventilated internally within the Harapan government. No need to tell the whole world.
All these comments, advice and insinuations, whether true or false, right or wrong, good or bad, are overly general and form a perception that the entire cabinet is as described in the article.
Imagine if someone from DAP, PKR or Amanah started to write another article about fellow cabinet members. It only worsens the situation. This kind of writing is not helpful.
Kadir: New economic council reveals PM's admission of gov't inadequacies
Quigonbond: Kadir is a Bersatu sympathiser.
Instead of broad-brushing the failure of the cabinet, he should be honest and view it as a failure of mostly Bersatu ministers, in anything from education policy to abolishing draconian laws.
Also, even imagining some reformist ministers want to have a more equitable distribution of wealth and more equitable policies, their ideas are in danger of being hijacked by the need to appear pro-Malay/Islam to win votes for Bersatu.
So, instead of pointing a finger at other cabinet ministers, Kadir should be focused on looking at the four pointing towards Bersatu. I'm honestly not sure if the economic council is a solution to the stagnating economy.
If the issue is really with regard to leadership transition, then perhaps Prime Minister Dr Mahathir Mohamad should set a clear timeline of transition to prime minister-in-waiting Anwar Ibrahim and start bringing Anwar into the cabinet.
Anwar cannot stay on the sidelines forever. At some point, he has to take responsibility for the actions of his party's cabinet ministers. He should not have the luxury to come in on a "clean slate". Might as well be now to create the much-needed stability.
Mike: Kadir, Mahathir has completed his mission of coming out of retirement, that is to bring down Najib.
Hence, he should retire and let Anwar take over. Mahathir is too old to do the prime minister's job. Let him build up his Bersatu party.
Knowledge: If the present cabinet ministers are not up to Mahathir's expectations, it is understandable. But then the cabinet ministers are far better than those in the past, who seem not to be doing what they should be doing for the country.
The country has been left to bleed. The current cabinet ministers need some time to carry out corrective surgery.
---
The above is a selection of comments posted by Malaysiakini subscribers. Only paying subscribers can post comments. Over the past one year, Malaysiakinians have posted over 100,000 comments. Join the Malaysiakini community and help set the news agenda. Subscribe now.
These comments are compiled to reflect the views of Malaysiakini subscribers on matters of public interest. Malaysiakini does not intend to represent these views as fact.