Deputy Minister in the Prime Minister's Department Hanipa Maidin said the discourse over allegedly falsified academic qualifications of several ministers is an ethical matter, not a legal one.
"It should be seen from an honesty angle and not about the academic qualifications so much.
"So, if you're talking in terms of legal action, there isn't any," the de facto deputy law minister was reported by Sinar Harian as saying last night.
This was in response to a question on whether any legal action could be taken against ministers or deputy ministers proven to have falsified their academic qualifications.
Hanipa also said that the people cannot compromise on lies and that honesty is something they should demand from politicians.
He added that he believed this issue would be resolved according to the party constitution of each Pakatan Harapan component.
The issue of academic qualifications was triggered by questions surrounding Deputy Foreign Minister Marzuki Yahya's dubious academic qualifications.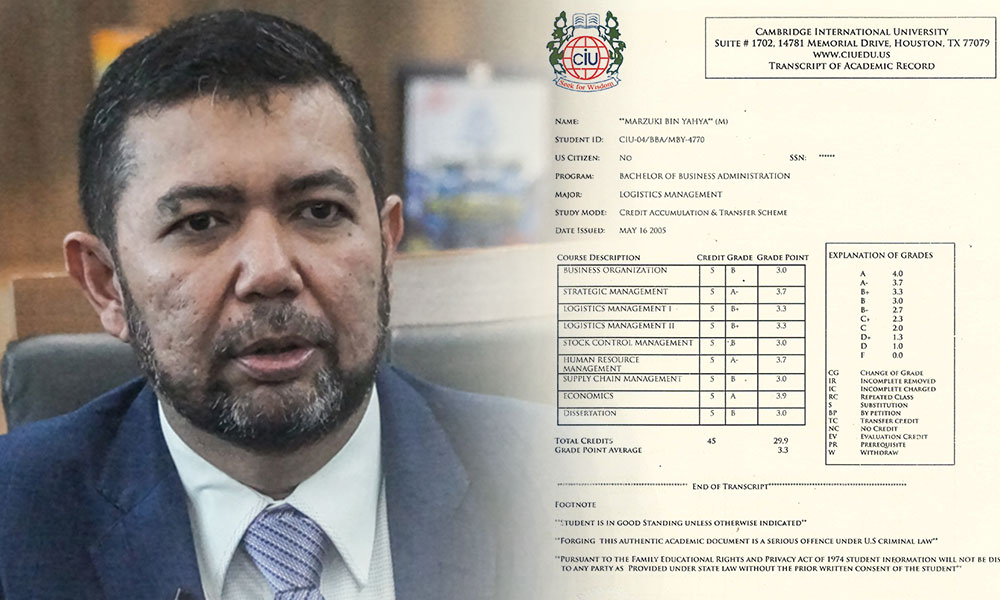 Marzuki had earlier defended his degree from the US-based Cambridge International University (CIU) – an alleged degree mill – and furnished PDF copies of what was purportedly the academic transcript for his three-year distance-learning business administration programme.
However, Malaysiakini discovered several anomalies in his transcript, including the fact that his grades and grade point average were exactly the same as those on the template transcript shared on CIU's website.
The controversy led to calls for his resignation, especially from members of the opposition, while several Harapan leaders have come to his defence.
Prime Minister Dr Mahathir Mohamad had also been reported saying that no decision had been made on Marzuki's position in the government, as Harapan leaders had yet to find out what transpired, 
However, Bersatu president Muhyiddin Yassin had said that the party will not take any action against the deputy minister.
Aside from Marzuki, other Pakatan Harapan leaders under the spotlight for allegedly possessing fake academic credentials include Johor Mentri Besar Osman Sapian and Housing and Local Government Minister Zuraida Kamaruddin.