Election Commission (EC) chairperson Azhar Azizan Harun has denied that the recent appointments of commissioners were made in response to questions about its legality.
Earlier this week, Semenyih voter Sabariah Mohd Shariff filed an originating summons against the EC, federal government and Azhar seeking to halt the Semenyih by-election scheduled for March 2.
Sabariah said she filed the summons to determine whether the EC is a legal entity under the Federal Constitution as it had less than the stipulated seven commissioners.
Asked about this today, Azhar denied that the five recent appointments were made in response to the summons, saying that they had been in the works since November 2018.
"Oh no no no, this has been going on since November (last year).
"As a former legal practitioner myself, we (the EC) will not preempt court action with such a move. More so when there is an application for an injunction.
"I don't want to be accused of contempt of court," he said in response to a question during a press conference at the commission headquarters in Putrajaya.
---
Read more: Ex-Bersih activist refutes perception of partisanship in EC role
---
Earlier today, three newly minted commissioners reported for their first day at work, namely former foreign ministry chief secretary Ramlan Ibrahim, former human resource ministry director general Chin Paik Yoong and former Bersih resource person Zoe Randhawa.
The two other recent appointees, Universiti Malaya law professor Azmi Sharom and UKM senior fellow Faisal S Hazis, were not present as they had yet to end their terms of service with their respective institutions.
This leaves the EC with one vacancy.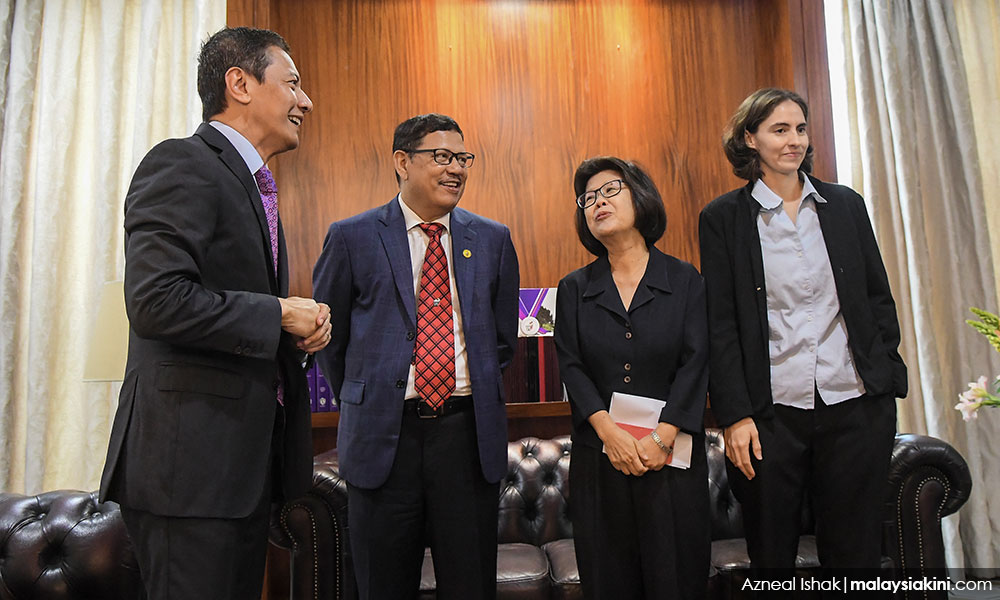 Election rules used to be for show
Azhar reiterated today that he welcomed court action against the EC, characterising it as a sign that public awareness of election rules has risen.
"I admit that the Election Offences Act 1954 including campaigning etiquettes were previously only used for hiasan (show). Sorry to say that.
"But now, there is more awareness and this has produced pretty good results. Through the Port Dickson, Cameron Highlands and Semenyih by-elections, the rakyat are becoming more aware about these issues.
"So much so that people are initiating court action on the EC to question its validity. It's good, I welcome it," he said.
Azhar thus encouraged the public to raise more electoral issues.
"This is so that we have a guide (for elections) for the future," he added.