Umno Youth has rejected the proposal to form the Independent Police and Misconduct Commission (IPCMC) as it felt that the existing mechanisms were sufficient in dealing with such issues.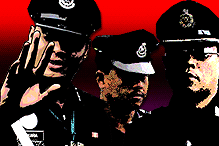 Its information chief Azimi Daim said the decision was made at the Youth exco meeting chaired by the wing's head Hishamuddin Hussein on Monday.
"Umno Youth feels that the formation of IPCMC will be turned into an avenue by certain quarters to expose the weakness in the country's administration.
"They are poisoning and influencing the people to accept their stand that the police is weak and therefore the government is also weak," he said when contacted today.
However, Azimi did not name those who are trying to take advantage of the situation.
Warning issued
He claimed that these groups had bad experiences with the police and therefore targeted the force.
This, he added, was not fair because the whole force should not be punished because of the bad experiences of one or two individuals.
Azimi said Umno Youth had sent a delegation, led by its secretary Abdul Rahman Dahalan, to meet with the management of the federal police to listen and understand their problems.
The others in the delegation were exco members Subahan Kamal, Razali Ibrahim, Reezal Merican Naina Merican dan Idris Haron.
According to Azimi, Umno Youth also wanted to extended its warning to certain quarters not to overly 'attack and punish' the police or the government for this is not fair.
Unfortunately, he said even the public have followed this trend and developed a narrow perception of the police.
Umno president and Prime Minister Abdullah Ahmad Badawi had called for the formation of the IPCMC.