Umno will sell its stake in Media Prima, the country's biggest media conglomerate, according to the party's acting president Mohamad Hasan.
Last month, the Malay-based party sold its 31.6 percent stake in Kumpulan Utusan, whose flagship publication Utusan Malaysia had previously been kept alive with Umno's money.
"We will sell our stake in Media Prima as there is nothing much we can do. We can't put out our own news, and we do not have board representation.
"At least it (the sale) can cover us for another two-and-a-half years," Mohamad said in an interview with news portal Free Malaysia Today (FMT).
"Umno is a big organisation and it needs a lot of money to maintain it. Running the headquarters has substantial costs. Even paying salaries is difficult now," he said.
Media Prime controls four television channels (TV3, NTV7, 8TV and TV9), three newspapers (New Straits Times, Berita Harian and Harian Metro) and four radio stations (Fly FM, Hot FM, One FM and Kool FM).
Umno decided to monetise part of its assets after its bank account was one of 900 frozen by MACC over transactions tied to the 1MDB scandal last year.
However, Mohamad sees a silver lining in the defeat of BN in May 2018 after six decades in power. He believes that Umno will make a comeback with the co-operation of PAS.
'Parasites are now gone'
"I believe the defeat was a blessing in disguise," said Mohamad, who is also known as Tok Mat.
"The parasites are now gone. We lost because we were arrogant and egotistical, and people were turned off. So now we have to lose these bad characteristics," he said.
Mohamad, who is also Umno's number two, took charge of the party in December 2018 in the wake of president Ahmad Zahid Hamidi going on leave after being slapped with a number of corruption charges.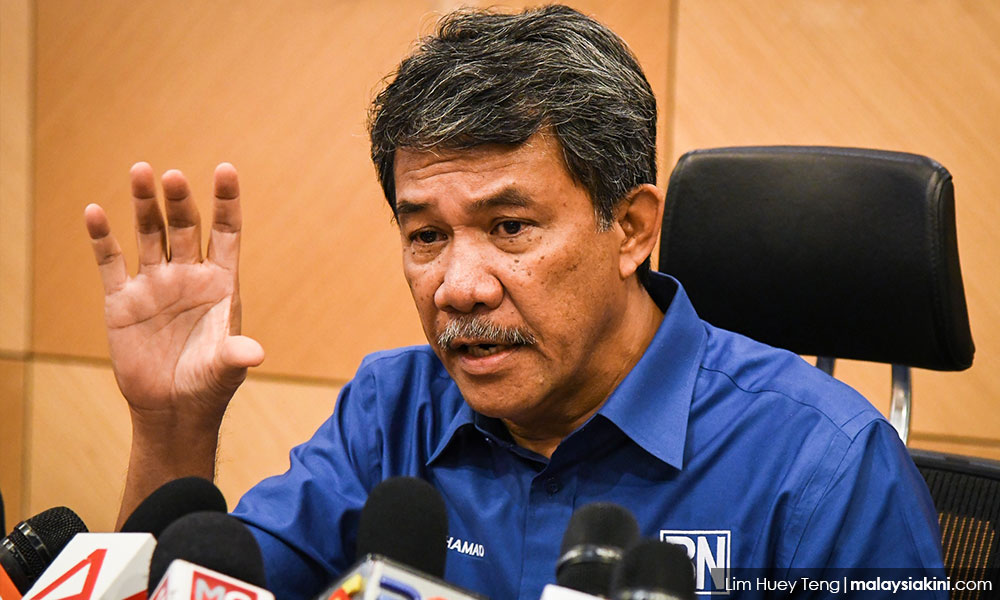 Despite Umno only controlling Pahang and Perlis, Mohamad is still optimistic about the future as he sees the Malays as still being solidly behind the party.
"Have any Umno branches been dissolved? None. In my division, I see more members attending meetings, showing they still have their fighting spirit.
"This is Umno's strength. Not the president or the deputy president, or me, but the people."
Umno has 22,000 branches nationwide, except in Sarawak.
Umno has found its strength by cooperating with its once archrival PAS, Mohamad said.
"When Umno and PAS cooperate, BN will grow stronger as Umno becomes stronger. If MCA and MIC can do what Umno and PAS are doing, I think it will be a blessing. Let us forget our egos and prioritise the people."
He denied that Umno is succumbing to PAS' values.
"Nobody can force their values on anybody. PAS cannot force their values on us and Umno cannot force their values on PAS," he said.
"We are working on a strategy to cooperate for the 15th general election, that's all. Umno is Umno, PAS is PAS."

'Umno not resorting to racial, religious rhetoric'
He stressed that the PAS-Umno alliance would not affect support for BN in Sabah and Sarawak.
"In Sarawak, the move by the ruling coalition to ditch BN and form a new local alliance is understandable.
"They are going to face a state election, and the sentiments there are against peninsular parties. They want their own parties and we understand that. What is important is that we still have good, strong ties."
Mohamad disagreed when it was pointed out to him that Umno had resorted to racial and religious rhetoric to woo support.
The party's MPs and senators were instructed by him to focus on issues related to the economy, he said.
"People are worried about uncertainty in the economy, traders are facing problems and everyone's buying power is weakened.
"I believe 40 percent of the people are not so interested in issues of race and religion, but rather bread-and-butter issues like the economy.
"It has been 10 months since the 14th general election and there is uncertainty. The current government did not get a strong mandate. As a result, the economy is not doing well and people are suffering," he said.