MP SPEAKS | Over the past week, the outrage and attacks by politicians, the media, social media users and the public against the organisers of the Women's Day March have been persistent.
In response to these attacks, the government has responded by making statements indicating that they are moving towards strengthening the law with regard to organising rallies. I strongly condemn this move.
Any attempt by the Home Ministry to amend the Peaceful Assembly Act 2012 to be more restrictive will be a betrayal to what was promised in the Pakatan Harapan manifesto. This is not what we were voted in for and Harapan will surely pay for it if it is not careful.
The current law does not call for organisers to apply for permits and the government must not bow down to pressure by imposing such conditions.
After years of being victims of this draconian legislation, it is sad to see the government still consider keeping the Peaceful Assembly Act.
Instead of allowing democratic freedom to flourish, we are choosing to go down a dangerous path of extremism.
The government must continue to promote human rights as promised and strengthen the position of NGOs and organisations so that they can continue to help those in our society who are often overlooked and left without any protection.
Human rights are an important part of the Sustainable Development Goals. According to the special rapporteur on the rights to freedom of peaceful assembly and of association, "the rights to freedom of peaceful assembly and of association are indivisible from other human rights".
Both Sisters in Islam (SIS) and Women's Aid Organisation have done extensive work to promote women's rights and gender equality in Malaysia for years.
Their work includes providing legal aid and counselling including to women who find themselves victims of domestic violence, sexual abuse and divorce cases. Sisters in Islam has helped over 8,400 Muslim women since 2003.
Human rights NGOs like SIS do important work for women in Malaysia. It has worked hard to give a voice to the voiceless women in Malaysia through education, legal services and advocacy.
Attempting to limit the functions of human rights organisations undermine civic freedoms and endanger our right to exercise our freedom of peaceful assembly and of association.
Already we have heard calls by PAS leaders, including in parliament, urging the government to take action against the organisers of the Women's Day rally.
Recently, Selangor PAS chief Sallehin Mukhyi has accused Women, Family and Community Development Deputy Minister Hannah Yeoh of going against the Selangor sultan and a state fatwa over the allocation the ministry gives to Sisters in Islam.
This dangerous trend is similar to the narrative espoused by far-right Western parties in countries like the United States, France, Poland, Austria and Hungary which have been introducing policies to limit the rights of certain people, especially Muslims and immigrants, and subsequently exclude them from society.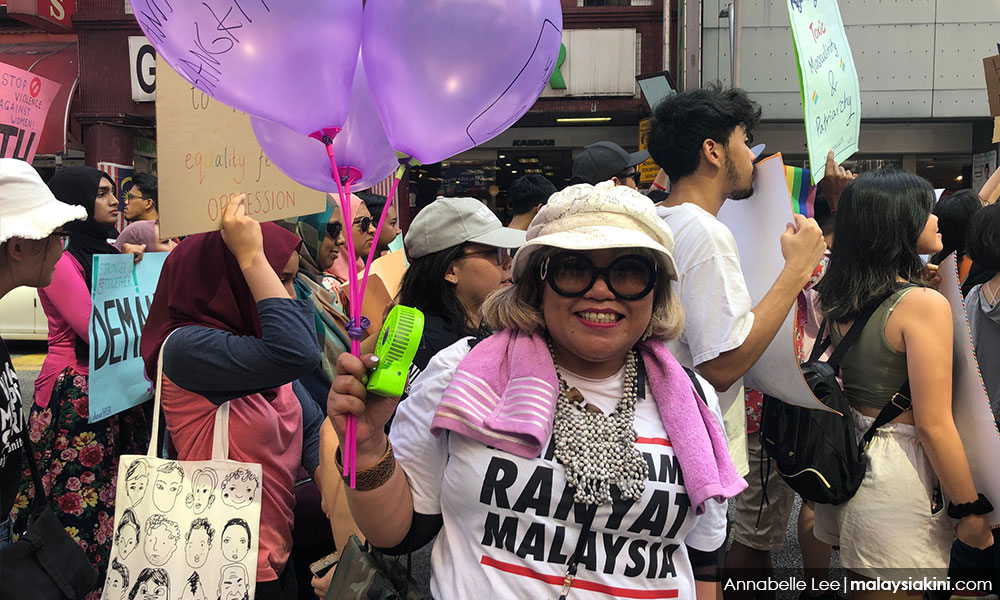 This narrative is transforming how we perceive our culture, our country and our identity. We have seen the hatred and violence that this Western concept of extremism brings and we must move quickly to oppose it in the strongest sense possible.
If we allow this narrative to prevail, we will be helping to create a hostile environment for organisers of rallies in which threats, harassment and intimidation will become common.
The Harapan manifesto had promised to improve our human rights record including by implementing the National Human Rights Blueprint and by making Suhakam "a body that is highly regarded and respected".
I also strongly condemn the attacks by both sides on the organisers of the rally. All charges against the organisers must be dropped and there is absolutely no need for the police to summon organisers for questioning on Monday.
I also call on the police to also look into the allegations of attacks against the staff and also on those who attended the rally.
---
MARIA CHIN ABDULLAH is the MP for Petaling Jaya.
The views expressed here are those of the author/contributor and do not necessarily represent the views of Malaysiakini.