The air quality in Rompin reached 'very unhealthy' levels early this morning, according to the Malaysian Air Pollutant Index (APIMS).
The Environment Department website revealed that Rompin's air pollutant index reading peaked at 279 as of 3am today.
This marks the highest reading among the 66 locations nationwide where API was recorded for that hour.
It has since dropped to 171 as of 9am today, which is classified as 'unhealthy'.
API values between 201 to 300 signify 'very unhealthy' air quality conditions, while values from 151 to 200 are 'unhealthy'.
Pekan, which is about an hour's drive from Rompin, has been experiencing a sustained forest fire since March 11.
According to New Straits Times, the fire covered an area measuring 6ha – equivalent to nine football fields – as of yesterday.
The Fire and Rescue Department's efforts to put out fires in the Pulau Serai area have been hampered by dry, windy and hot weather.
Air quality data for Pekan is unavailable on the Environment Department website.
According to APIMS, Rompin's API reading was classified as 'moderate' – between 51 to 100 – from March 12 up to 10am on March 15.
At 11am that day, the API reading rose to 103, breaching 'unhealthy' levels. It remained in this zone up until last night, when it rose to 'very unhealthy' levels.
After 6am this morning, Rompin's API dropped back down to the 'unhealthy' zone. 
Changing data
A check by Malaysiakini shows that the API data for Rompin has changed since this morning.
When the APIMS website was checked at 8.22am, the only hour at which the API reading fell in the 'very unhealthy' (orange) category was at 6am, with a reading of 209.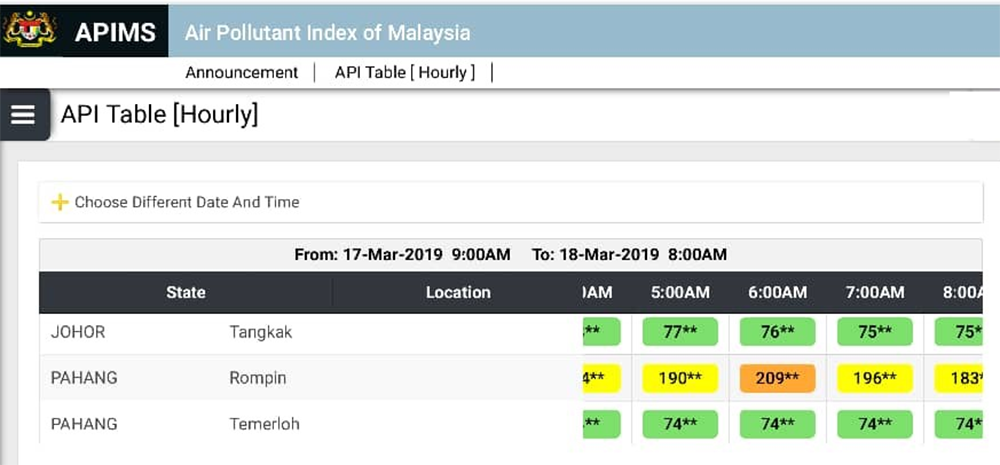 However, upon another check at 11am, the API data for Rompin during the hours prior to 6am today had changed.
Most of the data now falls into the 'very unhealthy' category, with a new peak reading of 279 being recorded at 3am.

Malaysiakini is contacting the Environment Department to seek their response on the change in API data for Rompin. 
Najib's visit to Pasir Gudang
Meanwhile, Pekan MP Najib Abdul Razak visited Pasir Gudang on Saturday to meet with victims of the March 7 chemical dumping incident.
More than 2,500 people have since been treated for exposure to toxic fumes.
Najib's visit attracted criticism from netizens on Twitter, who reminded the former prime minister that his own constituency is facing its own issues with the forest fire and air pollution.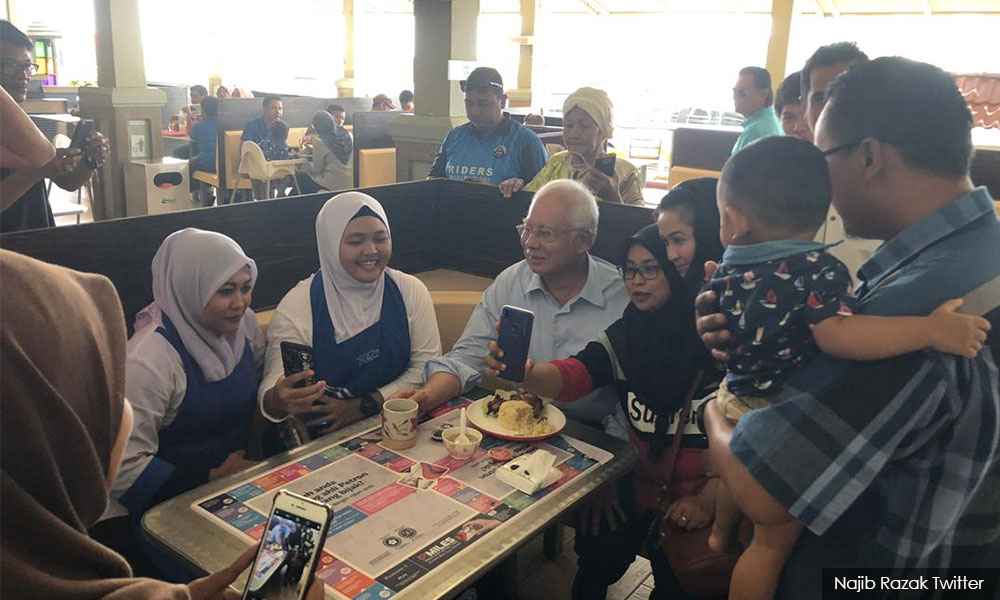 "This mega joke from the king of jokers. His own constituency has issues but he does not want to help solve it, instead he meddles in another constituency," said Twitter user Jamaludin Abd Ghani.
Najib has previously dubbed himself the 'King of trolls' after publishing a series of social media posts poking fun at the Pakatan Harapan government and its leaders.
"Wow, this is the haze due to the fire in Pekan. Is the Pekan MP still busy in Johor? Is the Pekan MP still 'ber-mat rempit'?" Twitter user Adrian Lim Chee En asked.
The netizen also asked sarcastically whether Najib would push for an emergency to be declared in Pekan.
This is referring to the calls from many quarters – including many BN supporters – for an emergency to be declared in Pasir Gudang in the wake of the chemical waste pollution crisis.
---
Editor's note (March 21, 2019): In a response to Malaysiakini today, the Environment Department stated that the inconsistency in API data for Rompin was due to exceedingly high PM2.5 readings on March 17, 2019, which were not taken into account in the initial API calculations for March 18. The API calculations were corrected after the PM2.5 readings were verified.
PM2.5, also called "fine particulates," refers to particles with diameters that are less than or equal to 2.5 microns in size.