Three suspects linked to the illegal dumping of chemical waste in Sungai Kim Kim, Pasir Gudang, were brought before a Sessions Court judge this morning.
According to reports, the three suspects arrived at the court in Johor Bahru at 9.04am today.
Utusan Malaysia later reported that the three individuals - lorry driver N Maridass, 35, and company directors Yap Yoke Liang, 42, and a Singaporean, Wang Jing Choa, 34, - separately pleaded not guilty before Sessions Court judge Jailani Rahman.
According to the charges read, Maridass was accused of illegally dumping waste classified under the first schedule of the Environmental Quality (Scheduled Wastes) Regulations 2005 as SW311 or waste of oil or oily sludge, into Sungai Kim Kim.
Yap and Wang, meanwhile, were accused of colluding with Maridass to commit the act.
The three had allegedly committed the act using a Mitsubishi Semi-Trailer without obtaining written approval from the Environmental Quality director-general.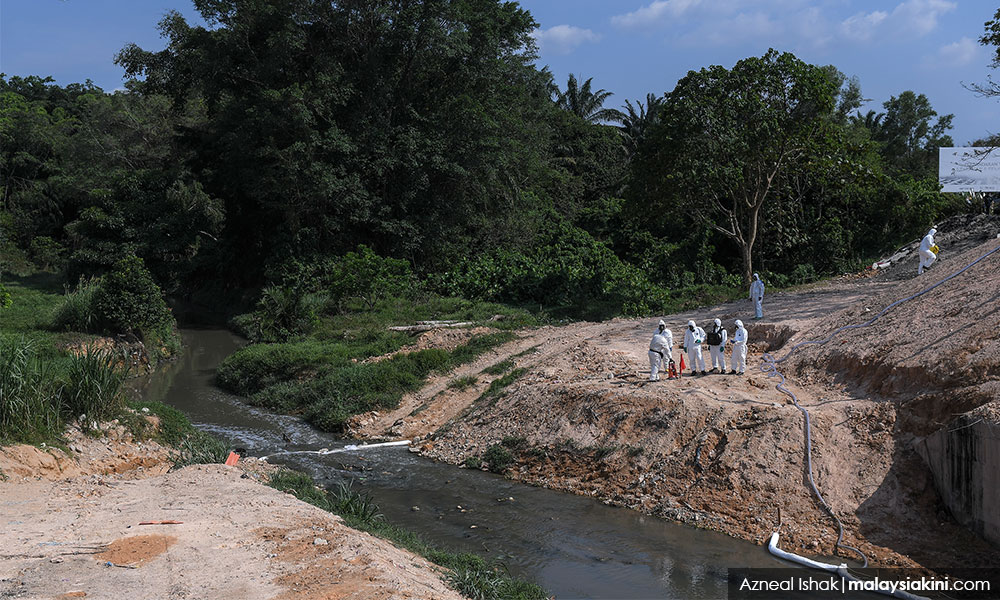 They were accused of committing the act at the site for the Sungai Kim Kim bridge expansion project, Jalan Kota Masai 1, Pasir Gudang, between midnight and 1am on March 7.
All three faced charges under Section 34B(1)(a) of the Environmental Quality Act 1974, which carries a prison sentence of up to five years and a fine not exceeding RM500,000.
The prosecution was led by DPP Mohamad Asyraf Md Kamal, while counsel Rathakrishna appeared for Maridass. Lawyer G Subramanium meanwhile represented Yap and Wang.
According to Utusan Malaysia, both Yap and Wang were expected to face another 15 additional charges at the Johor Bahru Sessions Court this afternoon.
Police have so far arrested 11 individuals linked to the case, but one was reportedly released earlier this week after he was found to not be involved in the pollution incident.
The case is being investigated under Sections 278, 284 and 326 of the Penal Code for making the environment noxious to health, negligent conduct with respect to a poisonous substance, and voluntarily causing grievous hurt.
Since March 7, more than 4,000 people have sought treatment as a result of the contamination, with all 111 schools in the Pasir Gudang district being shut down temporarily in its aftermath.