RANTAU POLLS | Almost a year after the botched Rantau election resulted in a walkover, acting Umno president Mohamad Hasan will finally face off against PKR's Dr S Streram in a by-election.
The Federal Court on Feb 18 upheld the decision to void Mohamad's win, paving way for the by-election.
This stemmed from the returning officer's move to block Streram from filing his nomination papers in the 2018 general election.
Nominations for the by-election will take place this morning, after which campaigning will officially kick-off.
Mohamad, who was born in Rantau, has held the seat since 2004.
Polling day for the by-election is on April 13 after a 14-day campaign period.
Malaysiakini brings you the nomination process live.
---
11am - This concludes our live coverage of the nomination process for the Rantau by-election.
---
It depends - Zahid on campaigning in Rantau
10.30am: Umno president Ahmad Zahid Hamidi, who is on leave, says his appearance today was to fulfil his promise to Mohamad Hasan.
However, Zahid is unsure whether he will be participating in BN's election campaign.
"It depends. If my presence can help us win, I will show up at places where I am needed. If the opposite is true, I will provide support from afar," he says.
---
Cops intervene as BN and Harapan supporters close in
10.20am: SJK(C) Bandar Sri Sendayan - Light Strike Force personnel order BN and Harapan supporters to back off.
This is after the two groups came within 100m of each other.
Harapan supporters chant "Reformasi" and "Lawan Tetap Lawan" (Keep fighting) while BN supporters shout: "Long Live Tok Mat" and "Down with Harapan."
However, both groups react positively to the police, singing "thank you abang polis."
---
Confirmed! Four-cornered fight in Rantau by-election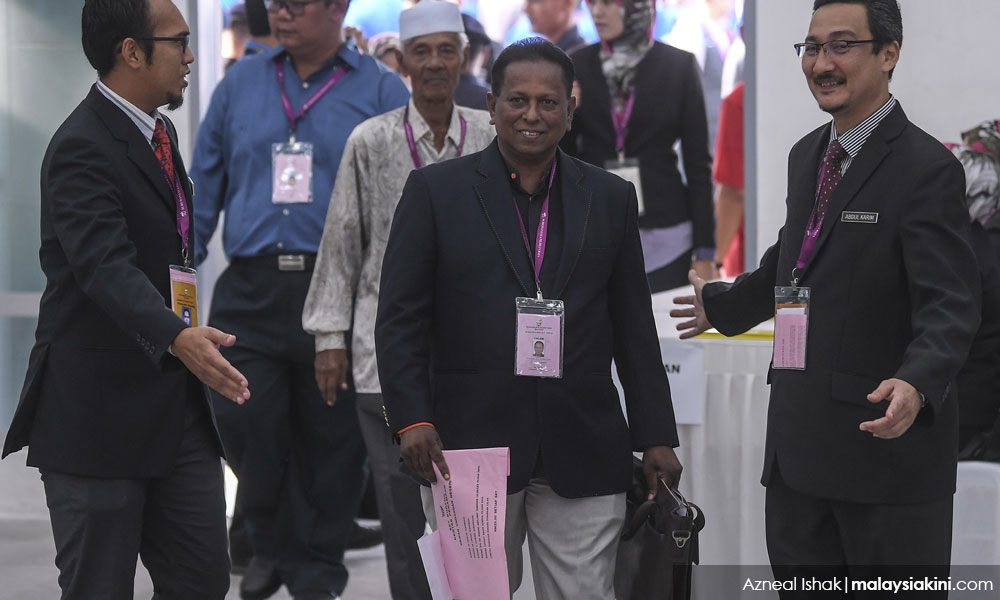 10.10am: SKJ(C) Bandar Sri Sendayan - It's official, the Rantau by-election will see a four-cornered fight.
The candidates have drawn their numbers. Their name will appear on the ballot paper in the following order:
1) Mohamad Hasan (Tok Mat)
2) R Malar
3) Mohd Nor Yassin
4) S Streram
Instead of using his birth name, Mohamad will be using his nickname "Tok Mat" on the ballot paper, which the locals are familiar with.
Mohd Nor Yassin, a former teacher and lecturer, hopes to promote Islamic-based development.
---
Nomination closes - four papers filed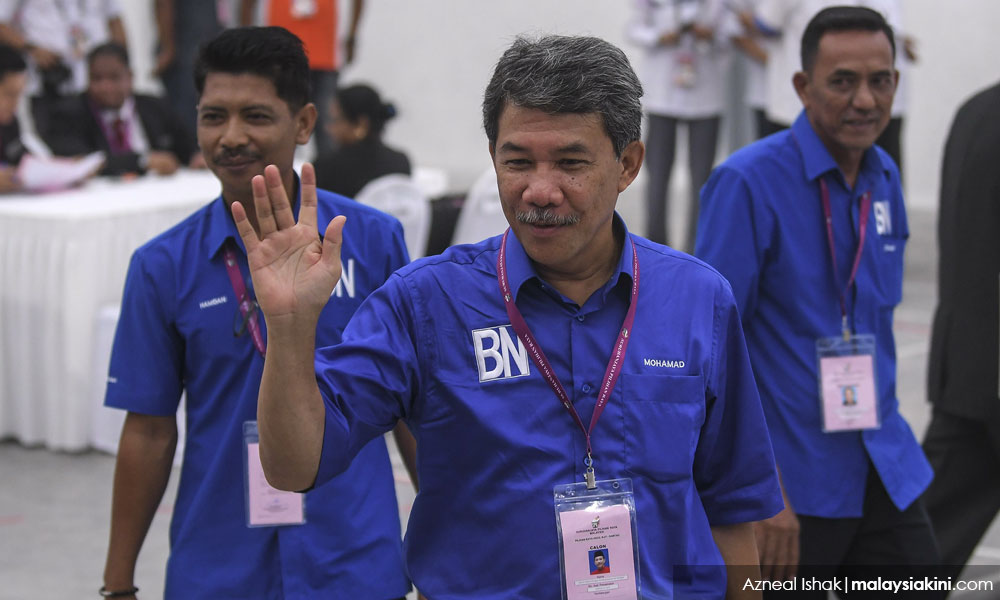 10am: SKJ(C) Bandar Sri Sendayan - The nomination process has ended. Election Commission officials are now checking the nomination papers.
A total of four candidates have submitted their papers, namely Harapan's S Streram, BN's Mohamad Hasan and two aspiring independent candidates R Malar and Mohd Nor Yassin.
The EC will now determine if all four qualify. If everything is in order, the Rantau by-election will likely see a four-cornered fight.
---
At least two independents to file nomination papers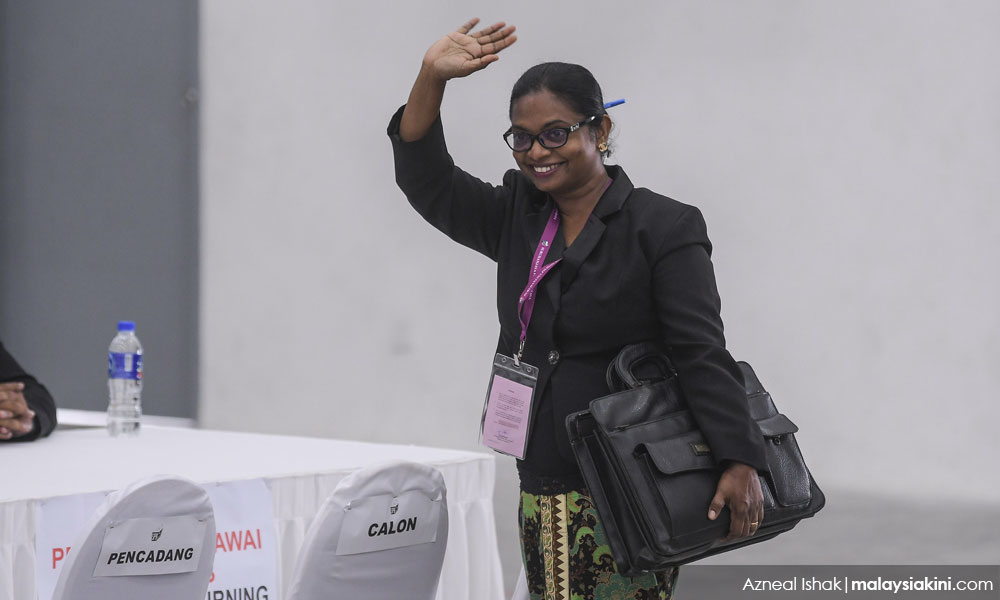 9.40am: SJK(C) Bandar Sri Sendayan - Apart from Mohamad Hasan and Dr S Streram, other candidates looking to file their nomination papers include community organiser R Malar.
The 51-year-old Malar, who describes herself as a homemaker, says she plans to contest as an independent. She hails from Port Dickson.
Another potential independent candidate is one Mohd Nor Yassin, who is seen preparing to file his nomination papers.
On Wednesday, disgruntled PKR member Hazan Khalid said he too planned to contest as an independent.
However, Hazan is not yet present at the nomination centre and it is unclear if he will turn up.
---
I don't need an EC pass - Mat Hasan jokes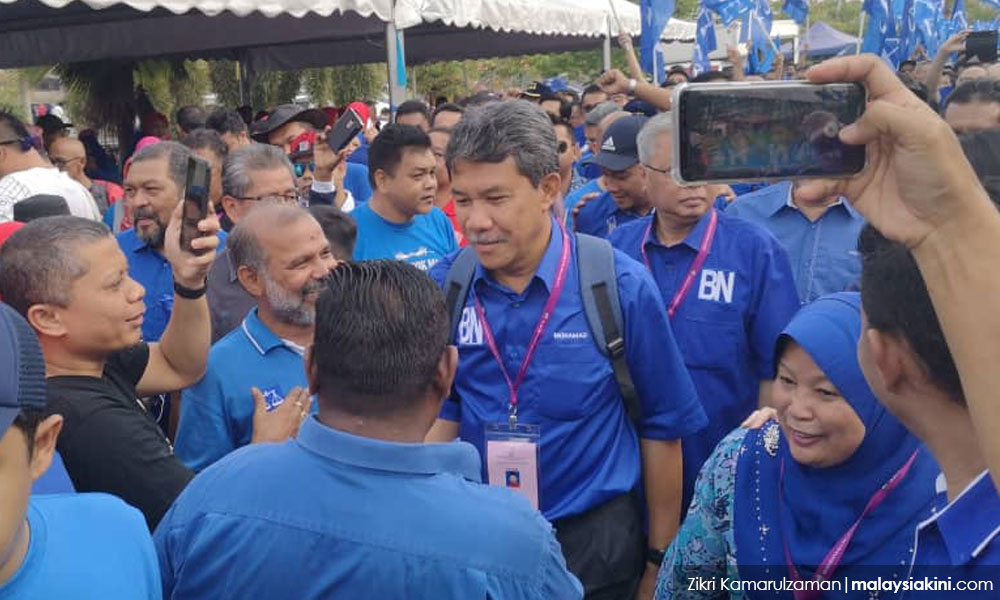 9.10am: SJK(C) Bandar Sri Sendayan - PAS' Unit Amal helps carve a path for Mohamad Hasan towards SJK(C) Bandar Sri Sendayan.
At the gates of the nomination centre, a police officer asks to see the Election Commission passes of his entourage but Mohamad jokes that it is not needed.
"The courts have said that passes are not needed, that's why I was disqualified," he quips.
The returning officer in the last general election had stopped Streram from entering the nomination centre on grounds that he did not have a pass.
This resulted in a walkover for Mohamad which was subsequently reversed by the courts.
---
Stickers of clown-faced Harapan leaders for sale
9.05am: Next to Persiaran Nusari 3 - NGO Sedar Malaysia is among the BN supporters selling stickers of clown-faced caricatures of Pakatan Harapan ministers, namely Maszlee Malik, Mujahid Yusof Rawa, Lim Guan Eng, and Teresa Kok.
They were dubbed "Kabinet mangkuk" (dumb cabinet). The stickers are going for RM10 a set.
The group says the funds raised would go towards funding their "Apa sudah jadi" (What has happened) protest against the Harapan government on May 1.
---
Harapan backers begin to march
9am: Persiaran Nusari 1 - The Pakatan Harapan crowd, which numbers over 500, begin their 300m march towards the nomination centre after prayers.
They are led by Deputy Prime Minister Dr Wan Azizah Wan Ismail, PKR president Anwar Ibrahim and Bersatu president Muhyiddin Yassin.
Earlier, Amanah vice-president Mujahid Yusof Rawa led the prayer session.
---
BN crowd swells over 1,000 as Mat Hasan arrives
8.50am: Next to Persiaran Nusari 3 - BN candidate-designate Mohamad Hasan arrives with a large entourage.
The crowd swells to more than 1,000 people.
Mohamad is wearing the trademark blue BN uniform and is carrying a backpack.
Also present are MCA president Wee Ka Siong, MIC deputy president M Saravanan and PAS secretary-general Takiyuddin Hassan.
---
Zahid shows up for Mat Hasan despite leave
8.35am: Next to Persiaran Nusari 3 - Umno president Ahmad Zahid Hamidi, who was forced into taking leave after a revolt in the party, makes an appearance at the BN rally to show support for his deputy Mohamad.
Mohamad is presently carrying out Zahid's duties as Umno president.
Supporters greed Zahid warmly and request to take photographs with him.
Accompanying him is PAS vice-president Dr Idris Ahmad.
---
'Muslim unity'
8.15am: Next to Persiaran Nusari 3 - Long-time Umno member Suhaimi Adnan leads a group of PAS supporters in a series of chants.
"Hidup Tok Mat Hasan! BN menang! Allahuakbar" (Long live Mohamad Hasan. Victory to BN, God is great), they chant.
Suhaimi is dressed in a custom-made silat baju melayu with an undershirt bearing the Umno logo, and a vest with BN blue at the front, and PAS green at the back.
"My wife just finished sewing this last night. It is a symbol of Muslim unity," he tells Malaysiakini, adding that he hopes BN and PAS will work together until the next general election.
---
Streram arrives
8.15am: Persiaran Nusari 1 - Harapan's candidate-designate Streram arrives as the crowd cheers on him.
Streram proceeds to the back of a lorry which is being used as a makeshift stage.
Clad in a black blazer and light brown pants, he shouts "Pakatan!" and the enthusiastic crowd replies "Harapan!"
The backdrop bears the faces of top Harapan leaders including Dr Mahathir Mohamad and Anwar Ibrahim.
Also present are Amanah's representative Parit Buntar MP Dr Mujahid Yusof Rawa and DAP's representative Ipoh Barat MP M Kulasegaran.
The crowd grows to more than 300 people.
---
Muhyiddin greets supporters
7.55am: Persiaran Nusari 1 - The Pakatan Harapan gathering sees an equally strong crowd of more than 200 people.
Top leaders start arriving, including Harapan general secretary Saifuddin Abdullah, Bersatu president Muhyiddin Yassin and PKR secretary-general Saifuddin Nasution Ismail.
Supporters are clad in red and light blue, which are the colours of Harapan, Bersatu and PKR.
They wave the Harapan flags. There are also supporters coming from as far away as Sabah as they wave their state flag.
---
Supporters unveil Umno-PAS-BN canvas
7.45am: Next to Persiaran Nusari 3 - The number of BN supporters grows to more than 200 people, many clad in BN's blue trademark colour.
Some green dots the sea of blue as PAS supporters also turn up for the BN candidate.
The supporters then unveil a huge canvas that combines the Umno, PAS and BN flags.
Small businesses are also taking advantage of the crowd, selling merchandise including T-shirts of the BN candidate Mohamad Hasan.
There is also notable police presence along the perimeter of the gathering area.
---
Quick breakfast ahead of nomination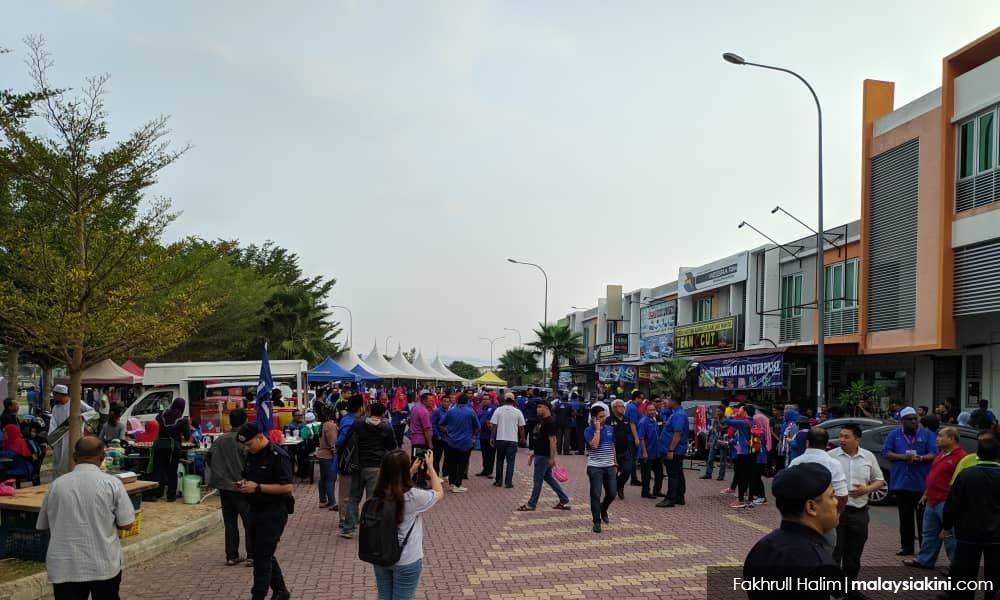 7.35am: SJK(C) Bandar Sri Sendayan - Supporters start trickling in around the school where the nomination process will take place.
BN supporters are gathering along the empty space in front of a commercial centre, which runs parallel to Persiaran Nusari 3 and is around 200m north of the nomination centre.
Meanwhile, Pakatan Harapan supporters are gathering across the street from where the nomination centre is, along Persiaran Nusari 1.
Many supporters are having last minute breakfast at nearby restaurants before joining the gathering.