The Finance Ministry today announced development projects worth RM2.28 billion in Sandakan, Sabah.
In a statement, Finance Minister Lim Guan Eng listed details of 49 projects which he said will benefit the people of the second biggest town in the state.
It is worth noting that Sandakan will see a parliamentary by-election on May 11, following the sudden death of Sabah DAP chairperson Stephen Wong on March 28.
"The government gives serious attention to the development in Sandakan, which also encompasses Batu Sapi and Libaran, in order to have the people enjoy the best facilities from the government.
"The federal government has prepared enough allocation for Sandakan to enjoy continued economic growth as an important business centre in the state," said Lim.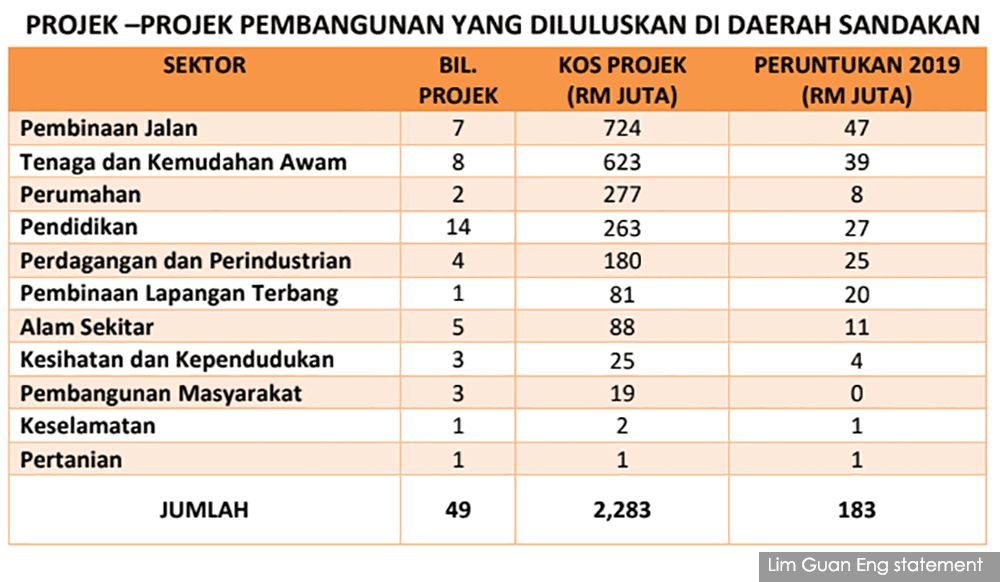 According to the minister, the projects and programmes are either ongoing or will be carried out.
Among the projects are the expansion of the Sandakan airport at a cost of RM80 million, a mitigation project at the Anip river for RM40 million, and works to improve the drainage system and upgrade rivers in Sandakan.
"Apart from that, other projects that can improve the economic status of Sandakan, are being prioritised.
"This includes projects in the oil palm-based industry and providing a transportation network that would further boost the local economy," said Lim.
Lim added that the development allocation for 2019 is RM183 million, but that the 49 projects will eventually cost up to RM2.28 billion.