A policy paper Khazanah Research Institute has suggested that home prices in the country are out of reach for most.
The median house price for Malaysia grew at a compound annual growth rate (CAGR) of 23.5 percent between 2012 and 2014, while median household income grew at only 11.17 percent during the same period.
Moreover, the median multiple index - a tool to calculate housing affordability - for Malaysia had been above the 3.0 threshold for housing affordability since 2002.
 One of the reasons this happened was that housing supply was unresponsive to real demand, leading to the proportion of affordable housing launches reducing dramatically since 2004 (see chart below).
However, the report also noted that while house prices have doubled since 2008, available data showed that construction costs — labour, material and machinery, and equipment — have only increased slightly in the same period.
"The disproportionate increase in prices and costs suggests either increasing profit margins, land prices or regulatory costs," read the report.
The federal government's response to this since the beginning of the 10th Malaysia Plan (2011-2015) has been to shift priority towards home ownership programmes.
"From having no expenditure on public ownership programmes prior to 2013, the government spent RM1.6 billion in 2016.
"This was more than twice the amount spent on public rental programmes for that year," read the report.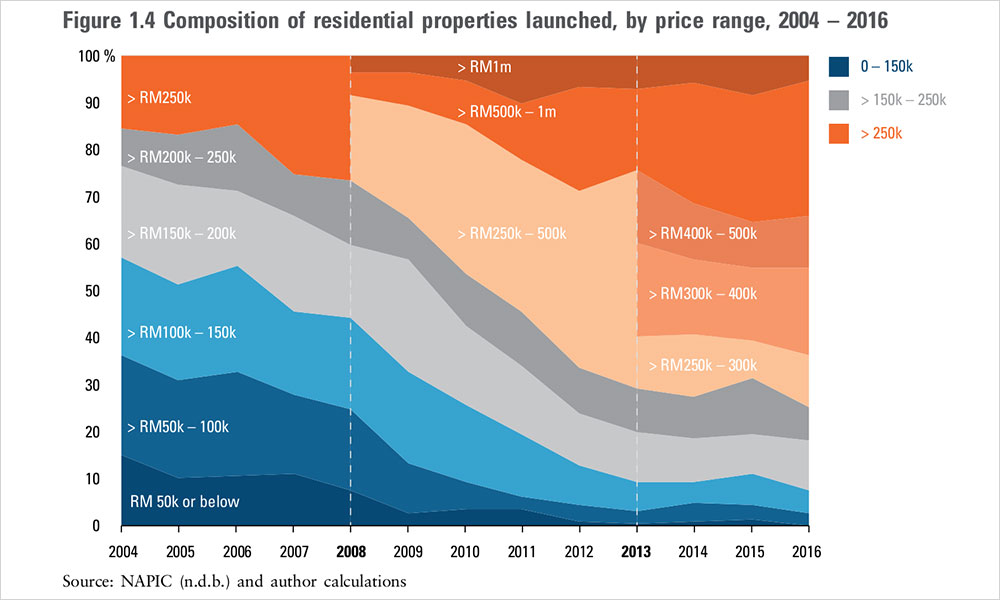 In 2013, 44.7 percent of government funds for home ownership campaigns were dedicated to government-assisted housing programmes while the balance was used for social housing and government quarters.
By 2016, the proportion allocated for government-assisted housing had increased to 70.9 percent while only 6.8 percent went to government quarters.
The trade-off for this, warned the report, was that the budget for social housing needs will take a hit.
"Direct provision of government-assisted housing is disproportionately more expensive but does not necessarily bring the right results in terms of sufficiency and pricing.
"Furthermore, it can crowd out the private sector from supplying housing for the middle-income segment," read the report.
One of the problems for policymakers and researchers was that there were data gaps which needed to be plugged.
For instance, a lack of data meant that the efficacy of spending on government-assisted housing could not be accurately measured.
Some data relevant to the analysis of travel patterns of home owners and the rental market, was not available at all.
The report had made a long list of policy suggestions, which include proper data gathering and analysis.
The report - Khazanah Research Institute (2019) Rethinking Housing: Between State, Market and Society - can be accessed here.