Voters' confidence in Pakatan Harapan's economic management as of last month has fallen dramatically compared to when the coalition first won power in May 2018, according to survey by independent pollster Merdeka Center.
The survey found that economic satisfaction with Harapan had fallen from 56 percent in May 2018 to 40 percent in March this year, while economic dissatisfaction jumped from 12 percent to 52 percent during the same period.
However, the figures are slightly better than that for the majority of the previous government's term under BN.
The level of economic satisfaction with BN was below Harapan's current 40 percent mark beginning October, 2015 and never recovered until the May 2018 general election. Records began in March 2014.
Meanwhile, the level of economic dissatisfaction with BN was higher than Harapan's 52 percent beginning October 2014, and lasted until the 2018 general election.
However, further deterioration would put Harapan at levels comparable with BN.
The survey of 1,204 respondents noted that public acclaim for the Harapan government had simmered down as the realities of governing set in.
The survey found that the economy is at the top of voters' concerns, with 63 percent of respondents thinking that it is the "number one problem" in the country.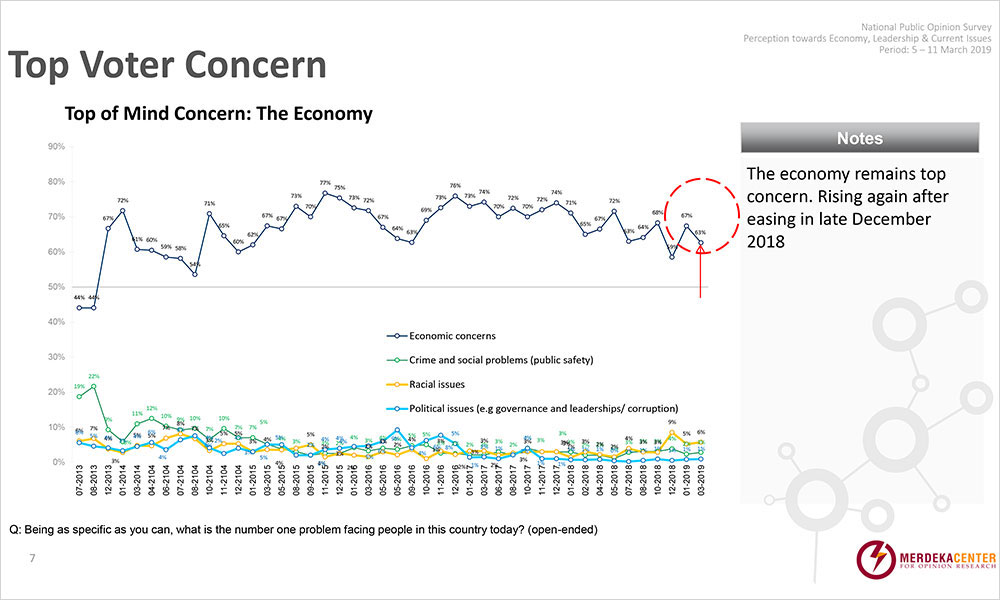 Other issues such as crime and social problems, racial issues and political issues only registered a single-digit percentage of respondents who felt they were the most important.
Giving more time
Despite the falling confidence in Harapan, the majority of voters agreed that the Harapan government should be given more time to fulfill its promises.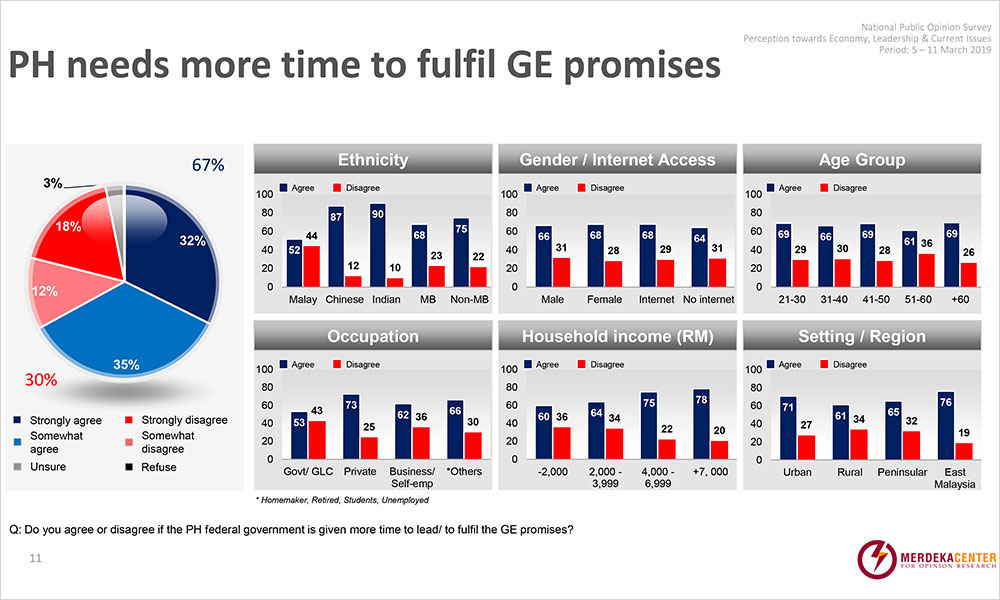 A total of 67 percent of respondents said Harapan needed more time, while 30 percent disagreed.
In terms of racial breakdown, 52 percent of Malays agreed Harapan needs more time, while 44 percent disagreed.
Meanwhile, 87 percent and 90 percent of Chinese and Indian respondents respectively agreed Harapan should be given more time.
The top three issues the respondents deemed important were inflation (54 percent), corruption (23 percent) and preservation of Malay rights or equal treatment (23 percent).
Compared to August 2018, the issue of inflation saw a four percent increase in respondents who deemed it important, while preservation of Malay rights (or equal treatment) saw a one percent increase.
However, the issue of corruption saw a 10 percent decline in the percentage of respondents who deemed it important, compared to 33 percent in August 2018. The issue was in the top-three key topics identified by respondents in both surveys.