Prime Minister Dr Mahathir Mohamad took cognisance of Pakatan Harapan's struggle to meet expectations in his televised speech this afternoon in conjunction with the coalition's first anniversary in power.
Addressing the criticism that Harapan is obsessed with the previous government's scandals, he also charted his administration's future direction under the theme 'Shared Prosperity 2030', with a focus on economic development.
The premier kicked off his speech with the oft-repeated spiel about his administration's efforts to repair the damage caused by its predecessor, but noted that some might have grown weary of this.
"The people may be bored of stories and reports about the actions of the previous government.
"Even though it is boring, the reality is that the wrongdoings of the BN government under (former premier) Najib Abdul Razak posed a major problem and disrupted the country's recovery and people's well-being," he added.
Mahathir noted how Najib and his associates continued to feign innocence while ignoring the billions that the US and Singapore returned to Malaysia, which were recovered from stolen 1MDB funds.
"We are aware that many people are dissatisfied and have accused the Harapan government of failing to fulfil its promises in the (election) manifesto," he said, reiterating that the coalition's efforts are hampered due to the BN government's past actions.
"For example, to abolish toll along the Plus Highway alone, it will cost RM30 billion and billions more for annual repairs... but the government needs to foot billions in debt (from scandals) every year for decades to come," he added.
However, Mahathir assured that Harapan remains committed to fulfilling its promises.
To date, he said 39.01 percent of its 464 initiatives have been carried out, including suspension or repeal of draconian laws, press freedom, upholding the Malaysia Agreement 1963 and the rule of law, maintaining economic stability and rolling out specific policies for the Felda and Indian communities.
He also touted Harapan's appointment of women and youths to key positions, as well as the government's efforts to centralise affordable housing initiatives.
Harapan impeded by 'robbers' evading the law
Going forward, Mahathir outlined efforts to address structural issues in the country's economy, which he said was necessary to ensure shared prosperity.
However, he warned that these efforts were being impeded by "robbers" who stir up racial and religious issues to evade prosecution.
"More pressing is the existence of a movement perpetrated by those who were defeated in the last general election and fear the legal process against them," he said.
Mahathir also criticised PAS for lending credence to this movement.
Citing Umno and PAS' alliance, the premier questioned the Islamist party's lack of action when Umno and its leaders allegedly looted 1MDB, Lembaga Tabung Haji, the Felda, Retirement Fund Inc (KWAP) and the Employees Provident Fund (EPF).
"The struggle, which is purportedly to defend the Malays and Islam, is nothing more than an effort to defend robbers who are hoping that if this government falls, their charges would be dropped and they would not be held responsible for the sins committed and damage inflicted.
"My advice is, enough of playing racial and religious issues for political expediency," he said.
Charting Harapan's economic direction
Mahathir acknowledged that Malaysians want to know Harapan's direction for the country's economy and explained the 'Shared Prosperity 2030' theme.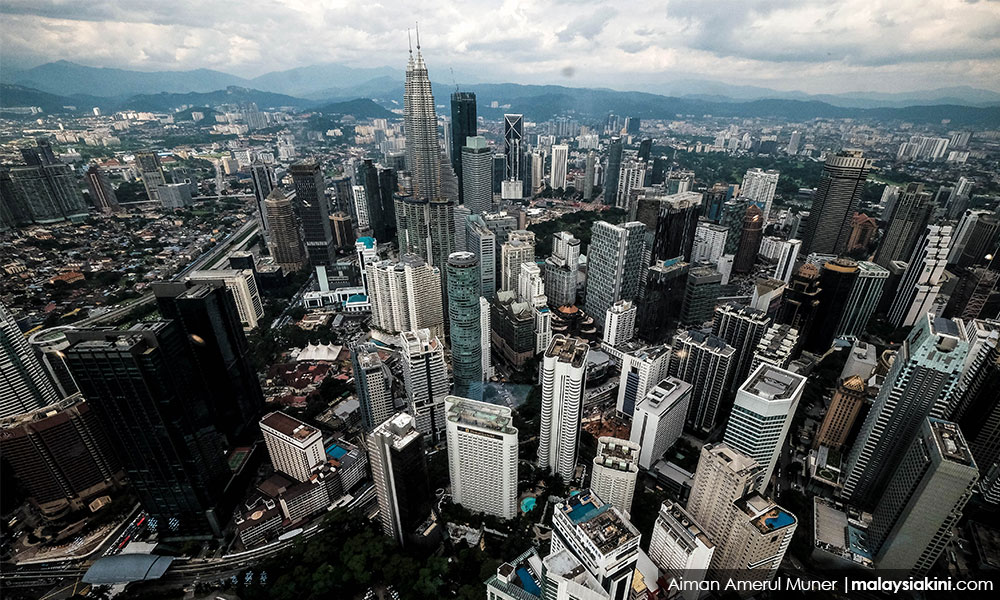 "Shared prosperity means improving the people's buying power and eliminating the income and wealth gap between classes, races, regions and extreme disparity in the supply chain," he said.
Mahathir also emphasised that policies and programmes must be "needs-based."
"We do not want some people to be left behind in our pursuit for national prosperity. But this does not mean we will spoon-feed them, but rather upgrade their capabilities," he added.
He said 'Shared Prosperity 2030' would comprise seven cores, among them, restructuring and improving the business and industrial ecosystem, expanding into new sectors, reforming human capital and improving the labour market and wages.
Harapan, he said, would be consulting the grassroots to further these objectives.
"We hope that the proposed concept and planning can be further scrutinised by people at all levels and groups and it will be brought to the grassroots level for feedback and to garner better ideas before it is included in the 12th and 13th Malaysian Plans in order to achieve shared prosperity by 2030," he added.
Mahathir stressed the importance of implementation since without them, the plans would be meaningless.
"It also demands that we work hard together as a nation so that the people can enjoy shared prosperity in a truly developed Malaysia that is independent and dignified.
"Therefore, the government will work to ensure all initiatives promised by the government are fulfilled based on the spirit of inclusiveness and fairness that will contribute to the wealth which can be shared by the people based on the concept of shared prosperity."