LIVE REPORTS
---
Thank you for following Malaysiakini's live report
This wraps up Malaysiakini's coverage of the Sandakan by-election.
Reporting by Lu Wei Hoong and Geraldine Tong. Live KiniTV telecast by Faye Liow and Baharudin Suarnur. Game of Thrones-inspired graphics by Syariman Badrulzaman. Social media updates by Ewe Linq Yenn . Analysis by Andrew Ong.
If you like what we do, support independent media by subscribing to Malaysiakini for as low as RM0.55 a day. Details here.
---
Key takeaways from this by-election
10pm - Here are some observations from the by-election's data:
There was most likely a swing in Muslim votes towards DAP. There is a 12 percent swing for DAP in Kg Sim Sim and a 13 percent swing in Pulau Berhala which are both Muslim-majority polling districts. These were the only two polling districts in which BN managed to win in GE14.


There was a clear swing in early and postal votes for DAP. DAP bagged 70.2 percent of the postal votes, up from 19.44 percent previously. It also bagged 39.9 percent of the early votes, up from 22.22 percent previously. This is a marked improvement for Pakatan Harapan when compared to the past three by-elections.


The swing could possibly be attributed to the efforts of Mohd Shafie Apdal who campaigned hard in Muslim-majority areas. In these parts, he has shown that he is the "Sabah Bossku".
There are 17 voting districts in Sandakan and DAP won every one. DAP's vote share for all voting districts increased when compared to GE14.


Across the board, the turnout for older folks was better than for younger folks. It is an indication that many Sandakan youths no longer reside in the area, or were not motivated to vote.


Considering that PBS ran a more sluggish campaign with no "star power", established grassroots or reliable allies, they didn't do too badly. They secured a fifth of the vote.
Pakatan Harapan's has managed to turn around its sliding vote share, despite the low 54.44 percent turnout.
---
In some ways, Wong outdid her father
9.25pm - Vivian Wong has secured a bigger vote share and a bigger majority than what her father Stephen Wong achieved in GE14.
In GE14, Stephen secured 67.97 percent of the vote and a 10,098 majority.
In this by-election, his daughter Vivian secured 74.18 percent of the vote and a 11,531 majority over PBS' Linda Tsen, the closest competitor.
It should be noted that comparing the vote share is more meaningful than the majority, especially when it's not a straight fight.
In absolute terms, Stephen drew more votes (19,094) than Vivian (16,012). This was expected due to a lower turnout for today's by-election.
---
Sabah's own 'Bossku' hopes Umno gets the message
9.20pm - In a statement, Sabah Chief Minister Mohd Shafie Apdal thanks voters for Vivian Wong's victory. He also says that Wong's victory is an endorsement of his government.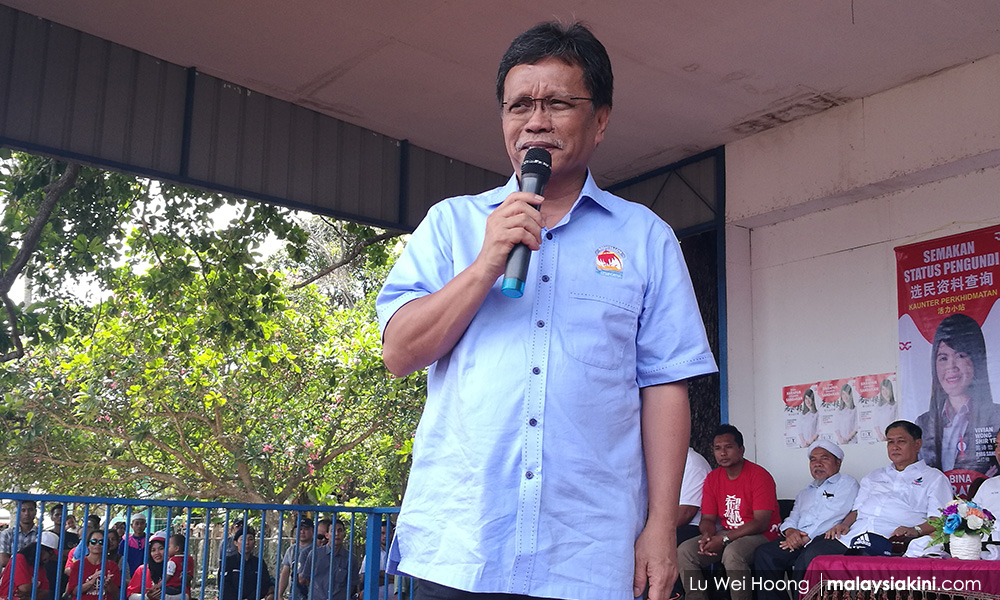 "This victory is a victory of the people as well as an endorsement of the Warisan-led government.
"The win is also a very clear indication that Umno no longer has any effect on the Muslim voters who this time around have come out very strongly in support of the DAP candidate," he said.
Shafie also promises to guide Wong and visit Sandakan as often as possible to implement development projects.
Shafie also credits DAP, PKR, Upko and Amanah for Wong's victory.
---
Wong pays tribute to her late dad
9.15pm - SMK Tiong Hua - Vivian Wong celebrates her victory with a tribute to her father.
"Without him, I am not able to sit here to talk to all of you. He groomed me to become the person I am today, a strong young lady. Winning today is not just a win for myself, but for my father.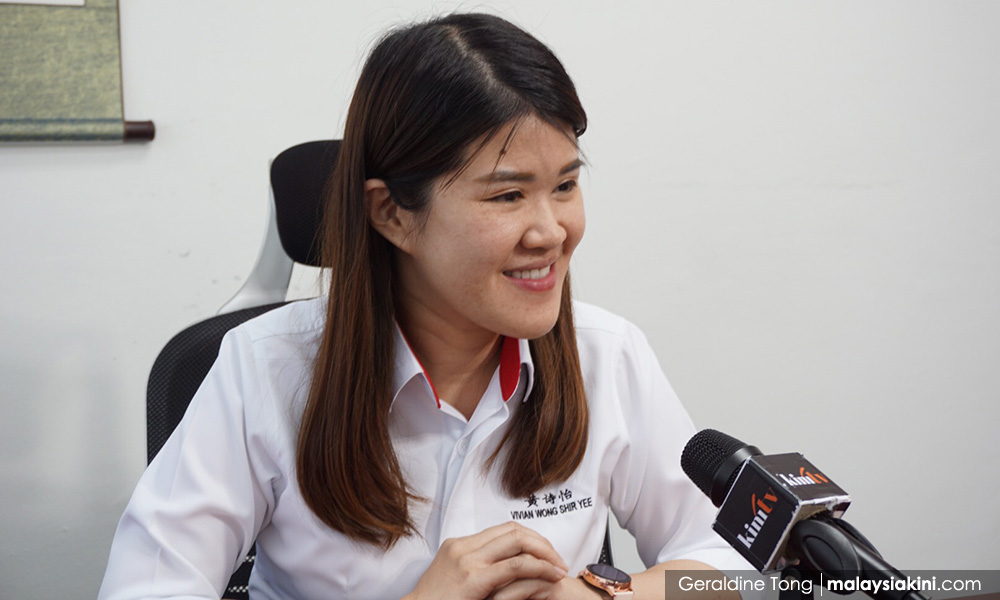 "First thing I'm going to do is to visit my father's grave tomorrow and personally thank him," she says at a press conference after being declared the by-election winner.
She also thanks Sabah Chief Minister Shafie Apdal and all those who campaigned for her as well as the voters in Sandakan.
She says she has already received a few complaints from locals and will get to work on improving matters in the constituency.
---
OFFICIAL: Harapan breaks losing streak in Sandakan
9pm - DAP has retained the Sandakan parliamentary seat.
Below are the official result:
Hamzah Abdullah (IND) - 788

Sulaiman Abdul Samat (IND) - 126

Vivian Wong (DAP) - 16,012

Chia Siew Yung (IND) - 178

Linda Tsen (PBS) - 4,491

Spoilt votes - 234

Turnout: 54.44 percent
---
PBS congratulates DAP, hopes promises will be kept
8.40pm - PBS president Maximus Ongkili congratulates DAP's Vivian Wong on her victory.
"The voters have chosen and we respect the decision of the voters. We hope DAP will honour all the promises they made to the people.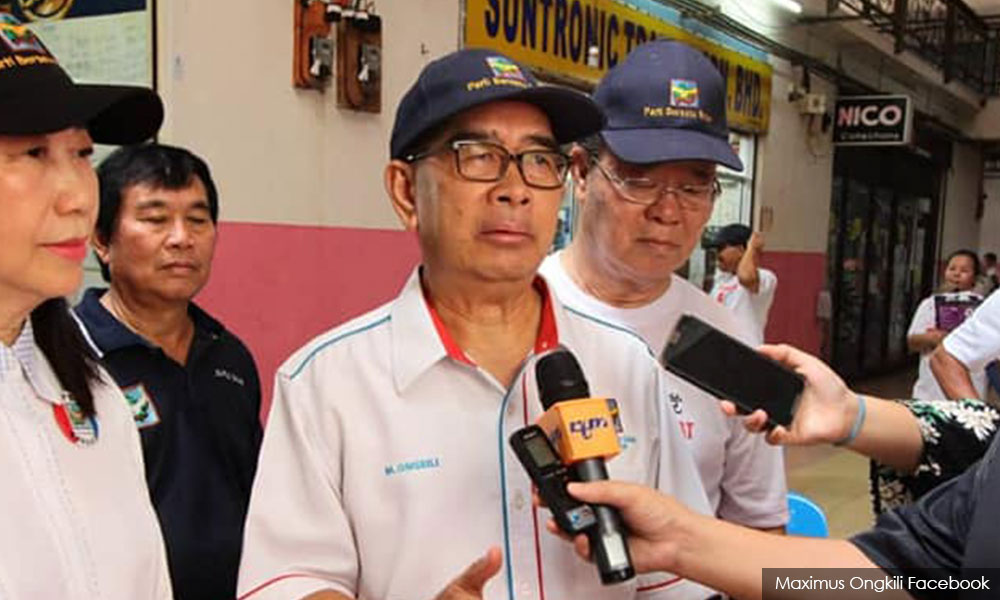 Ongkili says while the results were unsatisfactory for it, it showed that the party was still a force to be reckoned with.
"PBS put up a good fight but in the end, we could not overcome the might we were facing. God bless Sandakan, Sabah and Malaysia," he adds.
---
Guan Eng did not expect big victory
8.30pm - Najib Abdul Razak's visit to Sandakan yesterday had indeed given DAP a scare, according to its secretary-general Lim Guan Eng.
However, Guan Eng said that Sabah Chief Minister Mohd Shafie Apdal had prevailed over the "Bossku" from Peninsular Malaysia.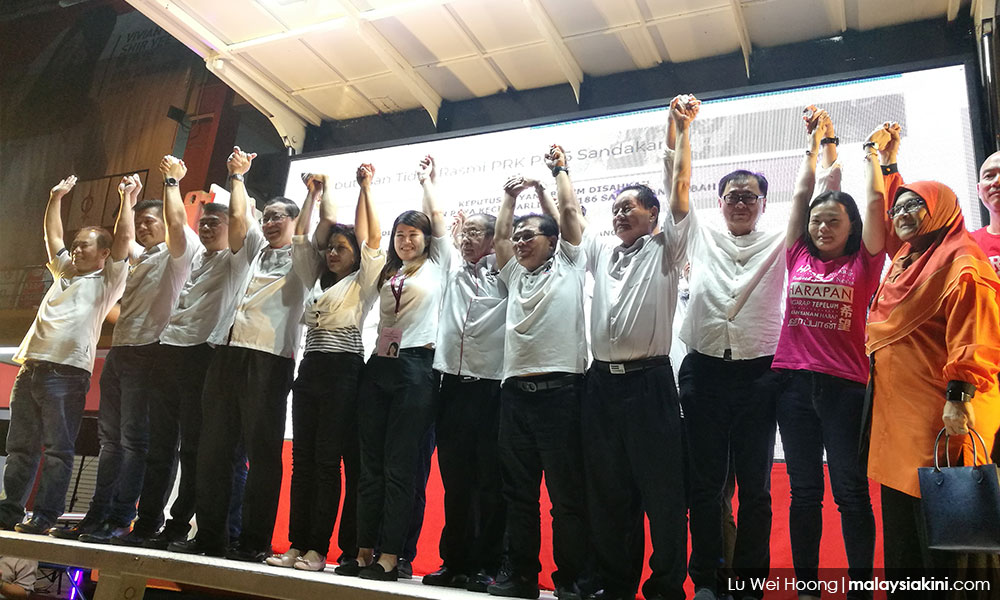 "'Bossku' (Najib) had forgotten that people are angry over corruption and that the people of Sabah have rejected Umno, PAS and PBS.
"This is a victory for the people of Sandakan. It was unexpected," he said.
---
A quick analysis
8pm - In any by-election, the turnout will be lower than the preceding general election and Sandakan is no different.
Hence mobilisation of supporters and voters is key.
This is where PBS falters. It has little presence to begin with as the Liberal Democratic Party and Gerakan were BN's representatives in Sandakan since 1995.
Their campaign couldn't match the energy, reach and pace of DAP and their allies.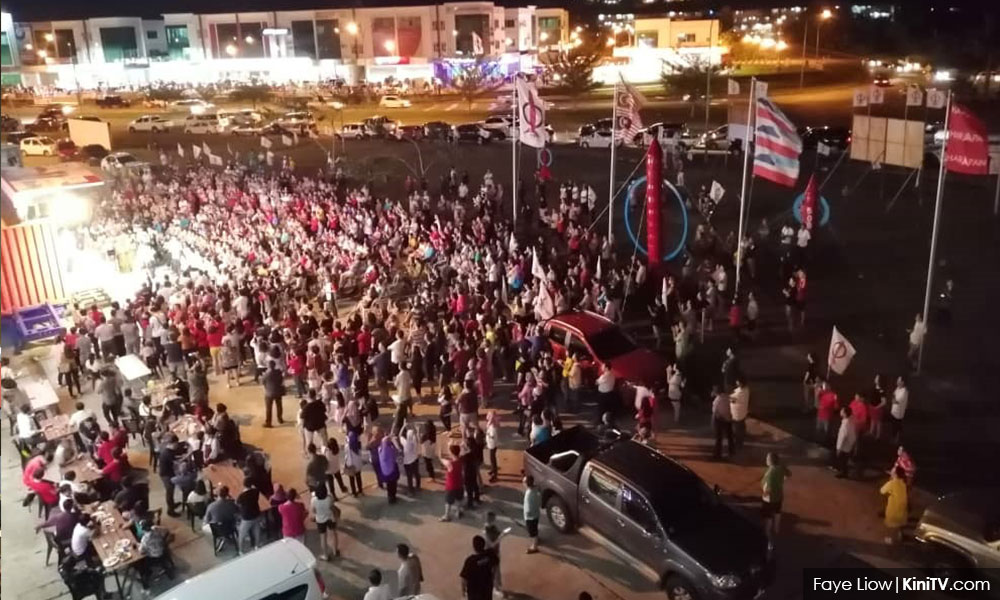 PBS also didn't go into this campaign with actual allies. Sometimes, other opposition parties would hold campaigning activities without any PBS involvement.
PBS' allies in Gabungan Bersatu Sabah also appear to have little impact in Sandakan.
---
DAP made gains in Muslim vote
7.40pm - DAP looks set to capture the Sim Sim and Pulau Berhala voting districts which have the highest concentration of Muslim voters in the constituency.
If DAP captures these two voting districts, it will mean they will make a clean sweep of all 17 voting districts.
The Sim Sim and Pulau Berhala voting districts were the focal point for Sabah Umno, PAS and former Umno leaders who campaigned for PBS.
However, it should be pointed out that Sabah Chief Minister Mohd Shafie Apdal and his Parti Warisan Sabah colleagues had been heavily campaigning in these voting districts as well.
---
Swing in early and postal votes?
7.25pm - From the unofficial count, it looks like Pakatan Harapan has done better in terms of postal and early voters, unlike the past three by-elections.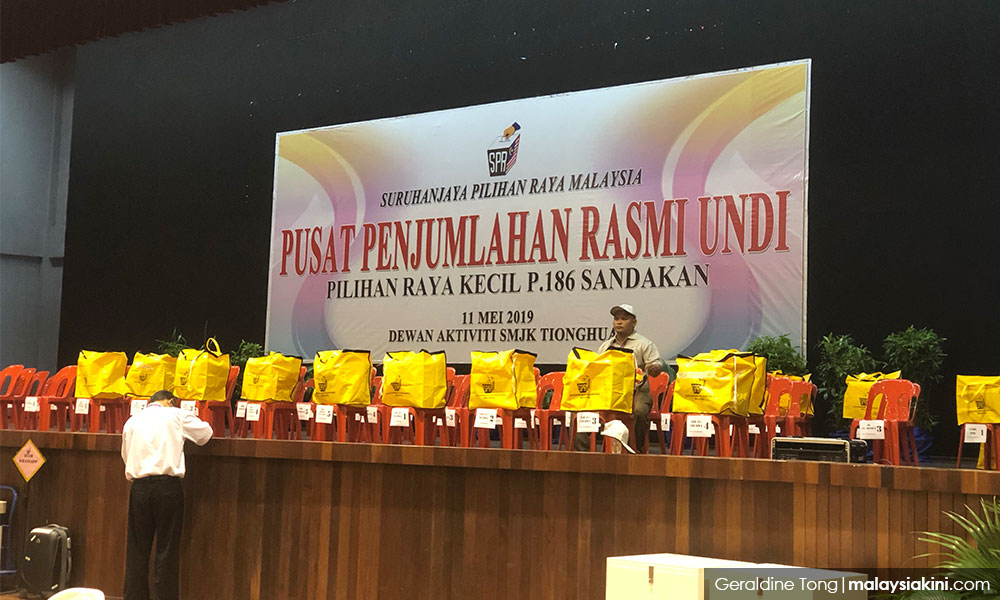 DAP appears to have secured 58.8 percent of the postal and early votes, a marked improvement for the coalition when compared to the Rantau and Semenyih by-elections where postal and early votes mostly went to the opposition.
There is also a noticeable swing to DAP amongst postal and early voters when compared with GE14 results.
---
UNOFFICIAL: DAP wins Sandakan by-election
7pm - Malaysiakini is calling the Sandakan by-election in favour of DAP.
At the time of writing, assuming that the turnout rate is 55 percent, then DAP has attained an unassailable lead, capturing 73.95 percent of the vote share, according to an unofficial count.
As for PBS, the party is currently sitting at second place with 21 percent of the vote share.
Some 150 DAP supporters at their operation centre are ecstatic. Each time new numbers are announced, they burst into cheers.
DAP veteran Lim Kit Siang is seen congratulating Vivian Wong.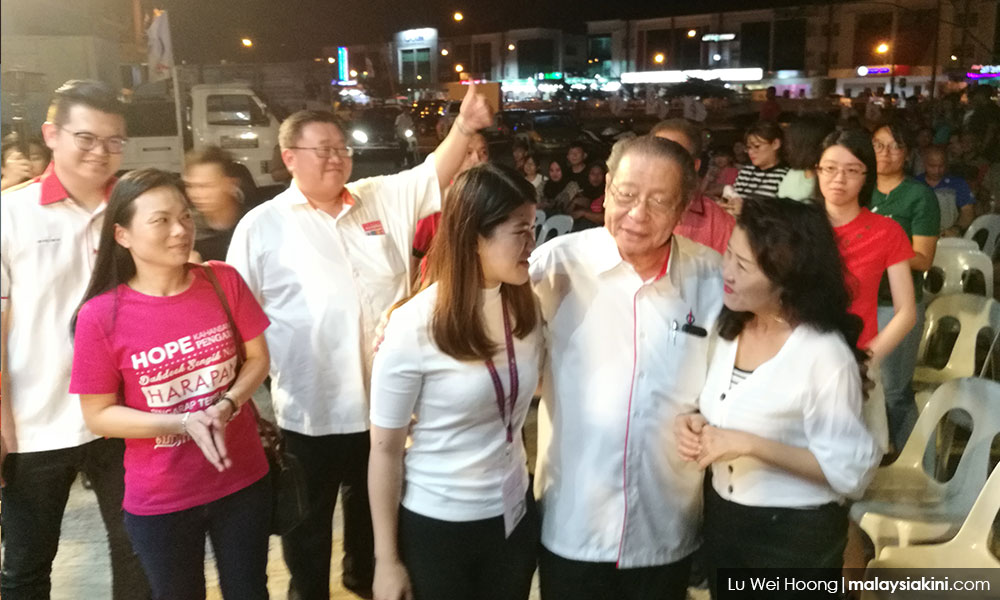 ---
Harapan losing streak likely to end
6.40pm - Malaysiakini estimates that the overall turnout is 55 percent. Based on that figure, then nearly half the votes cast today has been counted at this moment.
Unofficially, DAP is leading the count by a wide margin of 8,766 votes with 77.83 percent of the vote share.
The nearest competitor is PBS, with 17.96 percent of the vote share.
Meanwhile, independent candidates Hamzah Abdullah, Sulaiman Abdul Samat and Chia Siew Yung are looking set to lose their deposit.
Looks like Harapan losing streak could end in Sandakan.
---
DAP picks up first voting district
6.23pm - UNOFFICIALLY, DAP's Vivian Wong (seated in white below) has won the Pasar voting district with 89.96 percent of the vote share, followed by PBS' Linda Tsen with 7.83 percent.
The turnout for this voting district is roughly 63.8 percent.
Officially, the overall turnout as of 4pm is 51 percent. There are 40,218 voters in total.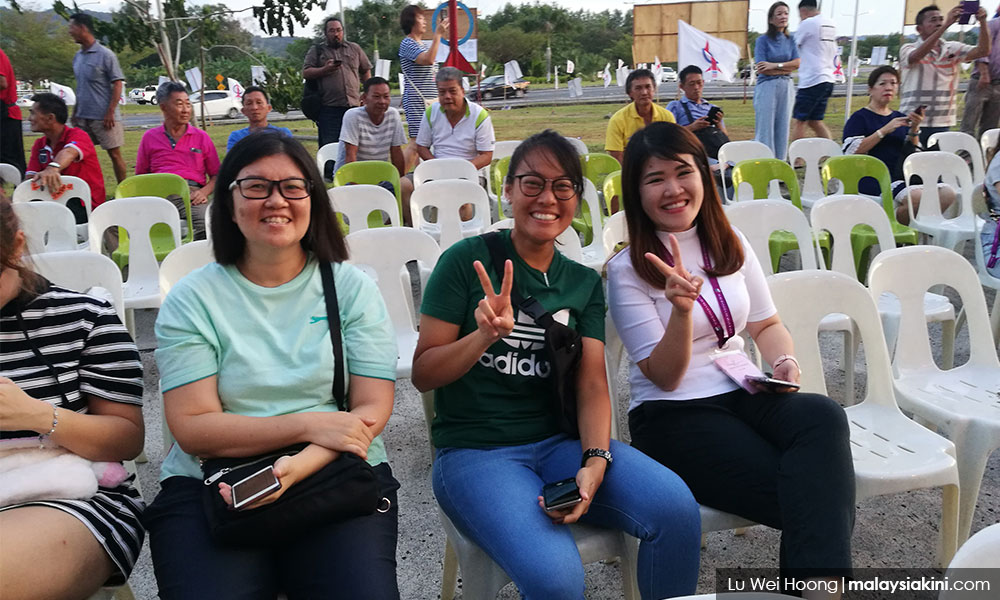 ---
Some trivia
PBS last fielded a candidate in Sandakan in 1995. At the time, it was not part of BN and was an opposition party.
DAP's Vivian Wong, 31, is no stranger to Sandakan as she used to serve as an assistant to the previous Sandakan MP Stephen Wong.
PBS' Linda Tsen, 63, was once the MP of Batu Sapi, a parliamentary constituency west of Sandakan.
The Sandakan constituency is divided into 17 voting districts. During GE14, DAP lost in two such districts.
This is the eighth by-election since GE14. Pakatan Harapan is the only coalition that participated in all by-elections. It's vote share has been on the downtrend.
---
Voting ends
5.30pm - Voting ended at 5pm and the counting process is underway.
This contest is between DAP's Vivian Wong, Parti Bersatu Sabah's Linda Tsen, Hamzah Abdullah, Sulaiman Abdul Samat and Chia Siew Yung.