Attorney-General Tommy Thomas has denied a social media posting, which claimed he told Prime Minister Dr Mahathir Mohamad and former Council of Eminent Persons chairperson Daim Zainuddin there is no solid proof to convict Najib Abdul Razak on the allegation that funds were embezzled from 1MDB.
Thomas told Malaysiakini this evening that he received numerous phone calls regarding the matter and therefore wished to set the record straight.
"I deny telling them (Mahathir and Daim) this. As far as we are concerned, we have a strong case against the former prime minister (Najib) and (fugitive businessperson) Jho Low.
"As you are aware, there are many charges pending in court (against Najib and Low) which emanated from 1MDB. Since the matter is in court, I do not wish to comment further," he added.
According to the posting, which has been published on various sites, Thomas told Mahathir and Daim that the prosecution does not have a shred of evidence to show Najib (photo) stole RM42 billion or RM52 billion from 1MDB.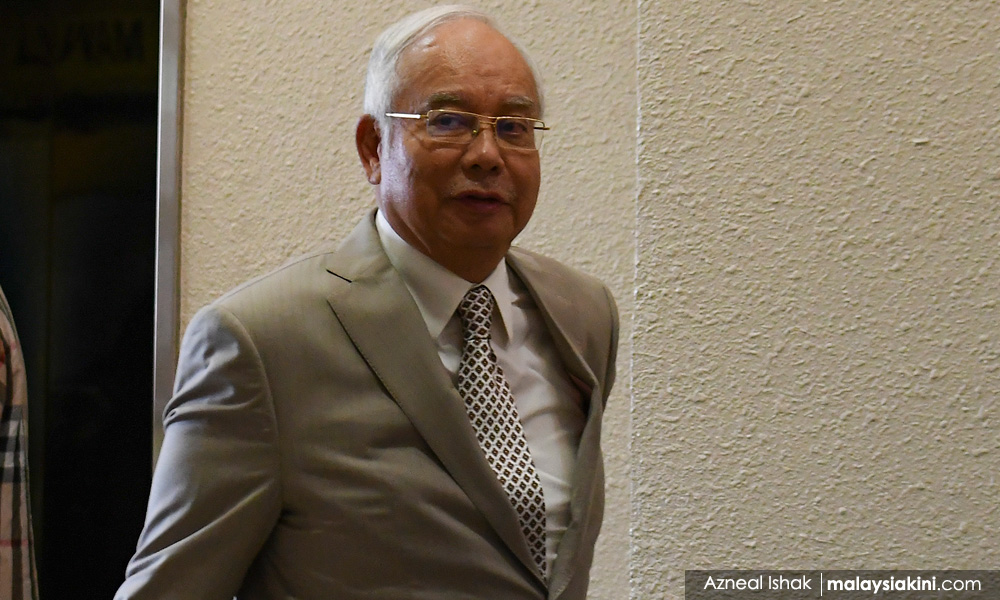 "But they have to prove it in court or Harapan will be confronted with a major credibility crisis.
"Due to this, after being in power for one year, their credibility will be ruined if no evidence can be found to prosecute Najib," it added.
The posting also claimed that the valuables, which included various designer bags, jewellery and watches, seized from the Pavilion Residences in Kuala Lumpur cannot be linked to the 1MDB scandal.
"So where is the evidence showing Najib stole RM42 billion or RM52 billion from 1MDB?" it asked.
Najib is facing more than 40 charges related to money laundering, abuse of power and criminal breach of trust.
The former premier has always maintained that he did not abuse public funds for personal gain.
Whereas Low, who has been described as the mastermind of the 1MDB scandal, has been charged in absentia in both Malaysia and the United States.