Social media has been abuzz over a comment made by Johor crown prince Tunku Ismail Sultan Ibrahim about eagles and pipits.
This was after Tunku Ismail yesterday said that eagles and pipits fly at different heights, as an analogy comparing the royalty and other people in an Instagram Story.
In the post, which was only available for 24 hours, Tunku Ismail said teluk belanga (baju melayu) paired with black pants is the traditional attire of the Johor royalty.
The prince, also known as TMJ, added this was why no one else in the Johor government dons black pants.
"Because only the royal family can wear, or is worthy to wear black pants.
"Many outsiders and certain individuals do not like or criticise the Johor royal family but want to imitate the Johor royalty style. Many want to be royalty.
"As a prince, even when I make mistakes, I would be reprimanded by my late grandfather. Don't forget that eagles and pipits fly at different heights.
"You better know your respective places and let those dreams rest lower than the height of grass," he said.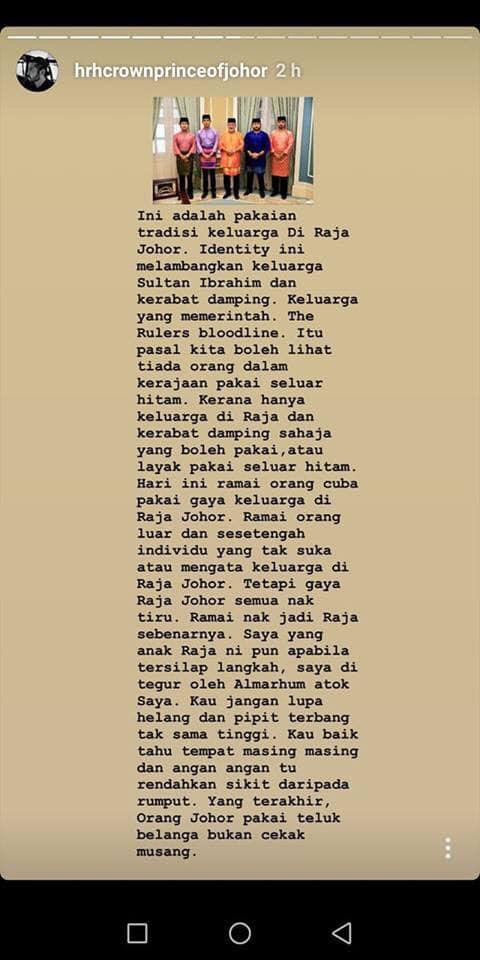 In a separate Instagram Story, Tunku Ismail posted a photograph of Agriculture and Agro-based Industry Minister Salahuddin Ayub in baju melayu and black pants, with the caption: "This is the tradition of wanting to be both the prime minister and Johor sultan".
While the posts are no longer available, a screen capture of it continued to be shared on Twitter and has even caught the attention of Bukit Mertajam MP Steven Sim.
"Eagle fly high, pipits fly low...poem folks, let's jam," he said in a tongue-in-cheek comment on social media.
Others were more critical, with the "Bebas Anwar" Facebook page remarking: "Let one be a pipit as long the soul and honour are like an eagle. TMJ, don't be a foolish arrogant boy".
Responding to this, Tunku Ismail said he was only conveying his grandfather's advice.
"I was the one scolded by my grandfather. When I made mistakes and was arrogant, my late grandfather would give advice to me. It is meant to tell me not to forget myself. Be humble.
"The question now is, why are other people taking issue? I was talking about my grandfather's advice to me," he said.
The royal comment has since become a topic of discussion on social media during Hari Raya.
The buzz has also left other users who were not aware about Tunku Ismail's comment puzzled.
"I don't understand. What's going on? Pipit? Eagle?" said Twitter user Afreena.
"My timeline is flooded by eagle and pipits tweets," said another Twitter user with the handle Svkzvr.