ADUN SPEAKS | "The trial won't be fair for me!" "The charges are politically motivated!" "It's an attempt to silence me!"
Najib Abdul Razak and Rosmah Mansor would have said these things if they had managed to flee the country after the general election of May 9, 2018.
In fact, Jho Low is saying the same thing from his hideout. Will Malaysia forget and forgive Najib, had he fled the country and parroted those words?
Certainly, large sections of Malaysians won't believe such stories coming from crooks like Jho Low and associates.
But some sections of Malaysians are buying the same story coming from a wanted man who is hiding in Malaysia. Sadly, even the top executive of the country is buying the story.
The suspect is wanted in India for money laundering. He managed to make some Malaysians believe that he is a victim of persecution. Some research on the background of the case will shed light on the basis of the claim.
Zakir Naik is not wanted for a crime for which he will be hanged. Zakir is not wanted for terrorism charges; nor for murder.
He is wanted for the crime of money laundering. The wanted man is seeking sympathy by masquerading that he is wanted for his preaching activities.
It is a lie. Zakir is not wanted for preaching or his religious activities. Period.
Section 4 of the Prevention of Money Laundering Act 2002 of India stipulates that for the crime of money laundering, a person can be jailed for a minimum of three years or a maximum of seven to 10 years. That is, if he's proven guilty by the Special Court that has jurisdiction on the matter.
Using sympathy to flout the law
If the person is found guilty by the Special Court, he still can go to the High Court and Supreme Court to appeal. That appeal process itself will take years. But Zakir is falsely claiming that he will be jailed and tortured if he goes back to India.
How true is his claim? Are all those who are wanted for money laundering in India being tortured? Zakir is just using sympathy to flout the law of his motherland. To say that he will be persecuted without a fair trial is absurd.
Is Zakir being targeted in the money laundering investigation because he is a Muslim?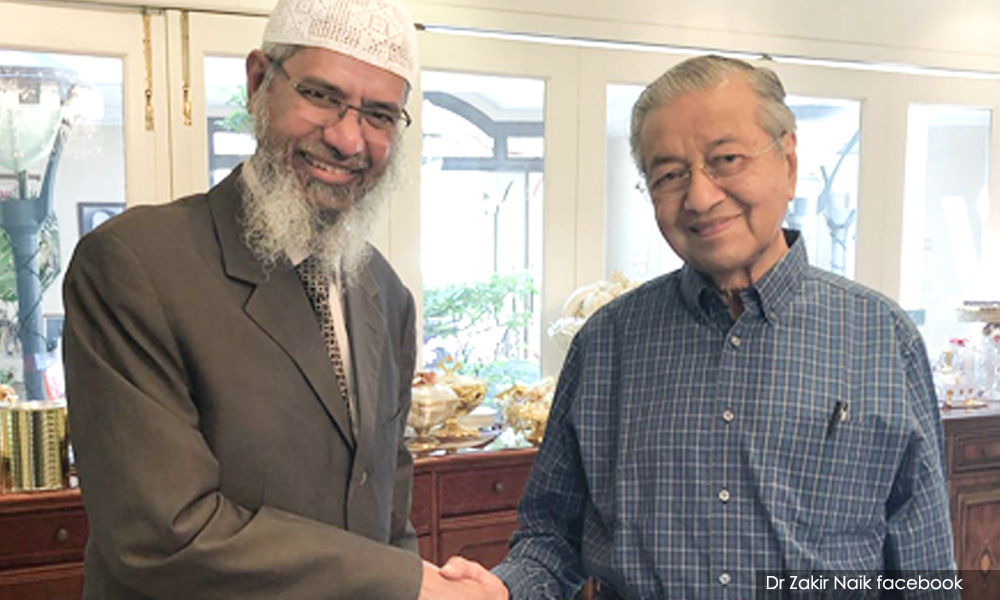 Apart from Zakir, other notable figures who are under investigation for money laundering in India are former federal minister Praful Patel, Kingfisher Airline founder Vijay Mallya (who is also, like Zakir, hiding in a foreign country) and Canadian business tycoon Chinnakannan Sivasankaran.
These three men are among the high profile people who have been investigated for money laundering in India. None of them is a Muslim. All are Hindus, to be precise. Why is Zakir saying he is targeted because of his religion? The answer is, that's the easy way for him to seek sympathy.
Muslims in India
Are Muslims really persecuted in India, as Zakir claims? While there are isolated incidents of Muslims being targeted by hate crimes in India, it is not widespread.
As the home for one of the largest Muslim populations in the world, Muslims in India are far better off than those in some Muslim countries like Pakistan and Bangladesh. Muslims in India not only excel in business, but they are everywhere in India, including in the Indian Armed Forces and in the Indian Parliament.
In fact, in the recently concluded Indian federal (Lok Sabha) elections, 27 Indian Muslim MPs were elected to the Parliament, an increase of four seats from the 2014 election. In fact, a Muslim became president and another as vice-president of India. How is it all possible, if Muslims are persecuted as per Zakir's claim?
The truth is, Zakir is afraid to face the law. That's it. He should just concede that, instead of spinning new stories every day.
If Zakir is clean, and never got involved in money laundering, he should go back and face the law in India. He will say Indian courts are kangaroo courts, the same courts that censured the country's government and stood up for the minorities in many instances, including the call for the introduction of the anti-lynching law to be passed.
Remember, the Rule of Law? "Rule of Law" is one phrase that became famous after Malaysia's last general election.
Suddenly, it seems like we forgot that other countries, too, have their own rule of law.
Malaysians, who want to see the rule of law upheld, are not "showing their loyalty towards another country", but just do not want Malaysia to become a safe haven for wanted criminals.
In fact, these Malaysians who are being questioned on their loyalty would have shed more sweat and blood for this homeland of ours, compared to those who are raising the questions.
---
SATEES MUNIANDY is the state assemblyperson for Bagan Dalam and DAP Youth international secretary.
The views expressed here are those of the author/contributor and do not necessarily represent the views of Malaysiakini.