Disabled rights activist Anthony Thanasayan has rejoiced that the "war" with the Women, Family, and Community Development Ministry is over.
This came after a meeting with minister Dr Wan Azizah Wan Ismail and her deputy Hannah Yeoh, following an earlier attempt to meet the duo had failed to materialise.
Thanasayan said Wan Azizah and Yeoh had met folks from the people with disabilities (PWD) community at a 2020 Budget consultation meeting in Putrajaya.
"There was pin-drop silence from the two women as we spoke.
"Wan Azizah echoed all the right words back to us as if to confirm she had understood our points exactly. Hannah Yeoh, on her part, was furiously taking down all that we said almost word for word," he said in a Facebook post today.
Thanasayan (below) added that although Wan Azizah pointed out financial challenges that the government would face in meeting the activists' demands, no one felt that she was hinting that their demands would be turned down.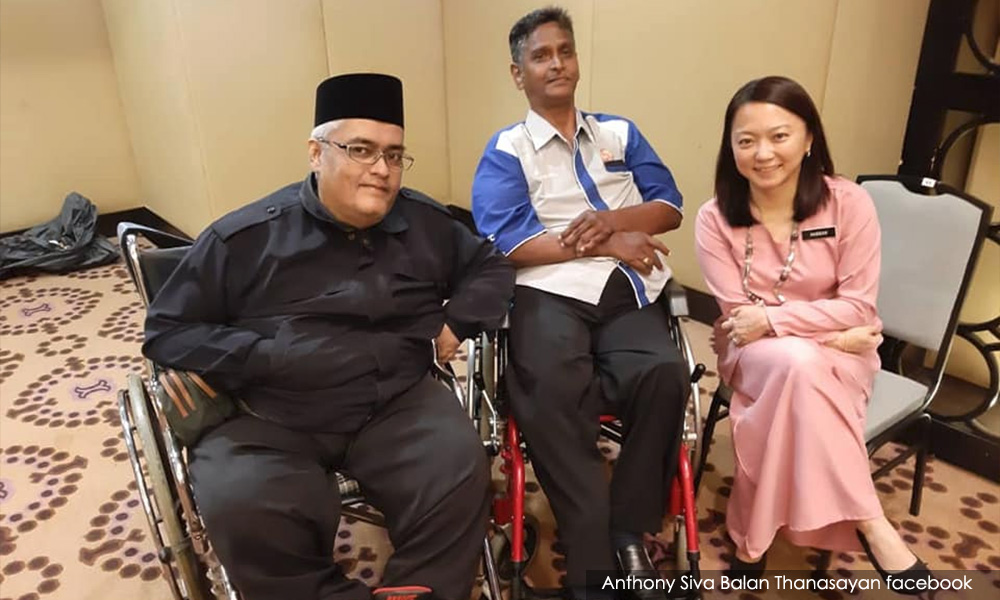 "Rather, it was something that she and her ministry were going to work around it to try and find a solution […]
"Let me just point out that whilst we have no idea if our request for a monthly financial aid of RM500 or having Personal Care Attendants would become a reality in the upcoming new budget, at least many of us felt that our requests were fully and sincerely heard," he said.
Previously, a group of about 20 PWD rights activists from the Independent Living and Training Centre (ILTC) Malaysia attempted to meet Wan Azizah and Yeoh at their ministry to submit a memorandum.
However, they were incensed that they were unable to meet the minister and her deputy on May 30, and claimed that the duo had run away from meeting them.
This prompted a statement from the ministry that the plight of PWDs is not being sidelined.
In the meantime, the activists had met Housing and Local Government Minister Zuraida Kamaruddin instead on June 3, where Zuraida announced that her ministry is looking to set up an advisory committee comprising PWDs.