PSM founding member Dr Mohd Nasir Hashim (above) will be stepping down as PSM chairperson, a post he has helmed for over two decades, it was announced today.
PSM central committee member S Arutchelvan stated that Nasir would be stepping down during the coming party congress on Friday, along with his long-time deputy M Sarasvathy.
Arutchelvan did not, however, detail the duo's replacements.
He explained the duo has to step down following a central committee resolution in 2007 that a term is set for the top four positions of chairperson, deputy chairperson, secretary-general and treasurer, for a maximum of five terms or 10 years.
This, Arutchelvan said, was after members kept electing the same individuals for the roles over the past five terms.
"With the decision, the transition for all four highest leadership roles of the party must take place by 2019 at the latest," he said.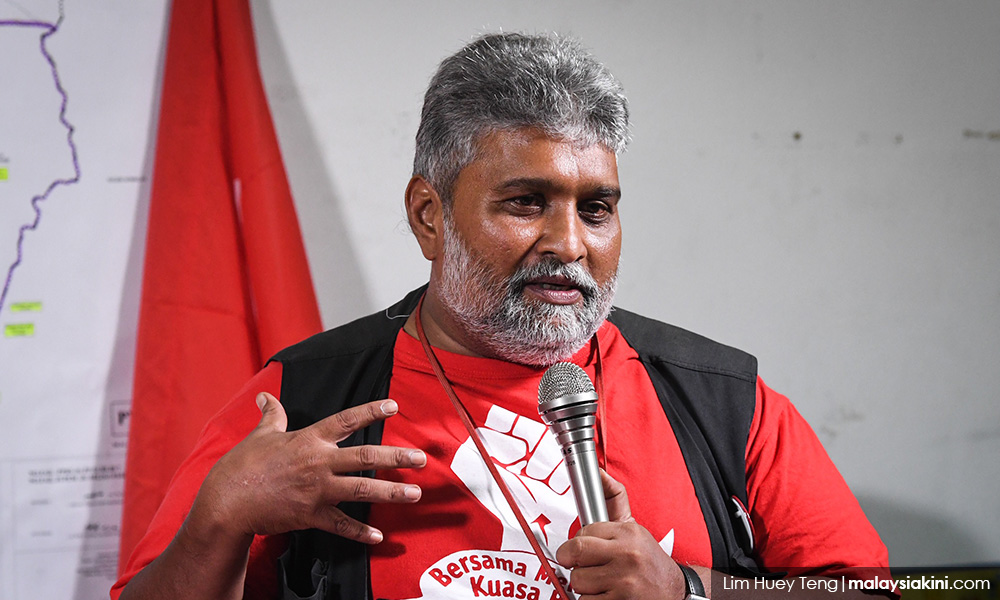 In a statement, Arutchelvan (above) stated that replacing Nasir "will not be easy", detailing how the latter took up the mantle as pro-tem committee head in 1996 and led the 10-year struggle for PSM to be registered as a political party.
PSM was officially registered in 2008.
Nasir was also the party's first assemblyperson, being elected as Kota Damansara assemblyperson in 2008 under a PKR ticket.
"He (Nasir) is no ordinary person. He was arrested under the (since-repealed) Internal Security Act (ISA) for 15 months during Ops Lalang in 1987 and (has faced) many more arrests and lockups since then.
"He is also an intellect, has been an associate professor, and possesses many skills, such as in acupuncture. He is also an artist, creating many artworks, and writings such as poems, novels and short stories," the statement read.
On Sarasvathy (above), Arutchelvan said the "tiger of PSM", who was also a founding member, had been an activist for workers' rights for over four decades.
She had been detained under the Emergency Ordinance (Public Order and Prevention of Crime) 1969 in 2011.
Sarasvathy had been arrested alongside then-Sungai Siput MP Dr Michael Jeyakumar and four other members for allegedly waging war against the king.

She has received numerous recognition internationally for her activism work here, Arutchelvan added.
"Even though the departure of Nasir and Sarasvathy from their posts was known for the past decade, now that the time is here, it is hard to accept, seeing their high standing among the members and supporters."
The PSM congress is slated to take place from July 12 to 14.