DAP supremo Lim Kit Siang said today that he is tickled by Umno secretary-general Annuar Musa using him as an example to justify the appointment of former premier Najib Abdul Razak as the BN advisory board chairperson.
"I am quite tickled by the teaser from Annuar - 'Why not Najib? Kit Siang lost elections but remains DAP adviser'. It has only confirmed Annuar is not a very bright chap.
"Clearly, it is asking too much to expect Annuar to have the IQ to understand that I had never led DAP to any electoral loss because I was a global kleptocrat, as was Najib's case," he said in a statement today.
Najib, who is facing 42 charges of money laundering, criminal breach of trust and abuse of power, was appointed to his advisory role on Tuesday.
He led the BN/Alliance to its first defeat in 61 years since independence in the 2018 general election amid allegations of grand corruption, which among others, included the 1MDB scandal.
---
Read more: Why not Najib? Kit Siang lost elections, but remains DAP adviser - Annuar
---
Annuar, in defending Najib's appointment, called the former prime minister an "asset" to BN.
"We have to remember that Lim Kit Siang has been DAP adviser for many years. How many times has DAP lost in the past 13 general elections? Lim stayed on as their adviser.
"So this is a non-issue. Just because someone has lost once, this doesn't mean the person is disqualified from becoming an adviser," he had told journalists at the Parliament lobby today.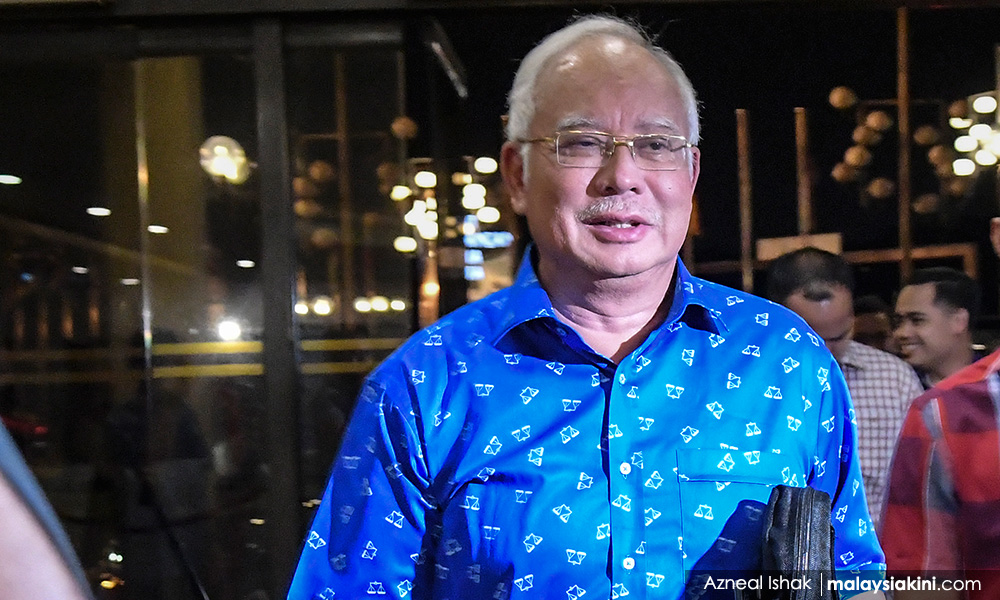 Lim, in his statement, said the appointment of Najib (photo) as BN adviser, with the consent of its component parties Umno, MCA and MIC, only confirmed the "bankruptcy of BN parties".
It added that the move demonstrates "no Umno, MCA or MIC leader regrets or is remorseful about the ravages the monstrous global 1MDB scandal and other rampant corruption the past Najib administration had done to Malaysia's development, credibility and future".
Lim said he hoped BN will never change its mind about having Najib as its adviser as it will serve as a constant reminder for Malaysians.
"In a way, Malaysians must be thankful for the appointment of Najib as BN adviser, as it will be a constant reminder to Malaysians that BN and the component parties of Umno, MCA and MIC are nothing more than 1MDB parties, which had existed to commit the 1MDB scandal and now existing to defend and justify 1MDB corruption, abuses of power and money-laundering," he said.
"Let BN, Umno, MCA and MIC be the most fervent advocates of the 'Malu Apa Bossku' campaign," he said, referring to Najib's slogan in the former premier's bid to rebrand himself following the electoral defeat.