COMMENT | I listened to Zakir Naik's recent speech in Kelantan and cringed. It was inflammatory and dangerous given that our race-relations is anything but healthy.
Zakir Naik's malicious words have the explosive potential of stirring a racial riot and he is using a religious platform to sow bitterness amongst Malaysians.
Drawing parallels between Malaysian Hindus and Indian Muslims in India and claiming the former enjoy way bigger privileges despite constituting a lesser percentage of the total population is akin to incitement.
What's worse is claiming that the Hindus here are loyal to the Indian Prime Minister, Narendra Modi.
This is a baseless accusation, outrageous and only serves to stir the emotions of the Indians here.
It's obvious that he is bending over backwards like a trapeze artist to curry favour with Prime Minister Dr Mahathir Mohamad who has refused to extradite him despite India's request.
I have been receiving a huge number of phone calls and text messages from Indians who are furious and who feel insulted by the carelessly thrown allegations.
If I remember correctly, aren't people nabbed for inflammatory speeches?
The Kelantan state government, instead of warning the controversial preacher to watch his words ahead of the public event, had given him police protection.
He arrived in a flashy car, flanked by bodyguards, looking like a demi-god.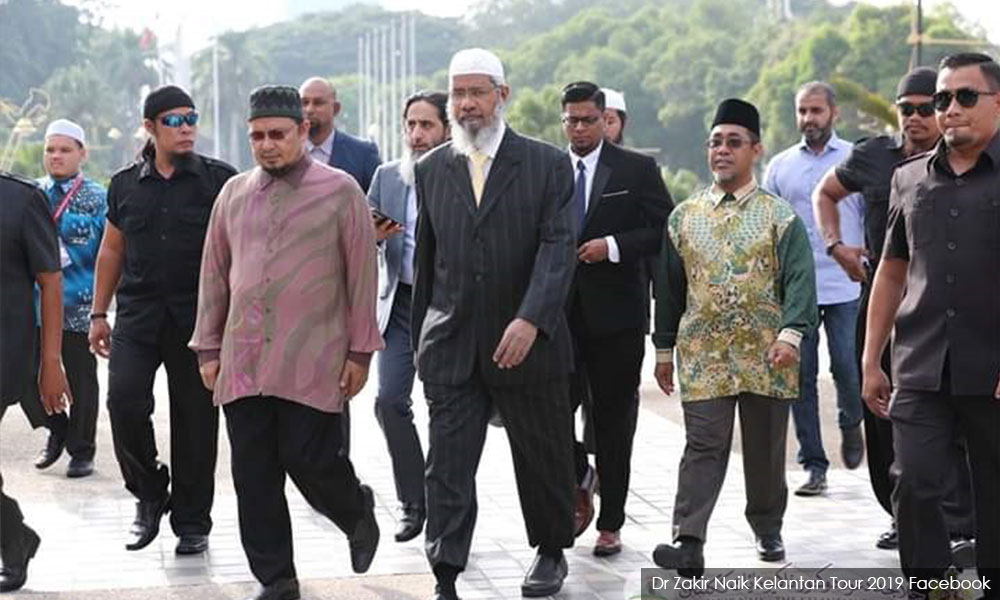 The Islamist party, PAS, has always been conniving and manipulative; watching and waiting to take advantage of any situation to indulge in its play of religion on politics.
But without a safe space created for him by Mahathir, would the 54-year-old doctor turned preacher, who is wanted by the Indian counter-terrorism agency, dare to flex his muscles?
Would he have the guts to spew venom, knowing the adverse effects it would have on multiracial Malaysia?
Why would Mahathir feel inclined to babysit a man, who is shunned in the UK and Bangladesh for his links to possible terrorism, despite admitting Naik is a threat to our society?
Mahathir said the preacher will not comment on local issues but Naik has breached that by questioning the loyalty of Malaysian Indians.
As such, it's crucial that tomorrow's cabinet meeting discusses Naik's meddling in Malaysian politics and comes up with a decision that would put the people's interest and national security above everything else.
---
CHARLES SANTIAGO is member of Parliament for Klang.
The views expressed here are those of the author/contributor and do not necessarily represent the views of Malaysiakini.