Police have arrested and secured a four-day remand against a man who made a death threat against lawyer Syahredzan Johan (photo, above).
It is understood that the 28-year-old security guard was picked up at Sri Damansara at 2am today.
Brickfields deputy police chief Arifai Tarawe told the media via WhatsApp that investigations were being carried out under Section 506 of the Penal Code for criminal intimidation.
Under Section 506, death threats can be punished with up to seven years' jail, a fine, or both.
In a tweet, Syahredzan thanked the police for their swift action.
Syahredzan received the threat on Wednesday night after calling for preacher Zakir Naik's permanent resident status to be revoked.
The message, translated from Malay, read: "You chase away Dr Zakir Naik, I will find you till I get you and I will separate your pig head from your body... this I swear on Islam and the Malay race.
"If you dare, try it (chase Zakir away)."
Syahredzan, who is also an aide to DAP veteran Lim Kit Siang, lodged a police report on the matter on Thursday.
The lawyer had criticised the preacher over the latter's remarks against Hindu and Chinese Malaysians.
Zakir came under fire for saying that Hindu Malaysians supported the Indian government more than Prime Minister Dr Mahathir Mohamad over his charges in India. He had also made some pointed remarks about Chinese Malaysians, calling them "guests".
He claimed to have been misquoted on both issues.
Police are investigating the preacher over those remarks under Section 504 of the Penal Code, which covers insult with intent to provoke a breach of the peace, and is punishable with up to two years' jail, a fine, or both.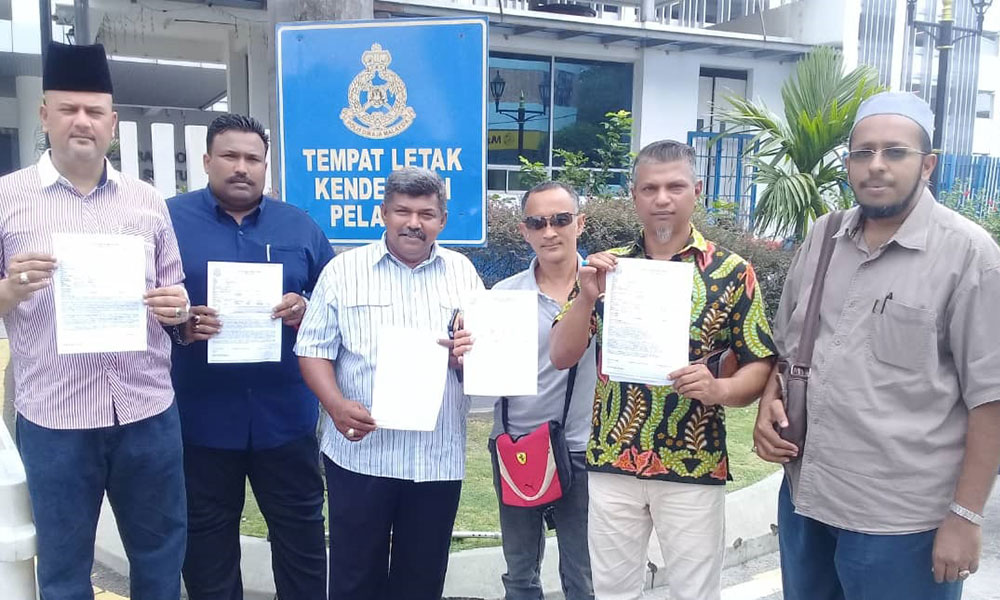 'Don't bow down to minority groups'
In a separate development, a Muslim NGO has urged Mahathir to not bow down to calls from "minority groups" to deport Zakir.
Persatuan Saudara Islam Malaysia president Osman Abu Bakar (photo, 2nd from right) said the group supported Mahathir's stand yesterday that Zakir's permanent residence status hinges on the outcome of the ongoing police probe.
"We welcome Dr Mahathir's decision and we support his stand.
"We hope Dr Mahathir will not bow down to pressures from minority groups that wanted to deport Zakir," Osman today Malaysiakini when met in Kuala Lumpur today.
He earlier lodged a police report against five individuals who had allegedly twisted Zakir's speech with the intention to sow unrest among the people.
Zakir himself had also lodged a police report for alleged defamation against the five individuals - Human Resources Minister M Kulasegaran, Penang Deputy Chief Minister II P Ramasamy, Klang MP Charles Santiago, Bagan Dalam assemblyperson M Satees, and former ambassador Dennis Ignatius.
Additionally, he also filed a lawsuit against Kulasegaran over alleged defamation related to the same issue.
All five individuals have since declared their readiness to face police investigations and any legal action.
Additional reporting by HASPAIZI ZAIN.