The United Chinese School Committees' Association of Malaysia (Dong Zong) has urged the government to take "proactive" action to protect the welfare of Utusan Melayu Group workers and ensure media independence.
The Chinese educationist group said the media has a key role to play as the "fourth estate" to act as a check-and-balance against the government, and thus media freedom should not be curtailed.
"For historical reasons, Utusan Melayu has become a prisoner to political parties and faced difficulties in Malaysia's democratic transition.
"With regards to its long-outstanding payment of salaries and compensation for its voluntary separation scheme (VSS), the management has failed to abide by the terms of workers' employment contracts and forced them to lose their income.
"Such crass actions should be condemned. Workers' rights and media freedom are inseparable; the quality of news can only be maintained if workers are well taken care of," the group said in a Chinese-language statement today.
It also urged Utusan Melayu to disclose the financial situation of the two daily newspapers under its stable - Utusan Malaysia and Kosmo! - to readers and members of the public.
"Utusan Melayu Group needs to pay outstanding salaries and VSS compensations," it stressed.
Dong Zong said Utusan's financial woes highlight a need to reform the media industry, and proposed four measures to achieve this:
No political party should be allowed to operate or invest in a media company;
Laws should be enacted to break up media monopolies;
Laws and policies that curtail press freedom should be abolished; and
Promote multiculturalism in the future development of media industry and media freedom.
Preventing media monopolies
As such, Dong Zong urged Putrajaya and members of the public to take media workers' welfare seriously and consider ways to strengthen media freedom.
"All political parties and politicians should be disciplined and refrain from any notions of inappropriately intervening in the media.
"As for the government, it should enact laws to prevent monopolies and preserve a diversity of views. There should be a dividing line between politics and the media, so that the media would not become (political) mouthpieces or spin doctors," it said.
Recalling history, Dong Zong said Utusan had once invited then United Chinese School Teachers Association of Malaysia (Jiao Zong) chairperson Lim Lian Geok to write an article in conjunction with the 1956 Hari Raya Aidilfitri celebrations.
Lim's article, "Manifesting a Malayan Mindset" (below), argued that people of all races need to work together to build a nation based on the concept of "prospering together in diversity".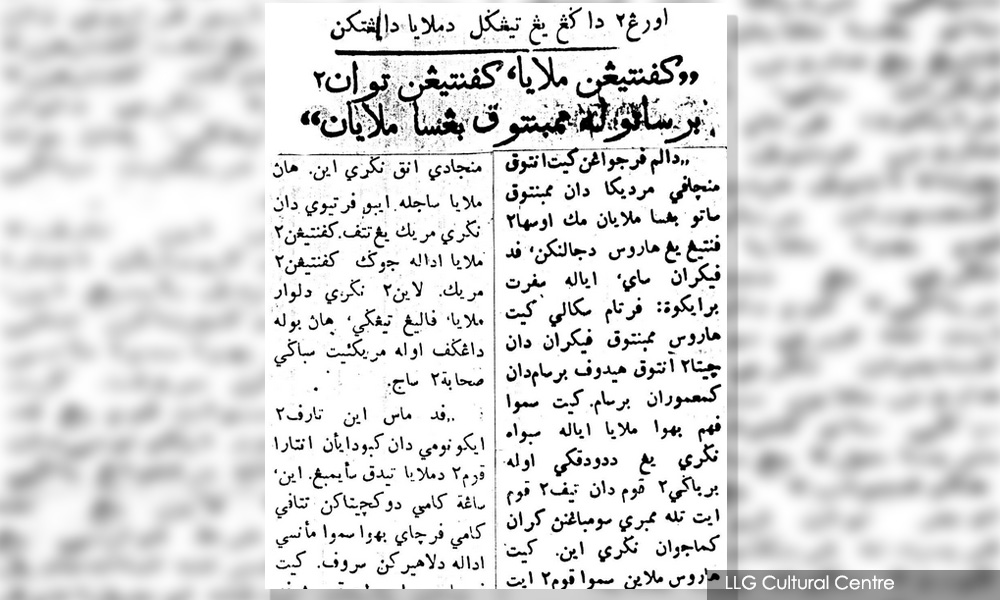 Dong Zong said this concept had become a core value in the Chinese community's struggle for cultural rights ever since.
It added that Dong Zong is cognisant of Utusan Melayu's contributions in the fight against colonialism and towards Malayan independence, making its mark in the history of press freedom in Malaysia.
Unfortunately, it said, Utusan's situation today is a far cry from its glory days.
"Prominent journalists, writers, and social activists that hail from Utusan were outstanding figures especially in the 1950s, including the likes of Said Zahari, Usman Awang, A Samad Said, Samad Ismail, and Kamaluddin Muhamad.
"They were respected as scholars.
"Unfortunately, after Utusan had become wholly owned by political parties, the freedom of writers and reporters had been curtailed, whereby political interests took precedence over news values.
"It is regrettable that it is ordinary workers who would have to swallow the bitter result today," it said.
Utusan Malaysia and Kosmo! were supposed to publish their final print editions today, and had failed to pay their workers as much as three months' worth of wages due to financial troubles.
However, Utusan Melayu Group announced yesterday that both publications would continue printing, but would sell for a higher price beginning on Friday.
It would also be paying 800 workers salary advances of RM2,000, using a RM1.6 million cash injection from Umno.