PHOTO ESSAY | Malaysiakini's photographers were in Putrajaya and Dataran Merdeka today to capture the National Day Parade spectacle.
Malaysia celebrates 62 years of Merdeka today, and the theme for celebrations this year is "Sayangi Malaysiaku: Malaysia Bersih" (Love Our Malaysia: A Clean Malaysia) to signify the government's aspiration to make Malaysia a corruption-free, efficient, and trustworthy nation.
The Royal Malaysian Navy brass band practices before the parade in Putrajaya.
A Royal Malaysian Army brass band member rehearses his tunes before the parade.
 The Royal Malaysian Army 10th Parachute Brigade with camouflage face paint gearing up for the parade.
The Royal Malaysian Navy personnel taking their positions in the parade formation.
Yang di-Pertuan Agong Sultan Abdullah Sultan Ahmad Shah Shah, Raja Permaisuri Agong Tunku Hajah Azizah Aminah Maimunah Iskandariah, Prime Minister Dr Mahathir Mohamad and Deputy Prime Minister Dr Wan Azizah at the 62nd National Day celebrations at Dataran Putrajaya.

Royal Malaysian Air Force fighter jets flying over Dataran Putrajaya in formation
A close-up of the Sukhoi Su-30MKM plane flying past during the parade.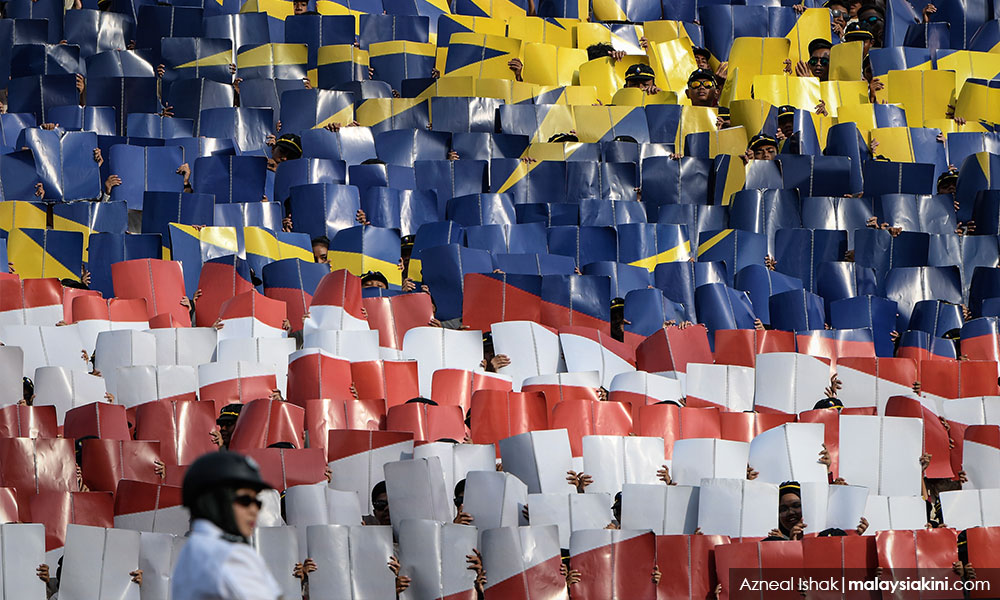 Students hold up coloured cards to form the Jalur Gemilang.
The iconic image of Tunku Abdul Rahman declaring the country's independence looms large behind the flag wavers.
The police marching during the Merdeka Day parade at Dataran Merdeka
The Federal Reserve Unit marching during the Merdeka Day parade at Putrajaya.
 Armed forces personnel marching in formation at Dataran Merdeka.
Giant balloons of characters from popular local kids show Boboiboy are part of the Merdeka Day celebrations at Dataran Merdeka.
Children posing in an army vehicle on the sidelines of the Merdeka Day parade in Putrajaya.