Malacca exco member Mohd Rafiq Naizamohideen says a prayer session featuring preacher Zakir Naik this Saturday will proceed as scheduled.
Rafiq, who organised the programme at Masjid Cina in Krubong in his capacity as the mosque's chairperson, said that non-Muslims need not worry about the event.
"To non-Muslim friends, please believe that strong unity among Muslims will not affect the unity of Malaysians and Malaccans who are of various races and religions.
"Let us together safeguard and respect the rights and sensitivities of the multiracial multireligious society in our country and state, for a more peaceful, prosperous, and harmonious Malacca and Malaysia," he said in a statement tonight.
The event on Saturday, dubbed "A Night of Islamic Unity", is supposed to only feature prayer sessions.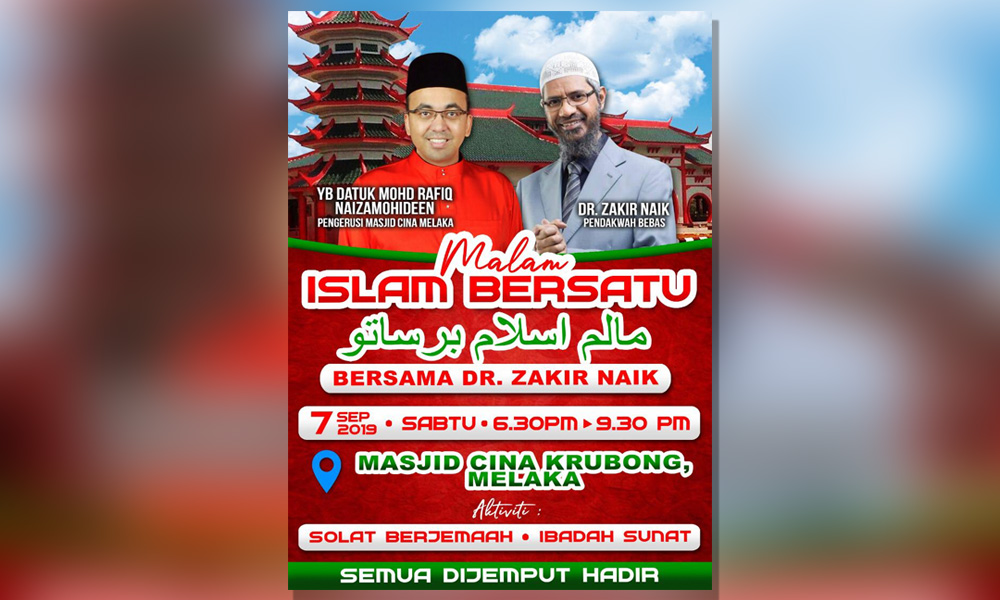 Yesterday, fellow Malacca exco member Kerk Chee Yee objected towards Zakir Naik's involvement in the programme.
Kerk said that even if the preacher is not speaking at the event, it would appear to go against the spirit of a decision by Chief Minister Adly Zahari to ban Zakir from speaking in the state.
However, Rafiq said today that Adly had been informed of the programme, and did not object to it as Zakir would not be speaking.
He also said it is the right of Muslims in this country to pray in mosques together with any leaders or preachers without the interference and prior permission of non-Muslims.
"Likewise it is the same for non-Muslims (wishing to organise non-Muslim prayers)," he added.
Zakir had been banned from speaking publicly by numerous state governments as well as the police, after making remarks deemed inflammatory about Chinese and Hindu Malaysians.
The Indian-born preacher is currently being investigated under Section 504 of the Penal Code, with Prime Minister Dr Mahathir Mohamad saying the former's permanent resident status would hinge on the probe's outcome.
Police said they are currently awaiting instructions from the Attorney-General's Chambers on the matter.
Meanwhile, Penang Deputy Chief Minister II P Ramasamy, in a separate statement today, lamented that the government and authorities had "gone soft" on Zakir.
"At the end of the day, all the tough talk against Naik seems more directed at temporarily appeasing the non-Muslims more than anything else.
"Yes, Naik might be permitted for prayer sessions, but what guarantee is there that he will not touch on local politics?" he said.