Muslims in Malaysia are not allowed to participate in interfaith prayers either in the form of mass silent prayer or through separate rituals at an event.
This was explained by the Department of Islamic Development Malaysia (Jakim) in a letter on Aug 7 in response to a query from the Department of National Unity and Integration (Perpaduan).
Jakim said it was decided at a 2006 national-level meeting between all state fatwa councils that Muslims should not instruct non-Muslims to pray according to their individual faiths as prayers should only be made to Allah SWT.
According to the letter sighted by Malaysiakini, however, there are no restrictions for non-Muslims to say their own prayers
Jakim said at the 113rd Federal Territories Shariah Law Consultative Council meeting, it was decided that Muslims are not allowed to attend mass prayer events organised by non-Muslims or to attend prayers in languages they do not understand.
This is in line with the principle of "sadd al-zara'i" (to close off the paths of destruction) towards religious pluralism and to prevent the spreading of other religions to Muslims.
Jakim also cited the opinion of Negeri Sembilan Mufti Mohd Yusof Ahmad that a Muslim who participates in joint prayer sessions with non-Muslims is belittling the position of Islam.
The online portal, The Malaysian Insight, earlier today had reported that Perpaduan on Tuesday, had issued a directive that joint prayers at unity events involving both Muslims and non-Muslims have been barred.
The directive which quoted Jakim's advice said any joint prayer elements should be replaced with activities that shared the message of unity.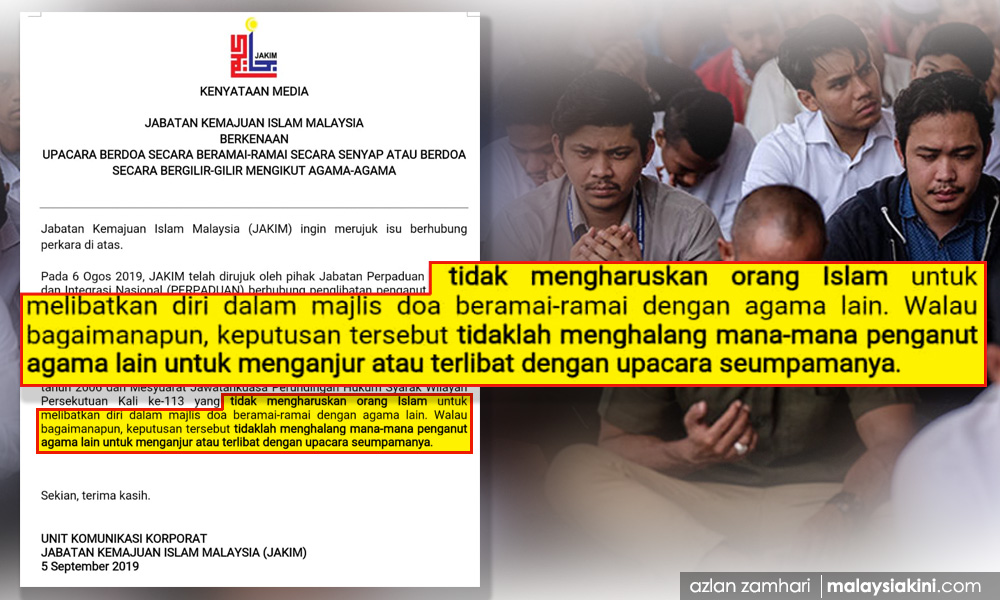 Responding to the report, Jakim in a media statement (above), confirmed receiving Perpaduan's query on unity events that include mass silent prayers or interfaith prayers.
Jakim's media statement did not specifically state Muslims were not allowed to participate in interfaith prayer.
Instead, the statement said the 113rd Federal Territories Shariah Law Consultative Council meeting decided that Muslims "should not be made to (tidak mengharuskan)" involve themselves in interfaith prayers.
However, Malaysiakini is made to understand that in Islamic jurisprudence, "tidak mengharuskan" could be taken to mean "not permitted".
Jakim also stated that there were no restrictions on non-Muslims to organise or be involved in such events.
Malaysiakini has contacted the National Unity and Social Well-being Ministry for comments.