The worsening haze that is now blanketing the country has not yet had a major impact on the economy, said an analyst.
Inter-Pacific Securities Sdn Bhd head of research Pong Teng Siew said, however, the tourism sector would be most affected if the current condition persists in the short to medium term as tourists would likely delay their decisions to visit the affected areas.
"There is no major impact on anything yet. Maybe the immediate impact is on the tourism sector as tourists may avoid the country.
"Too soon to make any suggestion that (the haze) has an impact," he said, adding that the current situation is expected not to linger for a long time.
"It is September now and depending on the cycle of the monsoon, it (haze) could last for another two weeks or so. In October it should run its course," he told Bernama today.
Asked whether the government should intervene to reduce the impact of haze on the economy, Pong said: "I do not think we should panic just yet. I have seen worse haze than this. My suggestion is to wait and see until this runs its course. I believe it will run its course over the next few weeks."
The air in parts of the country was heavily polluted, and readings in most parts of the Klang Valley reached the "unhealthy" range (101 to 200) by 3pm, according to the Department of Environment's Air Pollutant Index (API).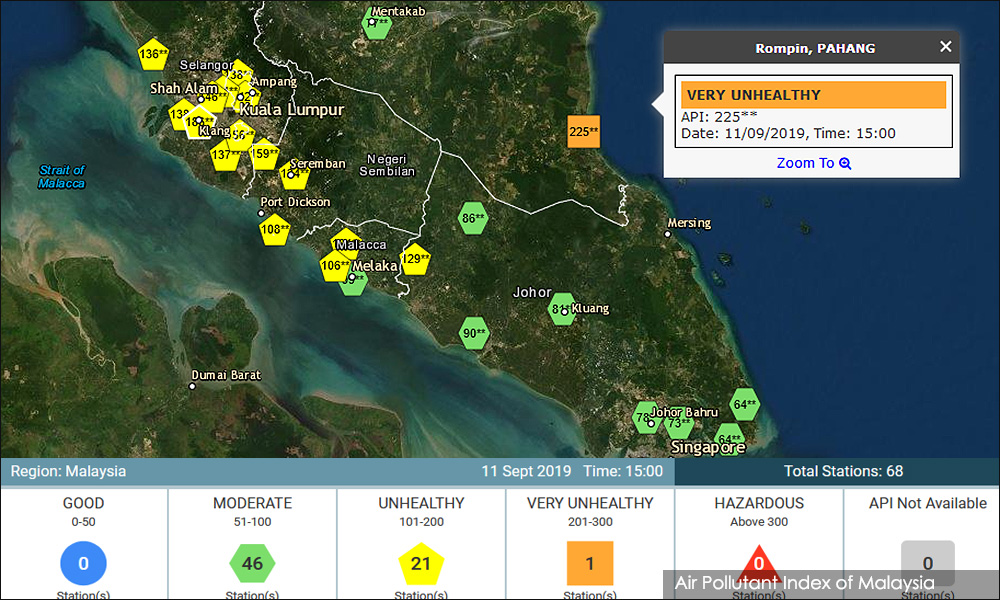 Across the entire nation, the highest readings were registered in Rompin, Pahang (225) and Johan Setia, Klang (198) as at 5pm today.
An API reading of between 0 and 50 is good, while 51 to 100 is moderate, 101 to 200 is unhealthy, 201 to 300 very unhealthy, and 301 and above is deemed hazardous.
Meanwhile, the Asean Specialised Meteorological Centre warned that the hotspot activities in Sumatra and Kalimantan could be expected to persist, and haze from the hotspots may continue to affect parts of Peninsular Malaysia, Singapore and Sarawak in the next few days.
The centre, in its statement posted on its website, said that the weather over the southern Asean region remained generally dry, except for isolated showers over Malaysia and Brunei Darussalam as of Sept 10.
In Sumatra, persistent hotspots emitting moderate to dense smoke haze continue to be detected in the central and southern parts of the island, leading to a significant build-up, with some of the smoke haze blown by the prevailing winds to Peninsular Malaysia and Singapore.
- Bernama