Energy, Science, Technology, Environment and Climate Change Minister Yeo Bee Yin has told her Indonesian counterpart Siti Nurbaya Bakar not to be in denial over the cause of haze in the region.
This comes after Siti Nurbaya accused Malaysia of not being transparent about its own forest fires.
The Indonesian minister's claim contradicts the Asean Specialised Meteorological Centre's (ASMC) data, which show that the haze in Peninsular Malaysia primarily originated from Sumatra while the haze in Sarawak originated from Kalimantan.
"Let the data speak for itself," said Yeo in a Facebook post tonight.
She cited the latest data on the total number of hotspots recorded by ASMC, which showed 474 located in Kalimantan and 387 in Sumatra, as opposed to Malaysia with just seven.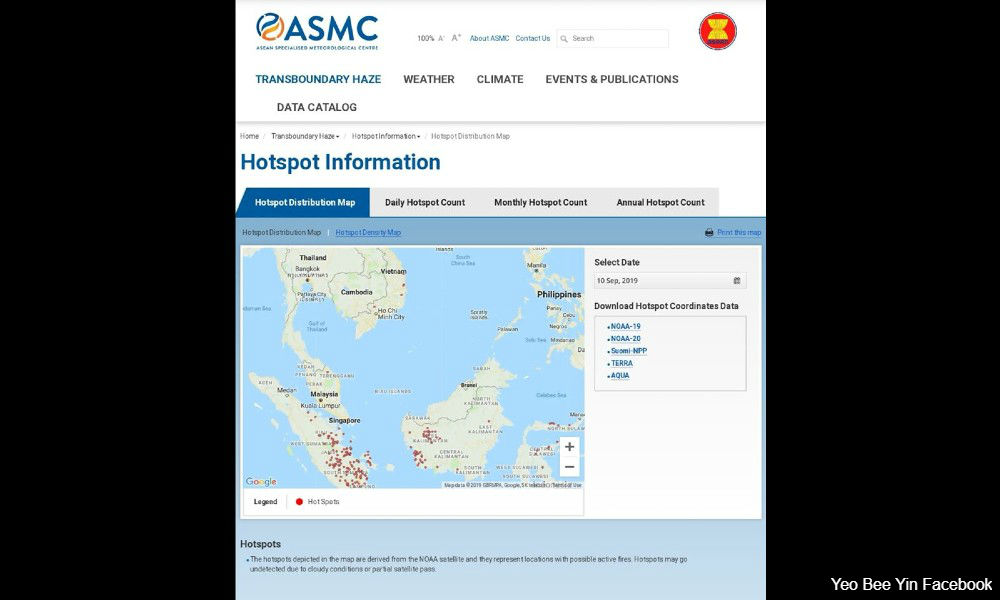 Yeo also dismissed Siti Nurbaya's claim by highlighting wind direction charts.
"Minister Siti Nurbaya should not be in denial," she said.
Earlier today, Sarawak Deputy Chief Minister (II) Douglas Uggah Embas slammed Siti Nurbaya's claims, saying he hoped she would get her facts straight.
"I hope she'll look at the right map. She shouldn't point fingers at the wrong country," he said.
The ASMC's tracking draws data from the US National Oceanic and Atmospheric Administration.