Prime Minister Dr Mahathir Mohamad has said that it is not the way in Malaysia to simply throw out a problem, such as the case of controversial foreign preacher Dr Zakir Naik.
"Racial feelings now are much stronger than before, for whatever reason, and when somebody comes along and says something that resonates with their thinking, even though they do not understand, but they like the sound... they think this man (Zakir) is a great fighter and all that and they like him.
"And if we take any action against him, it means we are going to go against that group. In Malaysia, you have to be very careful in how you deal with this because it is not a simple one where you find there is a problem, you pick it up and throw it out.
"That is not how we do things. You do that kind of thing, you get more trouble," Mahathir said in an interview with business radio station BFM today.
He also agreed there was a political cost in taking action against Indian-born Zakir and compared it to the handling of Chinese vernacular schools.
Though he disagrees with vernacular schools as he sees them as an obstacle to Malaysian unity, he said he still had to respect the sensitivities of the Chinese community.
"For example, you look on the other side, with the Chinese here. They want Chinese schools, of course, this is not going to bring people together. This is one of the reasons why Malaysians don't go to the same school, it is bad.
"Vernacular schools are not what we need in this country but we also respect the sensitivities of the Chinese. We don't just say shut it. We have to deal with it in a way that will not hurt the sensitivities of the Chinese," he explained.
Moderate Muslim group G25 had previously urged the Pakatan Harapan government to stop using Zakir, as well as race and religion, to garner Malay support.
Mahathir said it was not the Harapan government that had permitted Zakir permanent residency in Malaysia but the previous BN administration.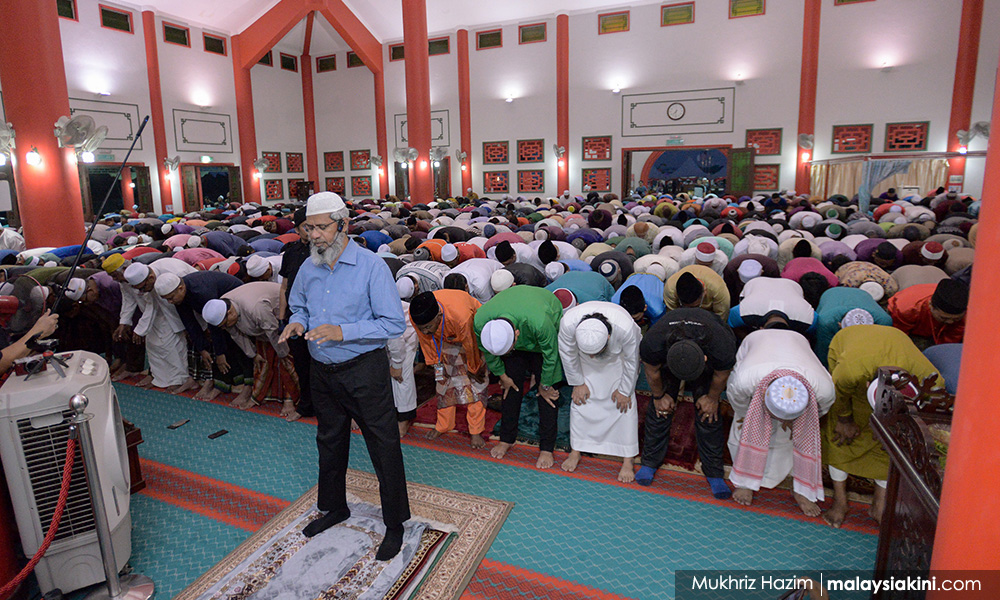 He also pointed out that Zakir has been banned from giving public speeches since his inflammatory remarks about asking ethnic Chinese to "go back" and for questioning the loyalty of Malaysian Indians.
Zakir's most recent public event after the ban was issued was a prayer session in Krubong, Malacca (photo, above) but he did not give any speech.
Mahathir said that they were currently looking for someplace that Zakir could go but "no one wants to accept him".
When questioned about India's proposition for Zakir to be returned to them, Mahathir said India has not insisted on this.
"I met (Indian Prime Minister Narendra) Modi and he didn't (tell) me that he wants this man back. This man could also be troublesome for India," he said.
India has attempted to issue an Interpol red notice against Zakir but the international police agency has yet to list him The republic has also made an extradition request to Malaysia for the preacher to be returned to India, where he is wanted on money-laundering charges.
The red notice is a request to law enforcement forces worldwide to locate and provisionally arrest a person pending extradition, surrender or similar legal action.
As recently as Aug 31 this year, it was reported that the Indian government discussed the matter of Zakir with Interpol secretary-general Jurgen Stock, who visited India last month.
Zakir had also boasted in 2017 that he had been offered citizenship by at least 10 Islamic nations.