The Selangor government will rebrand its free water scheme as a targeted subsidy beginning March next year by introducing an income criterion for its eligibility.
Effective on March 1, 2020, only registered households earning RM4,000 or less would be eligible, instead of being a blanket subsidy extended to all Selangor households.
The free water scheme had been in place since June 1, 2008, providing individual domestic water meter users in Selangor with up to 20m3 of free water (worth RM11.40) per month.
The scheme was extended to bulk meter users living in flats in June 2010.
"The free water programme is enjoyed by all income groups although its original goal was to reduce the cost of living of the rakyat in Selangor, especially the low-income group […]
"To ensure the program meets its objective and is in line with the government's hopes for an efficient expenditure, a recalibration of the free water scheme would be enforced effective March 1, 2020 and would be rebranded as the 'Darul Ehsan Water Scheme'," Selangor Menteri Besar Amirudin Shari said in a statement today.
He said the Selangor state assembly had approved the recalibration on Nov 23 last year.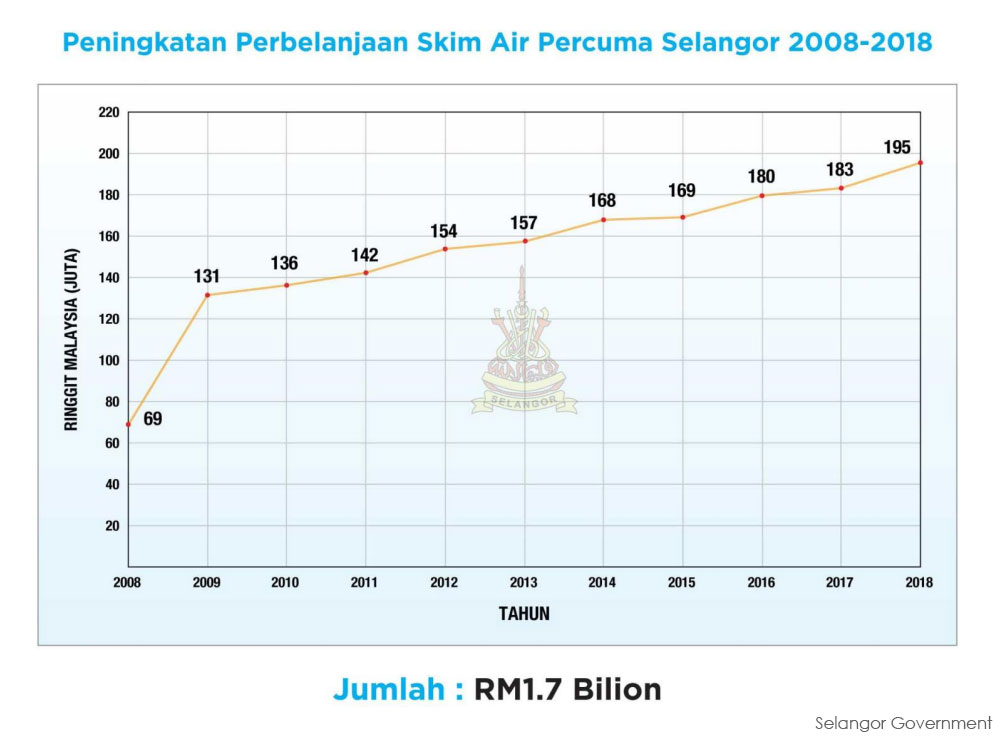 He explained that up to Dec 31, 2018, the state government had spent RM1.8 billion to provide free water, and the among for this year is expected to exceed RM220 million.
"The state government decided to recalibrate the free water scheme because the population has been increasing year-by-year, and this has a large impact on the amount of money spent to fund the free water scheme.
"In addition, the Darul Ehsan Water Scheme will target the truly needy in addition to ensuring that targeted subsidies reach the target group. The calibration is necessary to generate growth and ensure a strong financial position," he said.
Amirudin said eligible residents would be able to sign up for the scheme from Sept 30 until the end of the year.
Applications would be cross-checked with the Internal Revenue Board after the closing date, and applicants would be informed of the outcome of the applications by the end-February 2020.
The application can be done online via the Sistem Smart Inisiatif Peduli Rakyat website by emailing completed application forms to [email protected] or by handing over the forms to counters at Pengurusan Air Selangor Sdn Bhd's offices.
The forms are available from Air Selangor's website, all ten of Air Selangor's district offices, and community service centres. Applicants can also call the number 15300 for enquiries and assistance.