The father of murdered Mongolian national Altantuya Shaariibuu has expressed frustration over his family's "endless suffering circle", in a letter written to mark the 13th anniversary of his daughter's death today.
In the letter titled "The real truth in endless suffering circle", Setev Shaariibuu said Altantuya had yet to find justice in the courts.
Setev expressed unhappiness with recent developments, whereby his family withdrew their appeal against the High Court's dismissal of their bid to use the Federal Court's criminal verdict on Altantuya's murder for their civil lawsuit.
He insisted that relevant laws enabled evidence and documents from criminal suits to be accessed for civil suits. 
"Unfortunately, Malaysia does not follow the law.
"It is a waste of time and money to collect all evidence and take the required statements from relevant witnesses and other stakeholders," he said.
"This has caused double damage to my family," he stressed.
Addressing "all relevant Malaysian authorities, the judiciary and humanity", he asked: "When will our endless suffering circle be over?"
The letter ends with Setev signing off as "a citizen of Mongolia".
The original letter, which was handwritten by Setev in Mongolian, along with its English translation was provided to Malaysiakini by lawyer Mijiddorj Munkhsharuul.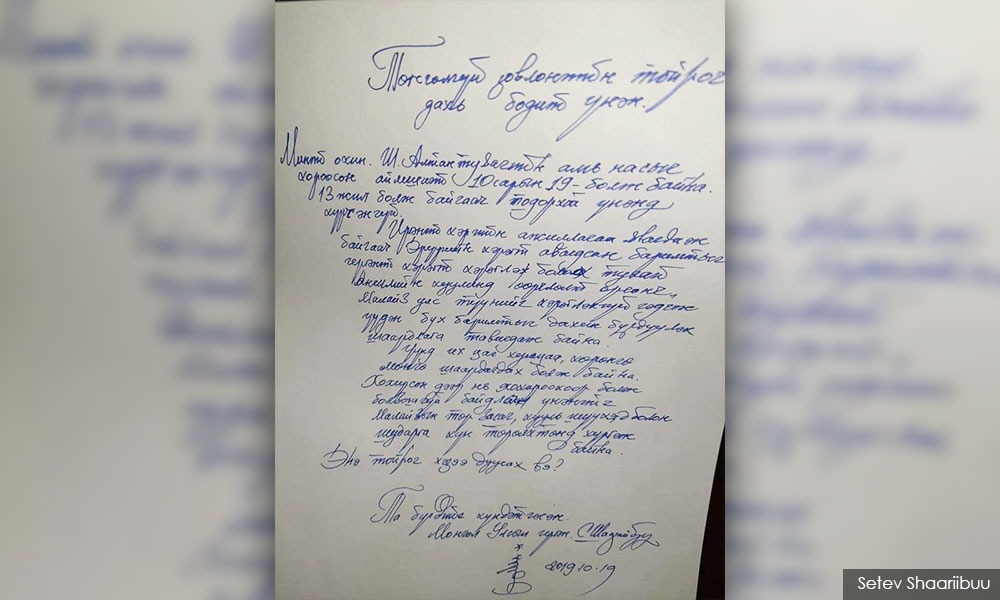 On Oct 1 last year, Altantuya's family filed an appeal against the decision of the High Court in Shah Alam.
The family members who filed the appeal were Setev, Altantuya's mother Altantsetseg Sanjaa, and her sons Mungunshagai Bayarjargal and Altanshagai Munkhtulga.
The High Court had rejected their application to use the evidence from a Federal Court ruling that convicted two policemen for her murder, in their RM100 million lawsuit.
In his ruling, then High Court judge Vazeer Alam Mydin Meera ruled that Section 43 of the Evidence Act 1950 does not allow the use of criminal convictions in civil cases.
On June 4, 2007, Altantuya's family members had filed a lawsuit claiming that her (Altantuya's) death had caused them mental and psychological trauma and sought damages, including dependency claims.
They had named two police officers, Chief Inspector Azilah Hadri and Corporal Sirul Azhar Umar, political analyst Abdul Razak Baginda and the government as defendants in the suit.
Abdul Razak was charged with conspiring with Azilah and Sirul Azhar to kill Altantuya, then 28, in 2006, but he was acquitted of the charge in October 2008 without having to enter his defence, while the two police officers were found guilty in 2009.
On Aug 23, 2013, the Court of Appeal allowed Azilah and Sirul Azhar's appeal and acquitted them of the charge but their acquittal was overturned by the Federal Court on Jan 13, 2015, following the prosecution's appeal.
In clarifying the legal move on Oct 10, Shaariibuu's lawyer Sangeet Kaur said the appeal was withdrawn in view of the position of the law that criminal convictions cannot be used in a civil lawsuit.
When contacted, Shaariibuu's Malaysian lawyer Sangeet Kaur said currently, the law in Malaysia is that criminal convictions cannot be used in civil proceedings.
"This law is based on the old English law. England has since amended its law, now allowing the use of criminal convictions in certain situations," Sangeet told Malaysiakini.
"Malaysia has not amended the law. England is not the only country which has done so. Many others have changed it.
"It is time that Malaysia updates the legal position instead of replicating an old English law which even England has amended," she added.