Former Umno vice-president Hishammuddin Hussein (above) reiterated that he lacked the political clout to engineer a plot to retain Prime Minister Dr Mahathir Mohamad at the helm, while preventing PKR president Anwar Ibrahim from succeeding him.
"Who am I to determine whether Anwar should be prime minister or not? I am not a government leader. I don't even have a top post in Umno or BN
"They claim I'm influencing 30 MPs to join Pakatan Harapan to uphold Mahathir as prime minister... Who am I to influence MPs? I'm really offended. They are elected representatives and leaders. This is an insult to all of us.
"Even if you are that desperate because you're in shambles over your internal problems, surely you would not be threatened by me, who has no positions at all," he added in a Facebook post.
Last week, the Harapan secretariat issued a statement that Hishammuddin was plotting to form a new government without DAP or Amanah.
Prior to this, Anwar (below) also alluded to the Sembrong MP being involved in a plot when urging lawmakers not to succumb to threats of prosecution.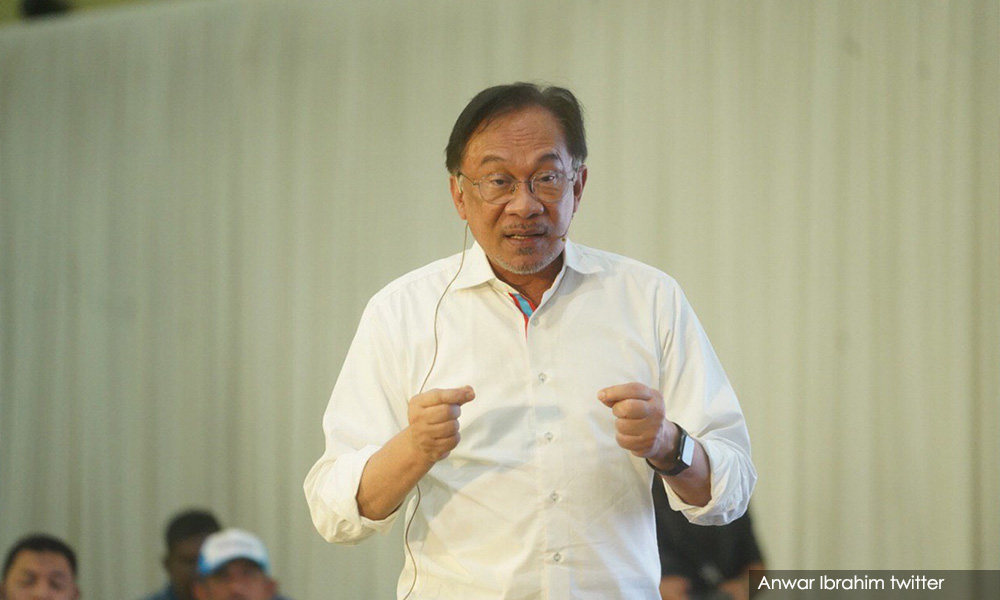 Malaysiakini then cited sources as claiming that the former defence minister was allegedly working together with three Harapan leaders in order to keep Mahathir in power.
The Malaysian Insight today reported that Hishammuddin is attempting to garner support from at least 30 BN MPs to back Mahathir and to start a new government without Amanah and DAP.
In his posting today, Hishammuddin said Harapan is repeatedly changing the goal post on this issue.
The Umno lawmaker said the ruling coalition should focus on the people's plight and the economy instead of being sidetracked by politicking.
The information gathered from Malaysiakini's sources indicate that even if all MPs from Bersatu (27), BN (40), and PAS (18) unite with 18 PKR lawmakers aligned to party deputy president Azmin Ali, as well as three Gabungan Bersatu Sabah MPs and two independent MPs, it would only translate to 108 seats.
This is four seats shy from the 112 needed to form the government.
To ensure the move is a success, its architects would require the support of lawmakers from Warisan or Sarawak's GPS. Warisan has nine seats and GPS 18.
However, GPS has voiced disinterest in who is prime minister, while Bersatu's ties with Warisan are strained after it set up a chapter in Sabah.