A study commissioned by the International Persistent Organic Pollutants Elimination Network (Ipen) and carried out in Malaysia by the Consumer Association of Penang (CAP) has found that playgrounds in Penang contain dangerously high levels of lead.
According to the study, 10 playgrounds - nine in Penang, one in Kedah - were visited in August this year.
In each playground, painted play equipment was examined, with physical details and the condition of painted surfaces being observed and documented.
Samples of chipping paint were taken from 17 pieces of playground equipment and analysed using a handheld X-Ray Fluorescence spectrometer.
The highest reading was recorded in a playground in Fort Cornwallis, Georgetown, with lead levels of 620,000 parts per million (ppm) found in a yellow multi-layered metallic handle structure.
This is almost 7,000 times greater than the recommended limit of 90ppm issued by the United Nations Environment Programme.
It was also the second-highest reading within the five countries that Ipen conducted lead level studies in.
Additionally, the Malaysian study also found that paint chips from 13 out of the 17 pieces of playground equipment contained total lead concentrations above 90 ppm.
Eleven analysed playground equipment contained dangerously high lead levels above 10,000 ppm.
The sole playground visited in Kedah recorded undetected lead levels for red-painted equipment and a relatively low level of 112ppm for yellow-painted equipment.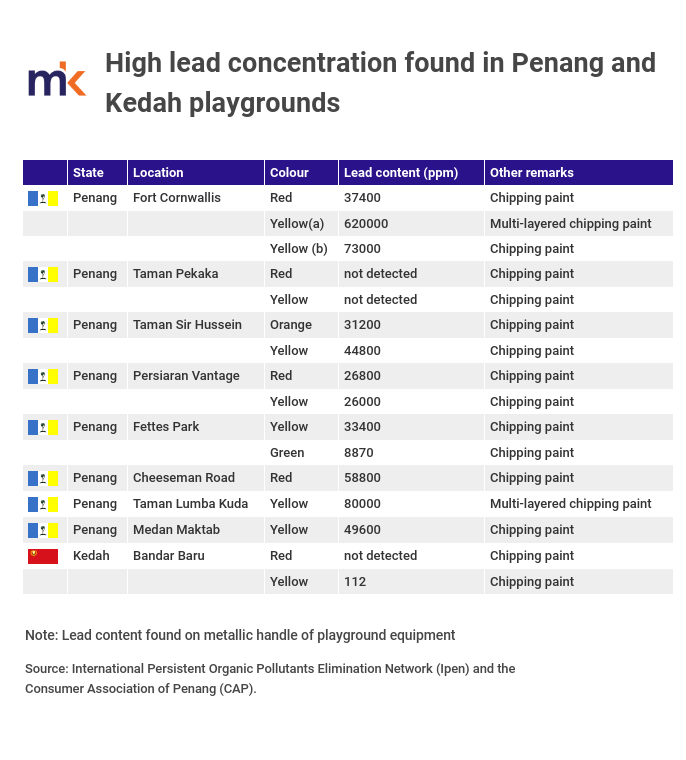 Ipen is a global network of more than 500 health and environmental public interest organisations in over 120 countries, dedicated to the common aim of eliminating persistent organic pollutants.
In conjunction with International Lead Poisoning Prevention Week, Ipen's studies revealed that children's playgrounds in Indonesia, Malaysia, Mexico, the Philippines, and Thailand contain painted equipment with lead levels above 90 ppm.
"The concerning data was released during the International Lead Poisoning Prevention Week (October 20-26, 2019) spearheaded by the Global Alliance to Eliminate Lead Paint that is observing its 10th anniversary this year," said Ipen in a statement today.
It said that the data underscores the ongoing need for strong lead paint bans that is inclusive not just of decorative paints, but all types of paint irrespective of use.
The analysis included an array of equipment intended for children's playground use, including climbing bars and structures, ramps, rockers, see-saws, slides, and swings.
Aside from Malaysia, playground with lead levels reaching greater than 100,000ppm were found in playground equipment in Mexico and the Philippines.
In its report, Ipen noted that lead paint could cause permanent and irreversible brain damage in children.
"Lead is especially dangerous to children's developing brains and can cause reduced intelligence quotient (IQ) and attention span, impaired learning ability, and increased risk of behavioural problems," it said.
"Children's health and future are threatened by any amount of lead exposure," said Ipen advisor Manny Calonzo, winner of the Goldman Environmental Prize for his advocacy work in the Philippines for a lead-safe paint market.
"Playgrounds should be fun and safe spaces for kids, not sites of hazardous exposures.
"Coatings on equipment inevitably flake and chip from weathering and regular wear and tear, become mixed in the sand and dirt and put children at risk of life-long impairment from ingestion through normal hand to mouth behaviour. We can do better," said Calonzo.
Dr Sara Brosché, who manages Ipen´s Global Campaign to Eliminate Lead Paint, added: "We need concerted efforts to prohibit lead in all types of paint, not only decorative house paints.
"Leaded industrial paint for outdoor equipment and streets contain some of the highest levels of lead and are serious and preventable health threats to children."