A Tanjung Piai field survey by Institut Darul Ehsan (IDE) has found that only about 40 percent of Chinese respondents are planning to vote for the party they chose 18 months ago in GE14.
The think-tank, which is owned by the Selangor government, also found that a majority of the demographic is undecided about who to vote for in the Nov 16 by-election.
In GE14, Chinese support had driven Pakatan Harapan to snatch the Johor parliamentary seat from incumbent MCA by a slim 524-vote majority.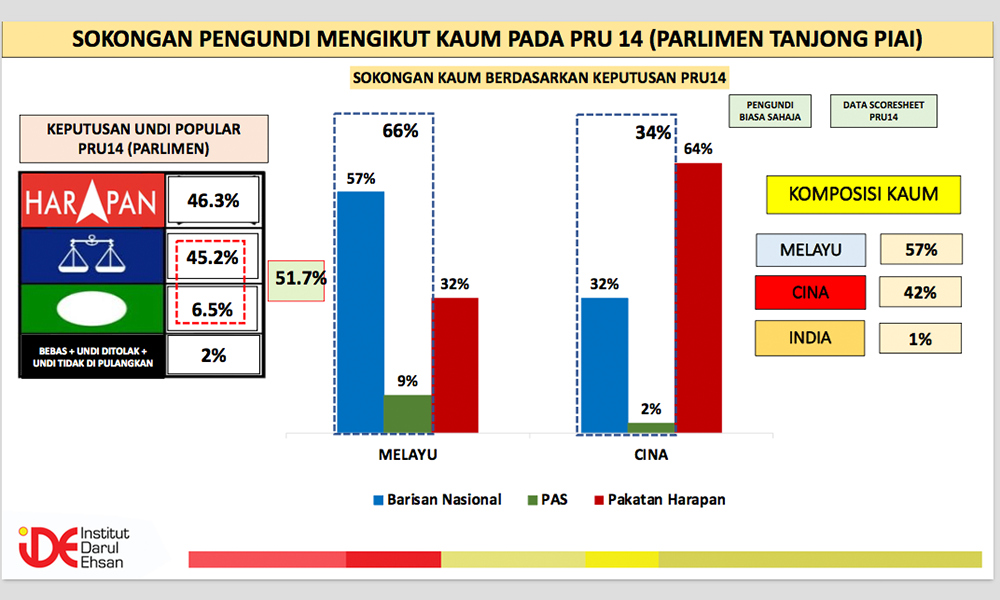 At a press conference today, IDE deputy chairperson Mohammad Redzuan Othman presented results from the think-tank's survey involving 1,518 respondents.
Conducted from Oct 18 to 20 before parties unveiled their candidates, respondent demographics matched that of voters in the constituency in terms of race, gender and age.
While most respondents (83 percent) said they would vote for the same political party in the by-election as they did in GE14, a racial breakdown revealed that only 41 percent of Chinese respondents said they would do so.
For Malay respondents, 58 percent said they would choose the same party this time around.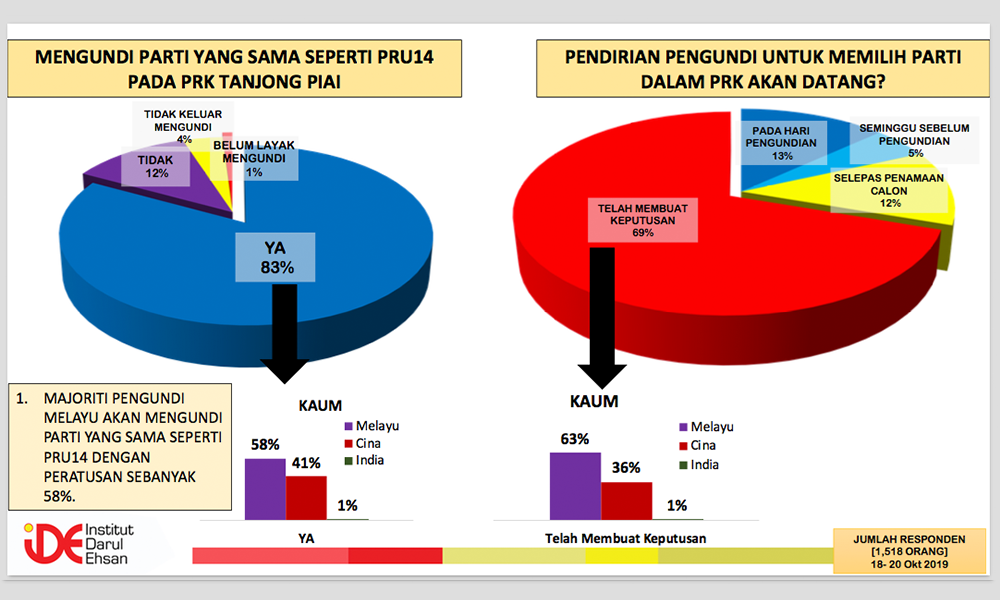 Meanwhile, 69 percent of respondents had already made up their minds on who to vote for while the rest (31 percent) were undecided.
For Chinese respondents, the survey showed that only 36 percent had decided upon their candidate of choice. This was markedly different from Malay respondents, most of whom (63 percent) said they had already decided.
Harapan announced this week that it will be fielding Tanjung Piai Bersatu chief and former imam Karmaine Sardini in the upcoming by-election.
BN will be fielding MCA's Wee Jeck Seng, a former Tanjung Piai MP. Opposition parties Gerakan and Berjasa are also contesting the seat.
Tanjung Piai is 57 percent Malay, 42 percent Chinese and one percent Indian.
Undecided, dissatisfied voters might sit out
Commenting on the survey results, Redzuan predicted that undecided and dissatisfied voters will find it difficult to choose between BN's Wee and Harapan's Karmaine.
The choice will be especially hard for Umno-loyal Malay voters, whom he said preferred a Malay-Muslim representative.
"Here comes the dilemma. Should Malay voters choose a Chinese candidate who had rejected hudud law in the past, or the Harapan candidate who is an imam and runs a tahfiz (school)?
"[...] The candidate factor will determine voting patterns. Whether we like it or not, race remains a factor in the context of Malaysia," he said at IDE's headquarters in Shah Alam.
"For those (Malay) voters who see voting as soal pahala dan dosa (bringing religious blessing or sin), they will choose the least harmful option - which is not to come out and vote," he added when approached afterward.
Redzuan predicted that Chinese voters, especially those living and working outstation, would also hesitate to vote.
The survey showed that some 56 percent of all respondents said they had family members who voted in Tanjung Piai but lived elsewhere.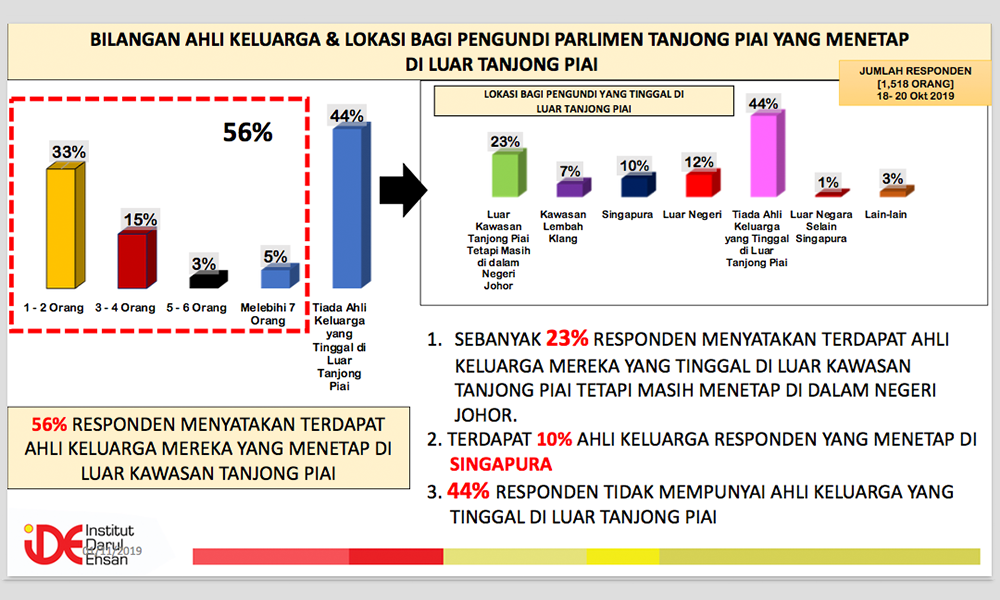 "To come back to vote is a commitment. And they will only feel committed if there are compelling reasons [...] the Chinese are dissatisfied with Harapan but this does not mean they will cross over to BN. So either they won't come home or decide against voting altogether," he told Malaysiakini when asked.
Redzuan thus predicted a low turnout rate but declined to offer an estimate.
Win will be marginal
The academic also declined to state which party had a better chance of taking the seat but said any win would be marginal.
He analysed that BN, especially Umno, had a more loyal support base and mature grassroots network than Harapan.
Now with the Umno-PAS cooperation charter, Redzuan calculated that BN stood a better chance if GE14 numbers translated to this by-election.
In GE14, a simple addition of BN and PAS' votes made up 51.7 percent of the total vote while Harapan made up 46.3 percent.
However, the difference was that Harapan is now in government at the federal and state level.
He also pointed to how Harapan's GE14 numbers showed it was popular in more densely populated and accessible parts of the constituency, which required less mobilisation.