TG PIAI POLLS | The Tanjung Piai by-election is set to be a six-cornered fight.
Defending the seat for Pakatan Harapan is Tanjung Piai Bersatu chief Karmaine Sardini, against the constituency's former MP Wee Jeck Seng for BN.
Meanwhile, Gerakan is fielding its deputy secretary-general Wendy Subramaniam, while Berjasa president Badhrulhisham Abdul Aziz is also contesting.
Two independents, Ang Chuan Lock and Faridah Aryani Abd Ghaffar, have thrown their hats into the ring.

When drawing lots to determine the order of candidates on the ballot paper, Wendy drew first spot followed by Wee, Ang, Karmaine, Badhrulhisham, and finally Faridah.
Only these six candidates submitted nomination papers today.
Previously it was speculated that Parti Bumiputera Perkasa Malaysia (Putra) president Ibrahim Ali might would also contest.
Big Blue Taxi Services founder Shamsubahrin Ismail also previously announced plans to enter the fray but did not show up today.
One man showed up to register as a candidate but aborted his plans as he did not have a proposer. He declined to give his name to the media.
Speaking to reporters after the nomination, Badhrulhisham - who is campaigning on a Malay Muslim platform - said he will also try to woo non-Muslims.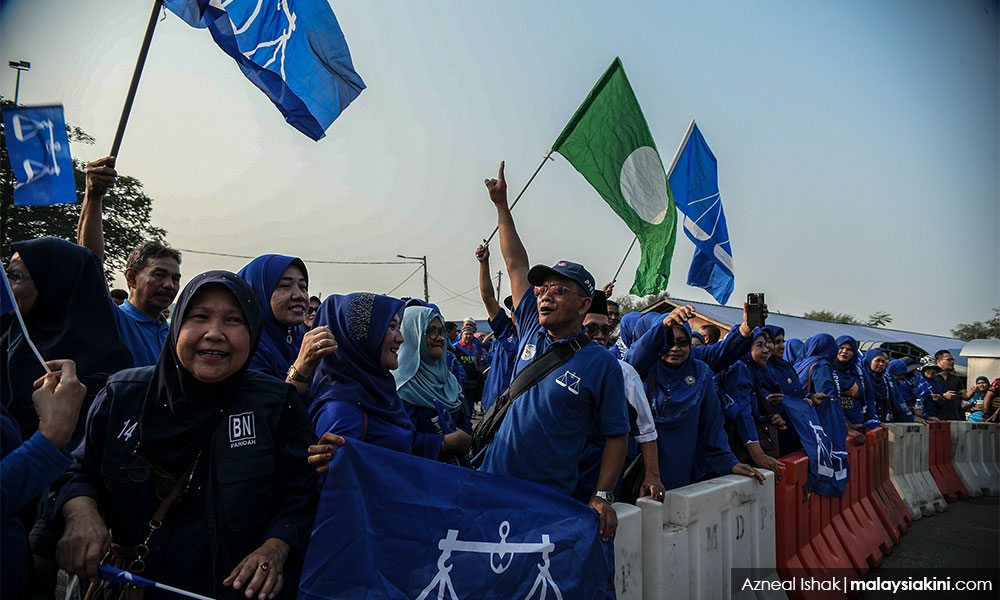 "We will go to everyone, not just Malay Muslim but also non-Muslims to state our agenda.
"We are confident that a stable government is based on Malay Muslim unity, but without sidelining the legitimacy of citizens who are of other races and religions," he said.
In the 14th general election, Berjasa's Nordin Ahmad had contested Tanjung Piai on a PAS ticket, and bagged 2,962 votes.
Meanwhile, independent candidate Faridah said she is contesting to fight for the B40 group.
"We have had two governments but our (B40s) voice is not given priority. They have made promises but did not prioritise it, so we'll do it ourselves," the freelance social auditor told reporters.
When met again by reporters later, she admitted to being a last-minute replacement for Big Blue Taxi founder Shamsubahrin Ismail.
Gabungan Teksi SeMalaysia (GTSM) president Kamarudin Mohd Hussain said Shamsubahrin had been hospitalised after suffering heart complications yesterday.
For Ang, the tuition centre operator wants to be a third voice who fights for the people.
"I am neutral and can work with any party," the 48-year-old said.
He said he was spurred to give politics a go following the death of incumbent MP Dr Md Farid Md Rafik.
He said his younger brother had used to work with Farid in Malacca.

Earlier, the candidates from the four contesting parties arrived at the Dewan Jubli Intan Pontian with sizeable supporters.
BN had the biggest crowd, with some 2,000 supporters followed by Harapan (1,000), Gerakan (500), and Berjasa (300).
Polling day for the Tanjung Piai by-election is on Nov 16.
Reporting by NG XIANG YI, RAMIEZA WAHID, and ZIKRI KAMARULZAMAN.