Police data for 2019 has shown that young working women make up the highest number of domestic abuse victims in the country.
According to a report published by Berita Harian today, over 1,600 cases affecting these women, especially those working in the private sector, were reported in the first nine months of this year alone.
This, according to Bukit Aman Sexual, Women, and Child Investigations (D11) Division Assistant Director Siti Kamsiah Hassan, is out of 4,277 cases reported during the same time period.
This was followed by housewives, and then by women in other careers.
Siti Kamsiah said most of these cases involved couples within the ages of 26 to 35 years, in the early stages of marriage.
The problem reportedly stemmed from cases involving, among others, jealousy, rising tempers, busy schedules, family interference and finances, which have been allowed to simmer over time.
"(This) causes the partners to fail to control their emotions and react aggressively.
"Based on reports, the women are beaten, insulted when their husbands lose their sense of judgment... worse still, some husbands lock up their wives and do not allow them to contact anyone," she reportedly said.
Such mental and physical abuse also causes many women to develop depression, Siti Kamsiah added.
The report did not provide corresponding data for cases recorded during the same period last year.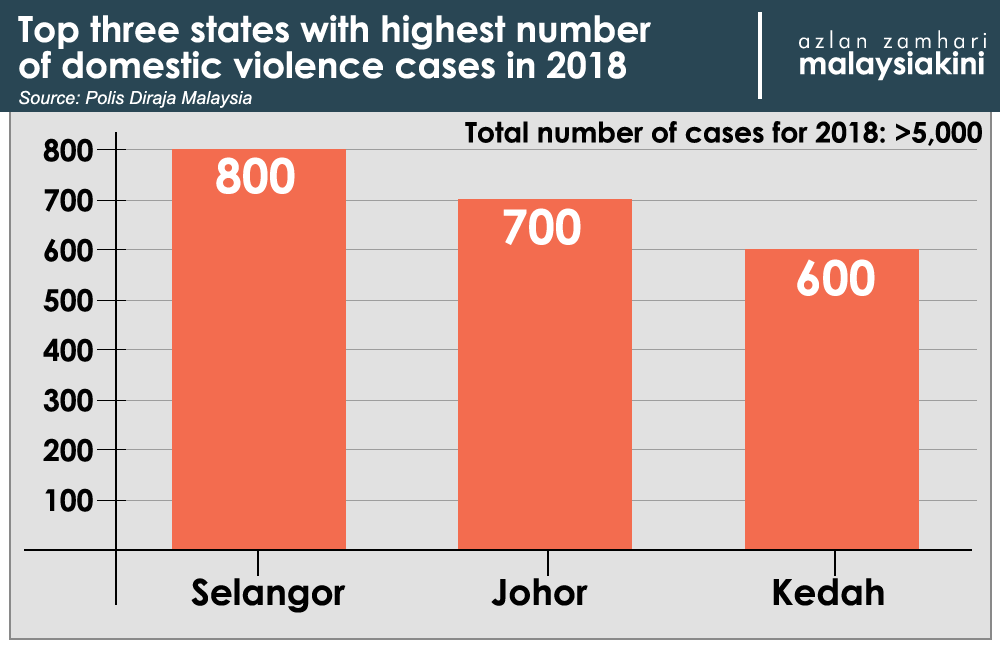 Even so, for domestic violence cases recorded for the whole of 2018, the report noted that Selangor recorded the highest number of cases (800), followed by Johor (700) and Kedah (600) out of more than 5,000 cases.
However, considering population sizes for each state, Malaysiakini calculated this would indicate the problem was worse in Kedah.
The northern state recorded the highest number of cases for every 1,000 people, due to its smaller population size of 2.16 million people last year, followed by Johor with 3.75 million and Selangor with 6.48 million.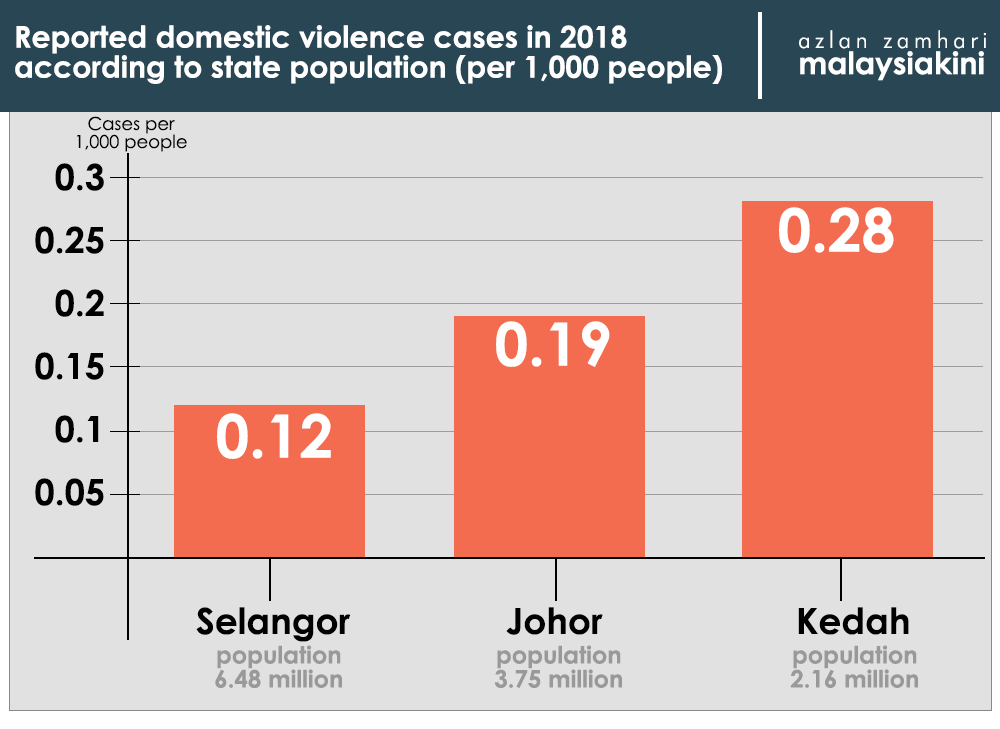 According to Kamsiah, although some of the victims have lodged complaints with relevant NGOs or the Welfare Department, many, especially among the housewives, later withdrew the report.
She said this was due to concern for the spouse or even concern over their circumstances should the husbands be arrested due to dependence on the latter.
Kamsiah acknowledged that among the challenges faced in police handling of such cases was the lack of treatment sought by victims to support any psychological abuse claims.
Nonetheless, she said perpetrators can be charged under the Domestic Violence Act 1994.