The test flight of an air mobility vehicle touted by Entrepreneur Development Minister Mohd Redzuan Mohd Yusof has not received clearance from the Civil Aviation Authority of Malaysia (CAAM).
In a statement today, the CAAM also said that a test flight of the same vehicle, the UAS E-Hang 216, was conducted on Nov 15 without approval and it is now investigating the matter.
"The location of the test flight at the University Kuala Lumpur Malaysian Institute of Aviation Technology Hangar, Subang, is less than 200 metres away from the commercial airline and helicopter traffic and clearly within the Subang Airport Terminal Control Zone that is under strict supervision by air traffic control.
"In addition to this, the EH216 was only issued a Special Flight Permit (SFP) by its state of design (Civil Aviation Administration of China) which is limited to conducting research and development flights in Grand World Science Park, Guangzhou.
"CAAM is also carrying out an investigation into the unauthorised demonstration flight involving an EH216 on Nov 15 at the same area within Subang Airport," it said.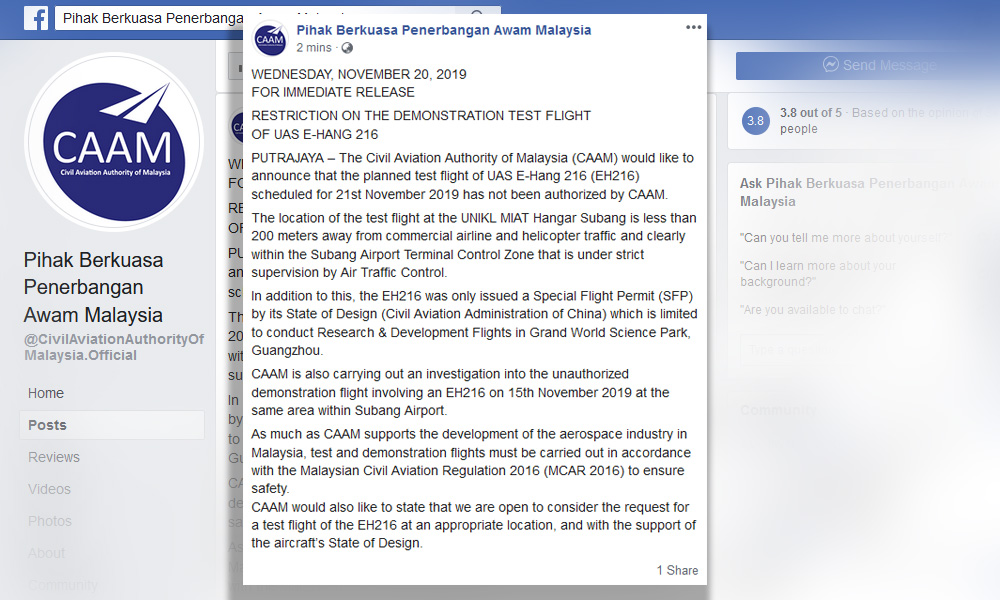 Redzuan had said the vehicle is a product of a Chinese firm that is looking to set up shop in Malaysia.
CAAM said it supports the development of the aerospace agency but stressed that regulations must be complied with.
"As much as CAAM supports the development of the aerospace industry in Malaysia, test and demonstration flights must be carried out in accordance with the Malaysian Civil Aviation Regulation 2016 (MCAR 2016) to ensure safety.
"CAAM would also like to state that we are open to considering the request for a test flight of the EH216 at an appropriate location and with the support of the aircraft's state of design," it said.