MCA Youth chief Nicole Wong claims her remarks about Jawi education in national schools had been erroneously reported or taken out of context by the media
In a Facebook post written in Mandarin, she singled out Malaysiakini for an "out of context" report.
A separate posting by her in Malay featured a screenshot of Malaysiakini's Bahasa Malaysia article which had the headline: "Pemuda MCA ulang pendirian bantah wajibkan Jawi di sekolah vernakular" (MCA Youth reiterates objection to making Jawi compulsory in vernacular schools).
The screenshot had the word "Tidak Benar" (untrue) slapped across it in bolded red letters.
 In that post, she said MCA Youth had never objected to Jawi lessons and encouraged its teaching.
"What I said was the voices, especially from the Chinese community, hope that implementation of this core syllabus is more towards an optional subject and not wajib (compulsory) in line with democratic practices in a diverse country like Malaysia," she said.
Wong had made remarks regarding Jawi in the Mandarin section of her speech at the opening of the MCA Youth congress in Kuala Lumpur today.
However, the Malay text of the speech was displayed on the giant screen on stage.
Malaysiakini's Malay report reads:
"Ketua Pemuda MCA Nicole Wong menegaskan pendirian sayap parti itu yang menentang pembelajaran Jawi secara wajib di sekolah vernakular pada tahun depan.
"Kerajaan PH menerapkan pembelajaran tulisan Jawi di Sekolah Jenis Kebangsaan Cina (SJKC) secara paksa...Sehingga hari ini, Pemuda MCA, komuniti pendidikan Cina dan rakyat meluahkan rasa tidak puas hati.
"Pemuda MCA bukan menentang pembelajaran Jawi tetapi ia tidak seharusnya dimasukkan dalam buku teks Bahasa Malaysia secara paksa.
"Sebaliknya ia harus dianggap (diterapkan) sebagai kajian dan penghayatan seni," katanya ketika berucap dalam perhimpunan agung tahunan Pemuda MCA ke-55 di Kuala Lumpur, hari ini."
English translation: 
"MCA Youth chief Nicole Wong stressed her party's stance in objecting to the compulsory teaching of Jawi in vernacular schools next year.
"The Pakatan Harapan government is inculcating Jawi in Chinese schools by force [...] to this day, MCA Youth, the Chinese education community and the people are not satisfied.
"MCA Youth is not against the learning of Jawi but it should not be put into the Bahasa Malaysia textbook by force.
"Instead, it should be considered (inculcated) as a study and an appreciation of art," she said in her speech at the 55th MCA Youth AGM in Kuala Lumpur today".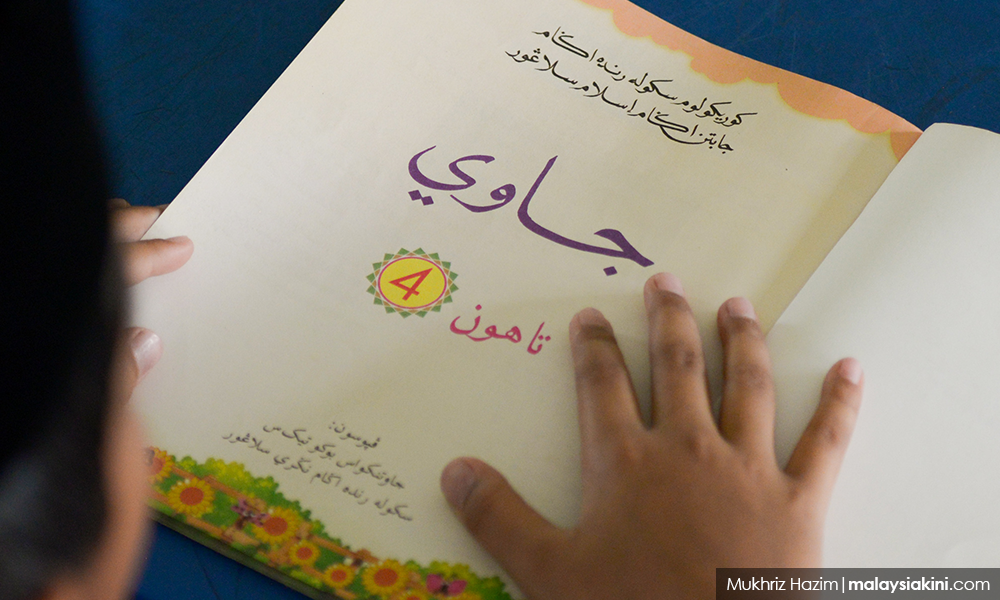 Malaysiakini's English report was in a similar vein.
This is not the first time MCA has claimed to have been misquoted by Malaysiakini when they made remarks about Jawi teaching in schools.
During the Tanjung Piai by-election earlier this month, MCA's candidate Wee Jeck Seng had posted on Facebook in Mandarin that, "MCA unites to oppose Jawi and defend Kolej Universiti Tunku Abdul Rahman, is that playing on racial issues?"
The post was made at 7.48 pm on Nov 13. The next day Malaysiakini translated the post into Bahasa Malaysia and English.
The same day, MCA president Wee Ka Siong and former Umno president Najib Abdul Razak accused this news portal of spinning Jeck Seng's post.
However, both rebuttals came after Jeck Seng edited out the words "oppose Jawi" on his Facebook post.