The latest powderkeg situation which threatens to pit Malaysians against each other is that of Chinese New Year decorations in a school in Puchong, Selangor.
Followers of Malaysian socio-politics would have woken up today to a string of statements from ministers regarding the issue.
What is the issue and why is it a problem? This is what we know so far:
What is the issue in a nutshell?
SMK Pusat Bandar Puchong 1 is accused of contravening the Federal Constitution by decorating the school for the upcoming Chinese New Year.
Who says it is unconstitutional?
The complaint was raised by lawyer Mohd Khairul Azam Abdul Aziz, who is also vice-president of the Ibrahim Ali-led Parti Bumiputera Perkasa Malaysia (Putra).
On social media, he claimed that he received complaints from parents, who felt it was an attempt to propagate non-Islamic beliefs to Muslim students.
He said the decorations contravened Article 3(1) of the Federal Constitution (which addresses Islam's role as the religion of the Federation of Malaysia).
What are the decorations?
It includes the arched doorway being decorated with flowers and a lantern. They bear the Malay words "Selamat Tahun Baru Cina" and Chinese characters with words like "spring". Other parts of the school were also decorated with red lanterns.
What has Mohd Khairul done about it?
The lawyer claims he wrote to the principal, Rohani Mohd Noor, who then agreed to take down the decorations. In the alleged email reply he posted on social media, Rohani said she was in the dark about the decorations.
Did the school take down the decorations?
Some of the lanterns were initially taken down but the decoration at the arched doorway remained. However, more lanterns were put up later today, after a visit from ministers.
Is the school in trouble?
Malaysiakini understands that the principal met with Education Ministry officials on the matter. Other staff were not allowed to speak to the media.
Is it really unconstitutional?
The article cited by Mohd Khairul concerns the propagation of other religions to Muslims. However, Chinese New Year is not a religious celebration but a cultural celebration.
Weighing in on Twitter, lawyer Nizam Bashir today argued that Mohd Khairul's move to stop the school from putting up the decorations is unconstitutional.
According to him, "attempting to dilute Chinese New Year traditions infringes an individual's right to life and personal liberty" which are protected by Article 5 of the Federal Constitution.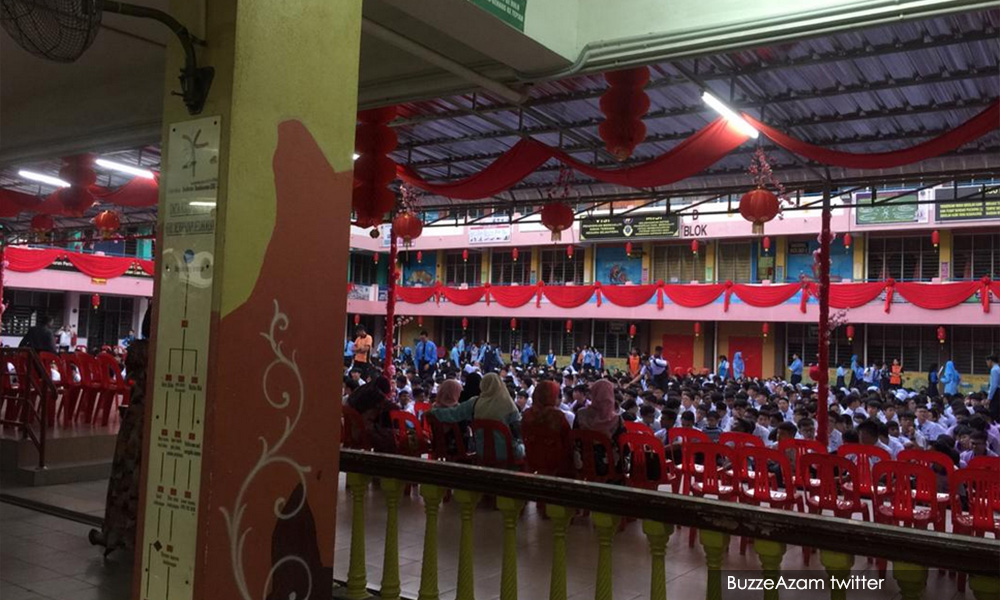 What is the government's position?
Cabinet ministers visited the school at 4.30 pm today to show their support for the multicultural exchange, and they also brought more lanterns.
They include Deputy Prime Minister Dr Wan Azizah Wan Ismail, Finance Minister Lim Guan Eng, Youth and Sports Minister Syed Saddiq and Communications and Multimedia Minister Gobind Singh Deo (also Puchong MP). 
Several ministers and deputy ministers have largely condemned the move to stop the school from putting up the decorations, pointing out that Chinese New Year is a cultural celebration.
Below are their immediate reactions:
Teo Nie Ching (deputy education minister)
Your Malay and Indian qualities will not be diluted if the Chinese celebrate Chinese New Year in the spirit of muhibbah.
In fact, the introduction of the three pages of Jawi does not make non-Muslims change their religion. Jawi is a national language heritage while Chinese New Year is a cultural celebration. Both are different but share the same narrative - of a multicultural nation.
Malaysia is our homeland. Let's be respectful of each other and not let our differences be a source of conflict.
Saifuddin Abdullah (foreign minister):
Chinese New Year has nothing to do with religion. We have celebrated together for decades. This tradition must continue.
Among Malaysia's strengths is its people - diverse in race, culture and religion, living in peace and harmony. This needs to be strengthened in the spirit of peaceful coexistence.
Syed Saddiq Abdul Rahman (youth and sports minister):
National schools belong to all ethnicities and religions. Chinese New Year is celebrated together because Malaysia belongs to all of us.
Ramkarpal Singh (Bukit Gelugor MP):
The threat by Putra is certainly uncalled for and unprecedented.
Going by Putra's twisted logic, all Chinese New Year decorations across the country would have to be taken down for purportedly being unconstitutional.
This is simply incomprehensible and downright illogical.
Steven Sim (deputy youth and sports minister):
Chinese tradition, especially from Confucianism and Buddhism teaches 中庸, or moderation (the middle ground). Malay culture also encourages moderation.
In a multicultural society like ours, moderation is important to ensure that the rakyat of different ethnicities and faiths can live in harmony.
Today, extremists are spreading fear and irrational thinking among Malaysians.
Enough is enough. It's time the government takes a firmer stance against extremists of all races.
Why is this controversy important?
It comes amid the controversial introduction of Jawi within the Bahasa Malaysia subject, including for vernacular schools, which has raised ethnic tension.
What happens now?
If poorly handled, the issue has the potential to further raise tension between the Malay and Chinese communities, at large.
A member of the Kuala Lumpur Chinese Assembly Hall has said that he would lodge a police report on the issue in Serdang tomorrow while DAP's Sungai Pelek assemblyperson Ronnie Liu has voiced his intention to do the same.
The Education Ministry's statement that it supports cultural exchanges in schools and the ministers' visit today, coupled with the circulation of photographs of children of different ethnicities with the lanterns, is likely to calm the situation.