During a forum on local government elections in George Town yesterday, Penang Deputy Chief Minister II P Ramasamy was offended when told that government leaders were just "yes men", while the private sector was dominated by "no men".
At one point Ramasamy said, "If you say I'm a yes man, I will leave."
Contrary to the yes-men perception, Ramasamy said there were always debate and arguments in the government, be it at the federal cabinet or state executive councillors' (exco) meetings like those in Penang.
"However, when a decision is made, government leaders have to abide by it. It will be chaos if we go on debating or arguing as nothing gets accomplished by that," Ramasamy said during a panel discussion on local polls, after the launch of former Penang Island City councillor Lim Mah Hui's book Local Democracy Denied? at Wawasan Open University in George Town yesterday.
Other panel speakers were Centre to Combat Corruption and Cronyism (C4 - Centre) executive director Cynthia Gabriel (below), Think City's Nicole Thum and USM's Azmil Tayyib.
During his speech, Lim remarked the many reasons why local government elections should be carried out as the current set up was filled with political appointees, who are "yes men".
To this, Ramasamy replied that he was often critical of the Pakatan Harapan government, saying the people needed to see performance and promises in the Pakatan Harapan election manifesto fulfilled.
"But we do not know what direction they are taking now. People need to see Harapan making some strong principled stand on pertinent issues," Ramasamy added.
These issues, he pointed out, include the Special Security Measures (Special Offenses) Act (Sosma), which allows for detention without trial.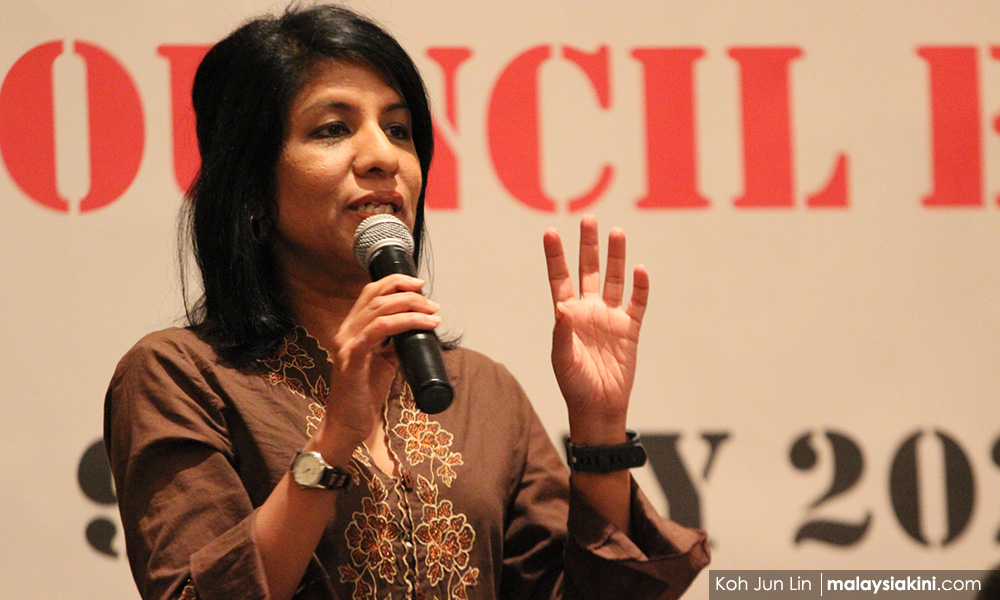 So far, 20 people have been detained under the Act, including two DAP leaders.
"People are detained for alleged ties to the Liberation of Tamil Tigers (LTTE) when there is no more LTTE," Ramasamy quipped.
He also recalled that several Malays were detained for allegedly possessing material related to terrorism.
Ramasamy also said race and religion issues have escalated since Harapan took over the government in May 2018.
At the same panel, Gabriel said local government elections will not be effective if the candidates were political appointees whose allegiance was to their party or political masters.
Cynthia said political appointees contributed to the lack of independent local councillors who are lawyers and engineers.
"Many of the important committees in the local councils are dominated by political appointees. Committees like the one-stop centre and tender approval are prone to corruption," she said.
"If you are a yes man or yes woman, who are appointed by your party, you may have certain interests and inclined to offer favours to certain quarters," she added.
Gabriel said structures within the local councils need to be reformed or it will end up being similar to the federal government, which practices the system of patronage.
She alleged that Harapan has continued a similar pattern like BN when it held power in Putrajaya.
She criticised the sponsorship system in the government where gifts are offered to lure participants to their programmes.
"We also go for the programmes and expect to get free goodies, during elections we expect our roads to be tarred, our houses painted," she said.
"Local polls will not solve our problems if we continue with the same structure, for such culture will also seep into our local councils," said Gabriel.