The National Heritage Department has found more than 100 prehistoric Paleolithic artefacts estimated at 17,000 years old in several caves in Gunung Pulai, Baling.
Artefacts in the form of stone tools, fragments of pottery and river snails were found at new sites of excavation including Gua Kelambu, Gua Tembus and Gua Akar in the mountain.
National Heritage Department director-general Mesran Mohd Yusop, who is also Heritage Commissioner, said the artefacts were discovered while his department was conducting explorations in the area between April and October last year.
"The exploration was to carry out the documentation and inventory of the site to obtain the latest archaeological data and to identify any possible discovery of evidence that has not been discovered by previous researchers.
"The discovery of the artefacts proves the existence of prehistoric life in this area and gives us new clues about their lives," he told reporters in Baling today.
Mesran said excavations and research at the site were also joined by the Institute of the Malay World and Civilization, Universiti Kebangsaan Malaysia and Universiti Malaya Department of Geology.
He said some of the artefacts found were sent to Nanyang Technological University in Singapore for analysis and to determine their age.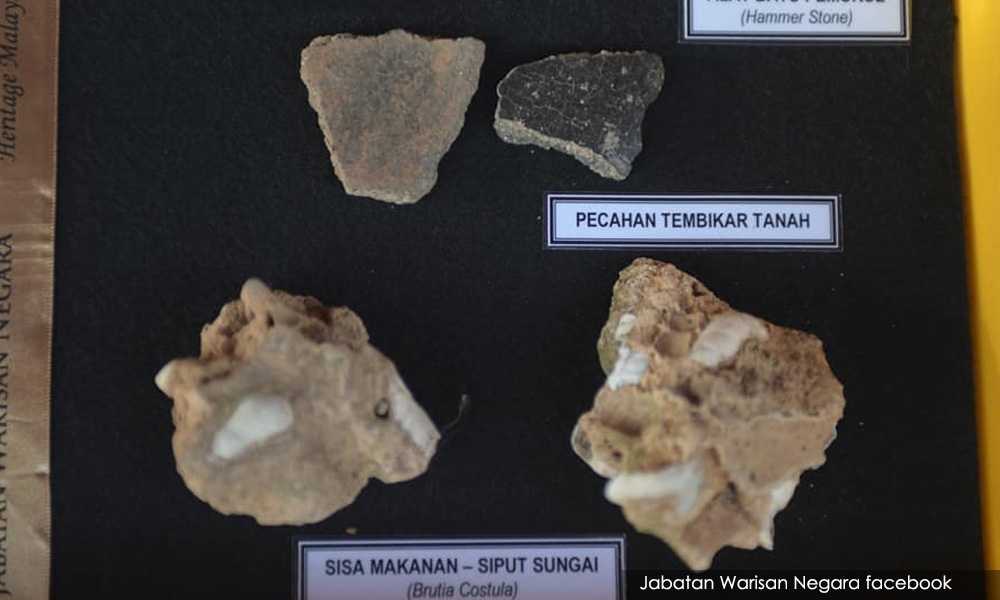 According to him, if the artefact is truly 17,000 years old, it means that the settlement on Gunung Pulai is among the oldest in the country and is older than the Sungai Batu archaeological site in Merbok, also in Kedah.
He also explained that the discovery made Gunung Pulai a valuable archaeological site for the country's archaeological data and as a basis for recognising the origins of the ancient community.
"It also has the potential to make the area famous and make Gunung Pulai and its caves a focal point for tourists, researchers and archaeologists," he said.
Meanwhile, the department's Archaeological Division director Ruzairy Arbi said the discovery of the stone tools depicts that the Paleolithic community here used rocks extensively for hunting and food storage purposes.
However, the discovery of river limpets is considered to be most important as it is evidence of dietary practices of prehistoric people there.
"All of these artefacts were found on the ground of the caves and we believe more artefacts are buried and we will be mapping and digging within the next month to find it," he said.
In the meantime, the department is advising the public to comply with the National Heritage Act 2005 by reporting immediately any historic findings in the Gunung Pulai area to the district officer or the heritage commissioner.
- Bernama