M Indira Gandhi is suing Inspector-General of Police Abdul Hamid Bador for RM100 million over the failure to track down her missing daughter Prasana Diksa.
Indira's lawyers and Indira Gandhi Action Team (Ingat) are expected to file the suit next month, according to a report by The Malaysian Insight.
Ingat chairperson Arun Dorasamy said they are suing the IGP as he has failed to act on the 2014 Ipoh High Court's mandamus order.
The order was for the IGP to enforce the arrest warrant against Indira's former husband Muhammad Riduan Abdullah and the recovery order to retrieve Prasana.
"Basically, the police failed to follow the court order and they failed to act upon their responsibility to locate Prasana.
"He (Hamid) said Indira's case is (a) top priority and he will return Prasana. We want the IGP to stop all this lip service," Arun told the online media portal.
In July last year, Hamid said police have doubled their efforts to find Prasana who was taken away by Riduan when she was only 11 months old in 2009.
"I can assure Malaysians that I am taking a personal interest in this. I want a happy ending to this episode.
"It's very sad and touches the hearts of Malaysians. We are talking about a mother (separated) from her daughter.
"I have asked my men to double their effort. The team is working on something, but I cannot reveal what," Hamid had said.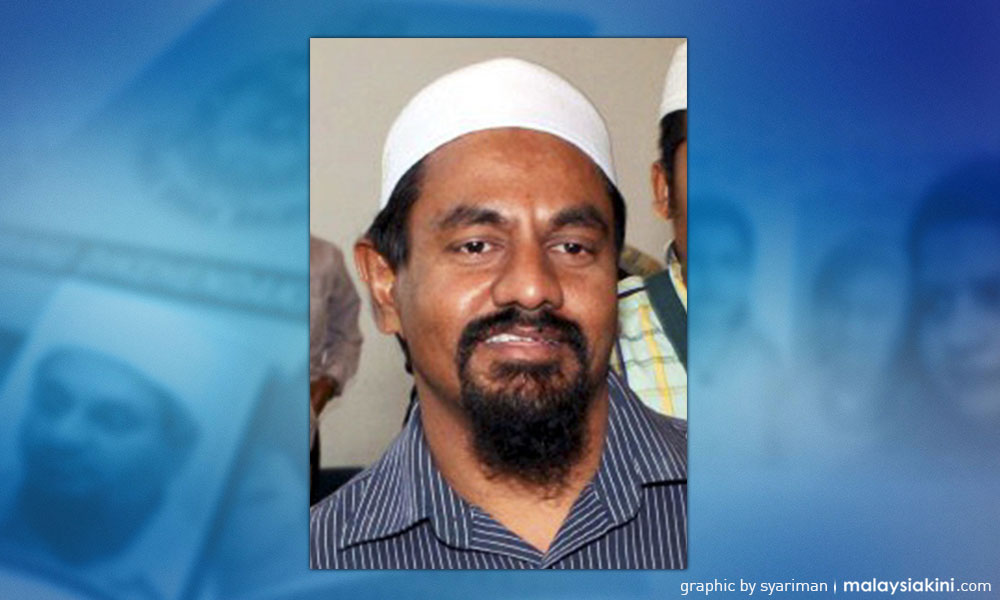 Meanwhile, Indra's lawyer Rajesh Nagarajan said the IGP purportedly didn't perform his duties in finding Prasana.
"The IGP has failed, refused or neglected to return the child. Therefore, he has failed to give effect to the court order.
"Therefore, we are filing a suit against the IGP for damages based on the grounds that he didn't perform his duties," he told The Malaysian Insight.
Indira's plight began when Riduan (above) unilaterally converted all their three children to Islam in 2009.
A lengthy court battle ensued involving both the syariah and civil courts.
The Federal Court ultimately instructed then-IGP Khalid Abu Bakar in 2016 to arrest Riduan, and reinstated a mandamus order issued by the Ipoh High Court two years earlier for Prasana's retrieval.
A mandamus order is a court order compelling a government official to properly fulfil their official duties.
In January 2018, the apex court also nullified the conversion of Prasana and her two elder siblings to Islam by Riduan, who was known as K Pathmanathan prior to his conversion.
Indira's two eldest children now live with her, while Riduan remains in hiding with Prasana.