Several key political factions are holding meetings or are expected to meet today driving speculation among political circles of a political realignment.
What is confirmed is that MPs loyal to PKR deputy president Azmin Ali are gathered at Sheraton Hotel Petaling Jaya.
It is also confirmed that the Bersatu supreme council is meeting at its headquarters, which is a stone's throw away from the hotel.
Gabungan Parti Sarawak leaders and MPs are expected to meet in Kuala Lumpur today at the Ritz Carlton, Kuala Lumpur this afternoon.
Umno's supreme council are also believed to be meeting at its party headquarters at about 3pm today.
If this is true, then Umno would be cutting short its retreat with PAS leaders at Umno's training facility in Janda Baik, Pahang.
Since morning, Malaysiakini reporters have been inundated with claims that fresh political manoeuvrings were currently underway.
It is believed that some reporters are even stationed at the National Palace in anticipation of a new government being formed.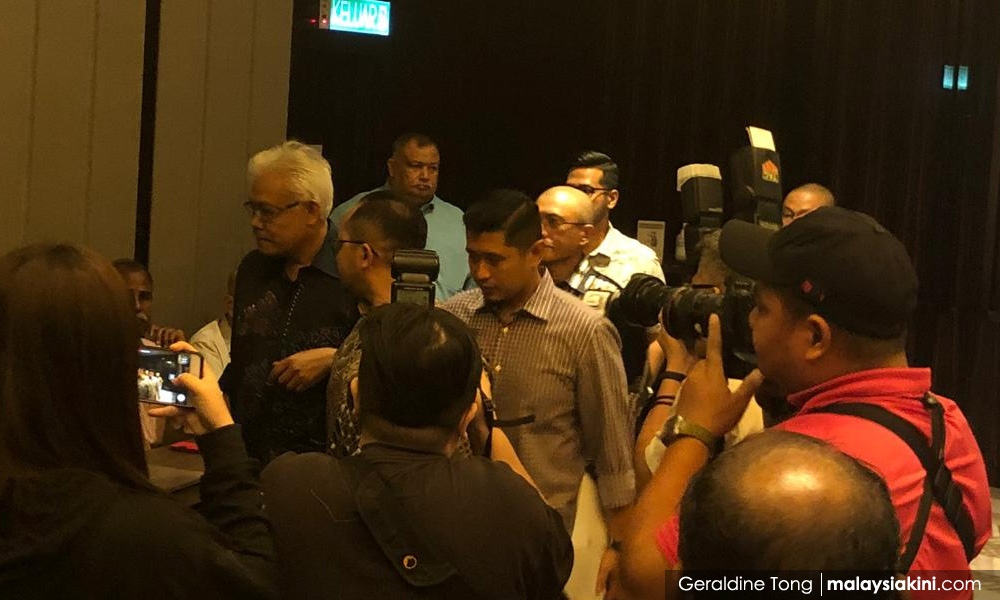 At the Sheraton Hotel, the PKR MPs spotted are Zuraida Kamaruddin (Ampang), Saifuddin Abdullah (Temerloh), Rashid Hasnon (Batu Pahat), Maria Chin Abdullah (Petaling Jaya), Willie Mongin (Puncak Borneo) and R Santhara Kumar (Segamat)
Interestingly, Bersatu MP Hamzah Zainuddin (Larut) was also spotted at the same hotel. He was accompanied by Azmin's political secretary Hilman Idham.
Whether Hamzah participated in the meeting has yet to be determined. He left Umno in December 2018 and joined Bersatu in February 2019.
Also spotted are social activist Hishammudin Rais and Azmin's advisor Khalid Jaffar.
However, it is believed that Azmin is not among them. He tweeted at mid-day that he was at his granddaughter's birthday party.
Meanwhile, it is understood that the Bersatu supreme council met this morning at Menara Yayasan Selangor, about five minutes drive away from the hotel where Azmin's faction is meeting.
Officials from both Azmin's faction and Bersatu have been mum about the purpose of the meeting, which follows an important Pakatan Harapan meeting on Friday.
During that meeting, top Harapan leaders were split in two. One side wanted Dr Mahathir Mohamad to complete his term as prime minister, while another wanted him to set a retirement date.
In the end, it was decided that Mahathir would ultimately decide when he will leave.