PSM has called for the empowerment of working-class politics to battle the elites in order to seize power from the latter, whom it described as opportunistic and avaricious.
"They came in fancy cars and held discussions in a lavish hotel on how to gain power and steal the support of MPs.
"Their actions sparked off an economic crisis and political instability," said its deputy chairperson S Arutchelvan in relation to what transpired at Sheraton Hotel in Petaling Jaya over the weekend.
He chastised these politicians for plotting to topple the government through "slander and manipulation" amid the Covid-19 pandemic and economic situation.
"They are MPs and not ordinary citizens.
"They don't have to go to work the next day because their MP salaries and allowances are sufficient. Their (financial) wellbeing is guaranteed," he added in a statement this afternoon.
These politicians' actions, Arutchelvan (below) said, have created public outrage.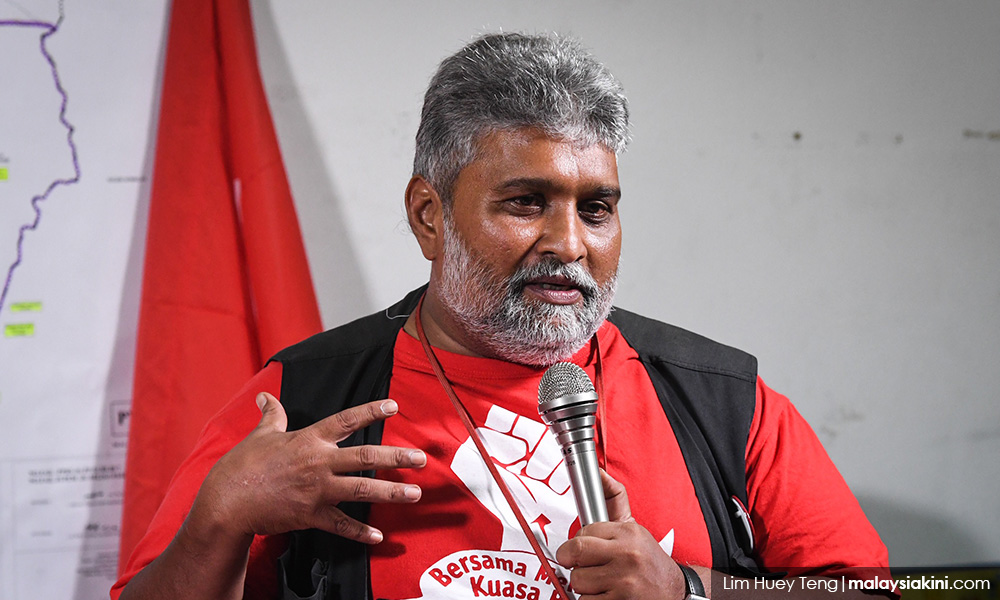 "The people are angry at politics and politicians.
"To them, all politicians are deceitful... They cannot be blamed because this is what happens in politics and this is what the public sees," he added.
Arutchelvan said PSM has always advocated the need to politicise the people in order for them to reject gutter politics and backdoor coups.
"The people must be the force of change and not coolies to elected representatives. Many idolise politicians with titles such as YB, Tan Sri, Dato and so forth.
"We apple-polish them just to get something in return. This slave mindset has given birth to a class of politicians who are arrogant and possess a colonial mindset," he added.
Therefore, Arutchelvan said this is the time to reflect and change.
"Let us seize power from opportunistic and greedy politicians....Politics does not belong to them alone," he added.
Since the collapse of the Pakatan Harapan government, both sides have accused each other of being traitors.