CORONAVIRUS | Malaysia has recorded four new Covid-19 cases, bringing the number of recorded cases to 29.
Two of the four new cases could be traced back to the 24th case - a 41-year-old Japanese citizen working in Malaysia who had travelled to Japan.
Patient 24 had sought treatment on Feb 17 and was admitted into a private hospital on Feb 20. She was only tested positive for Covid-19 on Feb 27.
She had contributed to case 27, who is a 20-year-old trainee nurse at the private hospital.
"She (the nurse) was identified as being in close contact. n Feb 21 and 22, 2020, she had handled the case without wearing any personal protective equipment as advised.
"On Feb 27, she started to develop a cough. A screening test for Covid-19 came back positive on Feb 29," said Health Ministry director Noor Hisham Abdullah.
Patient 24 also contributed to another infection - Case 29.
Patient 29 is a 35-year-old Malaysian woman placed in the same room as Patient 24 in the private hospital on Feb 21. At the time, it was still not known that Patient 24 had Covid-19.
"On Feb 25, she (patient 29) was allowed to return home. On Feb 27, she began to feel unwell and came down with fever and cough. However, she did not seek treatment.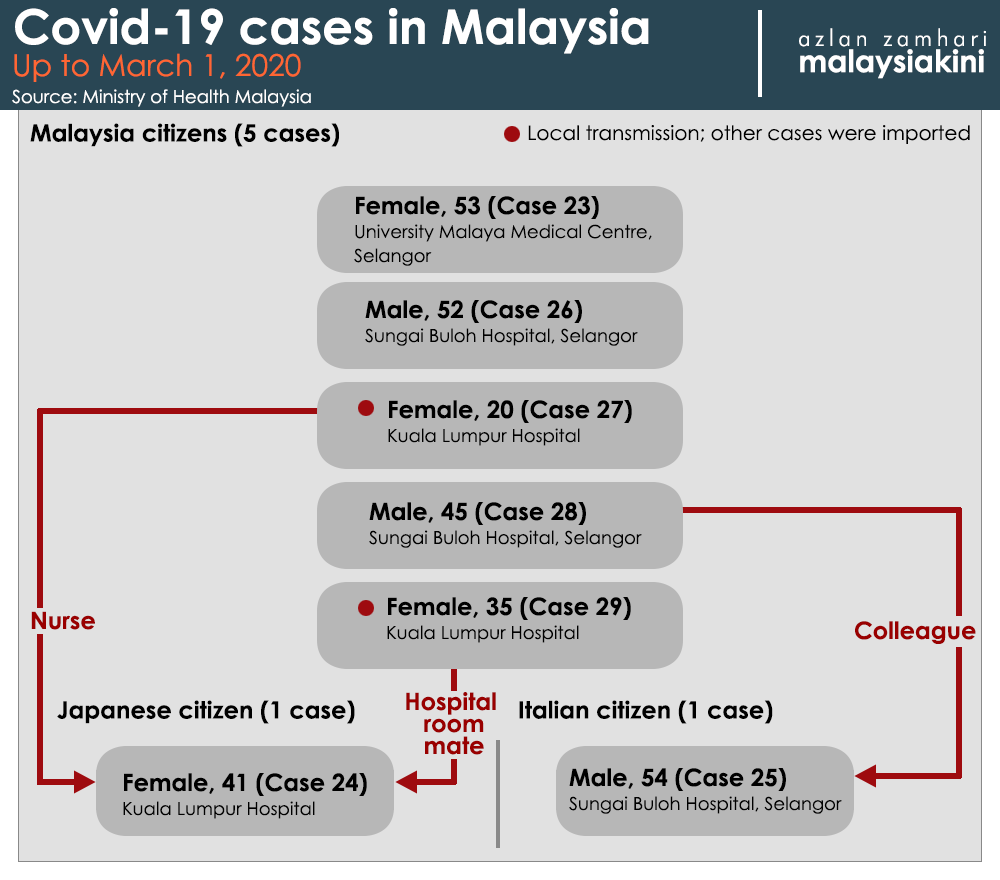 "During contact tracing by the district health department, she was identified as a close contact of case 24.
"A screening test for Covid-19 was conducted on her, and she was confirmed to be positive on Feb 29," said Noor Hisham.
Meanwhile, Case 26 involves a 52-year-old Malaysian man who had travelled to Shanghai, China in the middle of January.
He began to suffer from fever and sore throat on Feb 27 and sought outpatient treatment at a private hospital. He was tested positive for Covid-19 on Feb 29.
As for Case 28, it involved a 45-year-old Malaysian man who is a colleague of patient 25. They had both travelled to Italy between Feb 15 to Feb 21 for work.
After authorities found patient 25, an Italian man married to Malaysia and a permanent resident, they began to conduct contact tracing and identified patient 28 to be a close contact. He was confirmed to be positive with Covid-19 on Feb 29.
All four new patients have been admitted to the Sungai Buloh Hospital isolation ward.
The Covid-19 outbreak, which first started in China at the end of December last year, has spread across the globe and some governments are struggling to keep the virus under control.
To date, there are 86,906 cases worldwide with 2,981 deaths.
The five worst-affected countries are China (79,824 cases), South Korea (3,526 cases), Italy (1,128 cases), Iran (593 cases) and Japan (242 cases).