BN and Bersatu are set to form a Perikatan Nasional government in Malacca and will be further bolstered by defections from DAP and PKR respectively.
The defectors are DAP's Pengkalan Batu assemblyperson Norhizam Hassan Baktee, who previously described himself as "Hulk", and PKR's Rembia assemblyperson Muhammad Jailani Khamis
At a press conference this afternoon, Jailani said the two are not quitting their parties but supporting the new state government in their individual capacity.
Norhizam, meanwhile, said he was tired of being a lackey.
"Today I am acting for the interest of the Malays... I have worked hard, said I want to serve but I became a barua (lackey), I was really a barua.
"I am coming back to the right path," he said.
Norhizam was formerly and Umno member before joining DAP in 2006. They joined Bersatu assemblypersons Mohd Rafiq Naizamohideen (Paya Rumput) and Noor Effandi Ahmad (Telok Mas), whose party had received the green light from Bersatu president Muhyiddin Yassin to join forces with BN.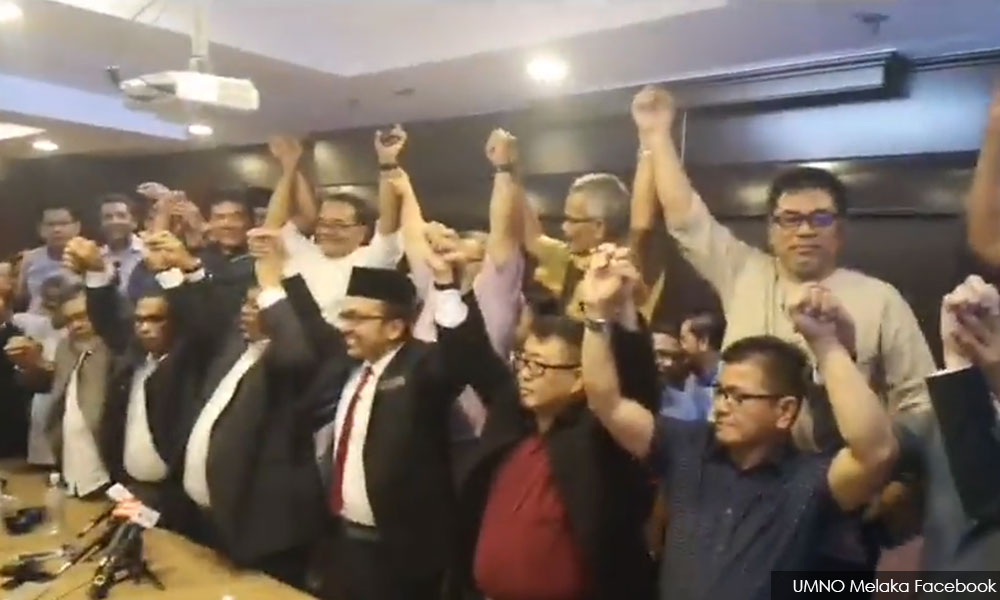 "A picture speaks a thousand words and you can paint your own picture," Malacca Umno chief Abd Rauf Yusoh, who was flanked by 17 assemblypersons, told a press conference in Ayer Keroh this evening.
We now not only have 13 (from Umno), plus two (from Bersatu) but also another plus two (from DAP and PKR)... We have 17 assemblypersons now," he added.
The Malacca state assembly comprises 28 members and the support of 15 assemblypersons is needed for a simple majority.
Rauf, former chief minister Idris Haron, and Rafiq and Effandi had earlier met with governor Mohd Khalil Yaakob to state their intention to form a new state government.
The Malacca Pakatan Harapan government effectively collapsed last week when Bersatu exited the coalition.
Rauf said no one had been named as the Perikatan Nasional candidate for chief minister, and that this would be decided later.