CORONAVIRUS | Malaysia has recorded its first two deaths due to the Covid-19 virus outbreak.
Health Minister Dr Adham Baba identified one victim as "Patient 178", age 34, who attended a religious event in Kuala Lumpur earlier this month.
This patient displayed symptoms on March 5 and was treated at a hospital in Johor Bahru. He was placed under intensive care on March 12. 
Adham said there was no comorbidity factor in the death of "Patient 178".
"Comorbidity means other illnesses... He died purely due to Covid-19. No (other illnesses)," he added.
The other victim was identified as "Patient 358", which the Sarawak Health Department said was a pastor based in Kuching. 
According to Adham, "Patient 358" started showing symptoms on March 7 and began treatment at the Sarawak general hospital on March 14. 
He said "Patient 358" has a prior heart ailment. 
Separately, the Sarawak Health Department said the pastor, 60, passed away at 11am.
The Health Department is still attempting to identify the source of the pastor's infection.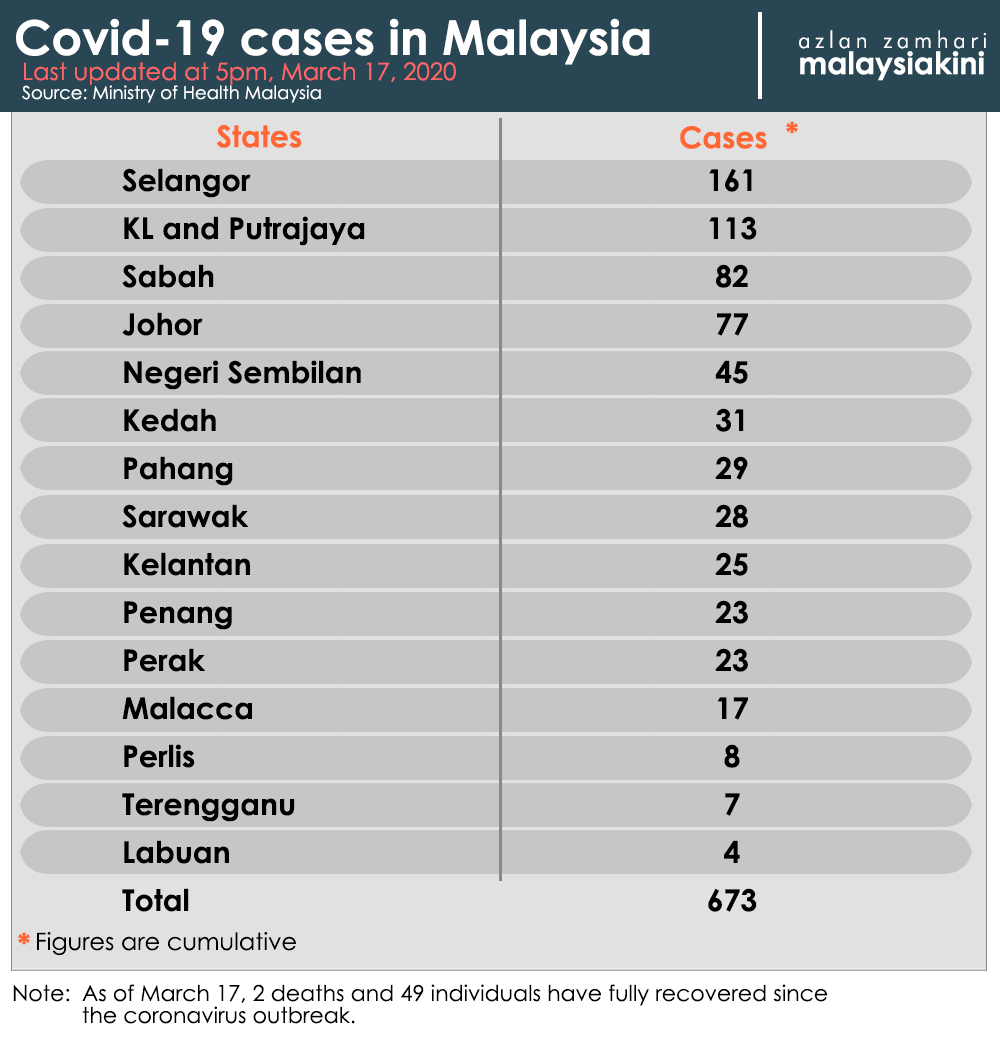 "(All) 193 close contacts of the deceased have been traced and are undergoing home quarantine," said the department in a statement today.
Meanwhile, Sarawak recorded 11 new Covid-19 infections of which six are from Kuching, three from Limbang and one each from Betong and Lawas.
This brought the number of Covid-19 infections in Sarawak to 45, up 32 percent from yesterday.
The Health Department has identified four clusters of infections - the Sri Petaling cluster, Kuching (church) cluster, Sarikei cluster and another cluster to Kuching.
Sarawak is the strictest state in the country in terms of monitoring entry points.
Anyone arriving in the state, including Sarawakians, will have to undergo a 14-day quarantine from tomorrow onwards.
Sarawak had also advised schools to stay closed until March 29, before the Movement Control Order was announced by Putrajaya yesterday.
---
Keep up with the latest information on the outbreak in the country with Malaysiakini's free Covid-19 tracker.