CORONAVIRUS | A total of 130 new Covid-19 cases have been recorded as of noon today, bringing the overall number of confirmed cases to 1,030.
Following a three-digit increase for six consecutive days, Malaysia now has the fourth-highest number of Covid-19 infections in Asia.
Malaysia has overtaken Japan which has 958 cases to date and is behind South Korea (8,652),  Iran (18,407) and China (80,967).
Currently, 26 Malaysians infected with Covid-19 are in the intensive care unit (ICU).
Unlike the past few days, the majority of the latest cases are not linked to the tabligh gathering at a mosque in Sri Petaling, Kuala Lumpur.
Health director-general Dr Noor Hisham Abdullah said 48 are linked to the mosque cluster but did not reveal details regarding the other cases.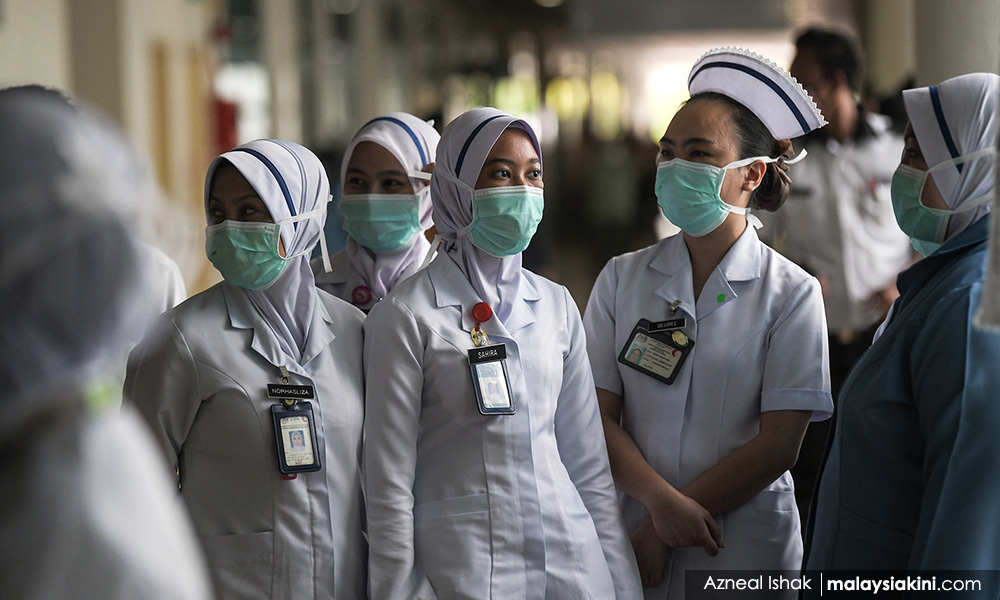 However, Noor Hisham earlier revealed that 15 healthcare workers have also been infected with the virus, with one of them in the ICU.
Yesterday, Health Minister Adham Baba said that cases in Malaysia were showing
signs of plateauing
, as the daily increases remained in the low three digits.
In his press statement this evening, Noor Hisham also said 12 Covid-19 patients have been cured and were discharged today, bringing the total number of recoveries to 87.
Noor Hisham advised the public to abide by the movement control order until March 31 and to remain at home.
He said they should also workout at home even if they don't have equipment by doing exercises such as planks, squats, burpees or yoga.
He said this can also be an opportunity for Malaysians to do some spring cleaning.
There are currently 238,295 cases of Covid-19 worldwide.
The global death toll stands at 9,877, but 85,815 have recovered.
---
Keep up with the latest information on the outbreak in the country with Malaysiakini's free Covid-19 tracker.